Extra Extra Monday: Fatal flaws in Oklahoma's execution system, absent city council members, teacher misconduct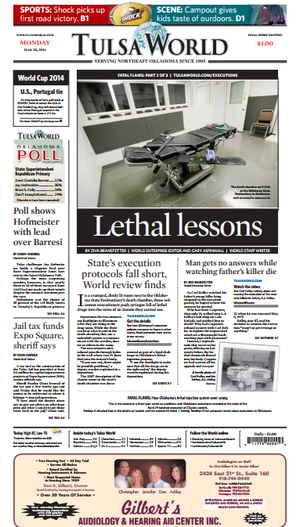 Fatal Flaws: How Oklahoma's lethal injection process went wrong | Tulsa World
Nearly 15 years after Stephanie's murder, Lockett lay dying as her family watched along with a gallery of law enforcement officials, prison administrators and journalists through the window of Oklahoma's execution chamber.
State officials had promised in court records and interviews that Oklahoma's new execution protocol would dispatch him swiftly and painlessly. They were so confident in this assurance that Gov. Mary Fallin ordered Lockett to be executed April 29, the same night another convicted killer was set to die.
Lockett's death didn't go as planned.
Phoenix VA officials knew of false data for 2 years | The Arizona Republic
Department of Veterans Affairs administrators knew two years ago that employees throughout the Southwest were manipulating data on doctor appointments and failed to stop the practice despite a national directive, according to records obtained by The Arizona Republic through a Freedom of Information Act request.
A 2012 audit by the VA's Southwest Health Care Network found that facilities in Arizona, New Mexico and western Texas chronically violated department policy and created inaccurate data on patient wait times via a host of tactics.
Gov. Jerry Brown's prison reforms haven't lived up to his billing | The Los Angeles Times
Nearly 15 months after launching what he called the "boldest move in criminal justice in decades," Gov. Jerry Brown declared victory over a prison crisis that had appalled federal judges and stumped governors for two decades.
Today, California is spending nearly $2 billion a year more on incarceration than when Brown introduced his strategy in 2011. The prisons are still overcrowded, and the state has been forced to release inmates early to satisfy federal judges overseeing the system.
Coachella Valley council members absent from meetings | The Desert Sun (Palm Springs, Calif.)
A Desert Sun analysis of council meeting minutes since 2011 shows that elected leaders in Cathedral City and Coachella — two of the desert's youngest, fastest-growing and financially modest cities — have in recent years had much higher absentee rates than their counterparts in other cities.
Toles and three other council members — Cathedral City's Greg Pettis and Coachella's Emmanuel Martinez and Arturo Aviles — stand out among the most likely to miss a meeting.
When drones fall from the sky | The Washington Post
More than 400 large U.S. military drones have crashed in major accidents around the world since 2001, a record of calamity that exposes the potential dangers of throwing open American skies to drone traffic, according to a year-long Washington Post investigation.
Since the outbreak of the wars in Afghanistan and Iraq, military drones have malfunctioned in myriad ways, plummeting from the sky because of mechanical breakdowns, human error, bad weather and other reasons, according to more than 50,000 pages of accident investigation reports and other records obtained by The Post under the Freedom of Information Act.
Money for nothing: State paid UIC $498,355 for subpar study | The Chicago Sun-Times
The state spent almost half a million dollars on a flawed study of Gov. Pat Quinn's now-defunct anti-violence program — the Neighborhood Recovery Initiative — after officials rejected a more rigorous evaluation that would have been free, auditors say.
The $498,351 study by the University of Illinois at Chicago didn't even examine whether the program helped reduce violence, according to Auditor General William Holland's office.
Sentences challenged for Maryland prisoners deemed to have violent pasts | The Baltimore Sun
A little-noticed and highly technical Supreme Court decision is opening the way for dozens of federal inmates from Maryland to seek reduced sentences — even though trial judges found they had violent criminal pasts.
For some, the high court decision has already meant that sentences of 15 years and more have been cut substantially. One inmate, for example, saw his sentence reduced from 15 years to about six years; he was released in February.
NJ targeting unemployment insurance fraud; the check may not be in the mail | The Star-Ledger
Unemployment fraud is a multimillion-dollar business in New Jersey, say officials, with 1,600 to 2,000 attempts to bilk the system each week — from the couple on vacation certifying they were able to work while cruising to the Bahamas, to hackers from all over the world trying to game the system, to people still trying to collect unemployment benefits even after finding new jobs.
Teachers' misconduct revealed: Hundreds have been disciplined in last decade, Tennessee records show | The Chattanooga Times Free Press
A Times Free Press review of a decade's worth of Tennessee suspensions, revocations and reprimands found that some 160 Tennessee teachers have been disciplined for crossing the line with students or other minors since 2004. Some were caught sending inappropriate messages. Others were found to have had sexual relationships with their students. And many lost their ability to teach after being convicted of crimes such as child abuse or statutory rape.
Temps with criminal pasts slip by Dallas County officials | The Dallas Morning News
Kelton Bivins came with a slew of criminal charges when he began as a temporary worker in Dallas County's elections department in January.
Three felonies for allegedly firing five times into an occupied car after police said he shot his cousin twice in the leg. Two charges for beating his girlfriend. Evading arrest. Bivins, 37, also was on probation for a drug charge and served time in the mid-1990s for theft.
But Dallas County officials say they weren't aware of Bivins' past and the criminal records of several other temps until learning about them from The Dallas Morning News.
Do hidden cracks imperil Bay Bridge? | The Sacramento Bee
On June 8, The Sacramento Bee reported that in 2006 the California Department of Transportation approved an inexperienced Chinese company, unaccustomed to U.S. construction rules, to fabricate the new Bay Bridge suspension span tower and roadway. The choice partly explains why costs ballooned to $6.5 billion and misgivings emerged about the quality of the bridge.
Today The Bee reports on how and why Caltrans allowed cracks in work by the Chinese firm to remain in the roadway of the new San Francisco-Oakland Bay Bridge, contrary to the welding code. It shows how Caltrans neglected to study the impact of a major earthquake on the cracks and how they pose a threat to public safety.
State of charter schools: How Michigan spends $1 billion but fails to hold schools accountable | Detroit Free Press
The state leads the nation in the largest number of charter schools run by a for-profit company. Upcoming installments will include a look at the state's weak conflicts of interest laws, board members removed for challenging their management companies, poor academic outcomes and authorizers who leave failing schools languishing year after year.