Extra Extra Monday: Injury-leave program, secret service fumbles, the cost of rape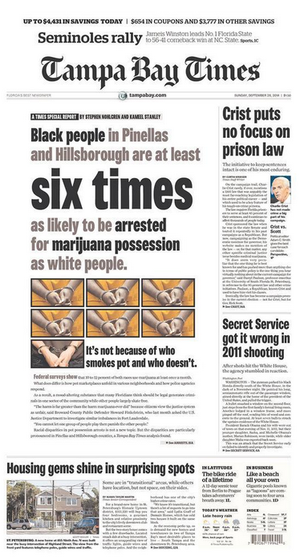 Blacks disproportionately arrested for marijuana possession in Pinellas, Hillsborough counties | Tampa Bay Times
Black people in Pinellas and Hillsborough are at least six times as likely to be arrested for marijuana possession as white people. It's not because of who smokes pot and who doesn't.
Racial disparities in pot possession arrests is not a new topic. But the disparities are particularly pronounced in Pinellas and Hillsborough counties, a Tampa Bay Times analysis found.
L.A. pays millions as police and firefighter claims rise | L.A. Times
An injury-leave program for Los Angeles police and firefighters has cost taxpayers $328 million over the last five years, a Times investigation found. Total salaries paid to city public safety employees on leave increased more than 30% — to $42 million a year – from 2009 through 2013, the five-year period studied by The Times.
Undue force | Baltimore Sun
The city has paid about $5.7 million since 2011 over lawsuits claiming that police officers brazenly beat up alleged suspects. One hidden cost: The perception that officers are violent can poison the relationship between residents and police.
Secret Service fumbled response after gunman hit White House residence in 2011 | Washington Post
Then came an order that surprised some of the officers. "No shots have been fired. . . . Stand down," a supervisor called over his radio. He said the noise was the backfire from a nearby construction vehicle.
That command was the first of a string of security lapses, never previously reported, as the Secret Service failed to identify and properly investigate a serious attack on the White House. While the shooting and eventual arrest of the gunman, Oscar R. Ortega-Hernandez, received attention at the time, neither the bungled internal response nor the potential danger to the Obama daughters has been publicly known. This is the first full account of the Secret Service's confusion and the missed clues in the incident — and the anger the president and first lady expressed as a result.
UMass police helped keep student's addiction secret | Boston Globe
Campus police agreed not to seek criminal charges against Logan or notify his parents after he agreed to become a confidential informant, code named "CI-8," something Logan called "an offer I can't refuse" in a text message to a friend. In December 2012, Logan led police to another dealer — who was immediately arrested and suspended — while Logan remained a student in good standing.
Records detail U. of I. sex assault settlement | Chicago Tribune
The University of Illinois at Urbana-Champaign paid more than $77,000 to a student who accused campus officials of minimizing her sexual assault and harassment complaints even after photographs and a video of the incident were passed around a fraternity house, according to a settlement agreement obtained by the Tribune.
An Impossible Choice: Deciding when a life is no longer worth living | inewsource.org
Medi-Cal, the state's program for the poor and disabled, pays for most subacute care — as much as $900 a day. Last year, the total cost came to more than $636 million, almost double what it was in 2004.
While the cost is considerable, the human toll is staggering. Most people on these units will spend the rest of their lives in bed, their bodies twisted from muscle contractures, tubes permanently inserted in their throats and stomachs, completely dependent on others to brush their teeth, comb their hair and change their diapers.
Billing for rape: Louisiana sex assault victims often face hefty bills for medical care | NOLA.com | The Times-Picayune
In Louisiana, victims of sex crimes often face paralyzing bills for forensic medical exams and related care, even though state and federal guidelines require that many of these services be provided at no cost to the victim. And there's little continuity in how rape victims are treated from parish to parish and hospital to hospital.
Inside the New York Fed: Secret Recordings and a Culture Clash | ProPublica and This American Life
The recordings portray a New York Fed that is at times reluctant to push hard against Goldman and struggling to define its authority while integrating Segarra and a new corps of expert examiners into a reorganized supervisory scheme.
Victim not told of sex offender's plea deal | Zanesville Times Recorder
On Nov. 7, 2012, Jeffrey Bishop was brought to Muskingum County, where he signed a prosecutor's bill of information and received a two-year prison sentence for the gross sexual imposition charge. He is scheduled to be released next month. Neither the victim nor her family were notified of the proceedings.
Democratic house candidates are walloping Republicans in the small-money game | National Journal
Democratic candidates for Congress are crushing their Republican counterparts in small-dollar donations—outraising their GOP foes by an average of more than $100,000 per candidate in the nation's top races.
That's the finding of a new National Journal analysis of federal records in the most competitive House contests in the country. In those, the average Democrat has collected $179,300 in donations under $200; the average Republican has brought in only $78,535.