Six years after Hurricane Ike, Texas coast remains vulnerable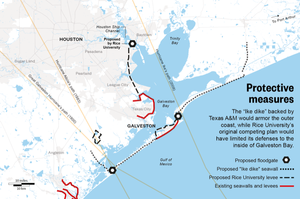 Hurricane Ike sent a clear message that the people and vital energy industry of greater Houston, one of America's largest urban areas needed protection from rising seas. Six years later, it remains an easy target as storm surges grow increasingly more destructive. Many major coastal cities are in the same boat.
A Reuters analysis of RealtyTrac data for the third installment of the "Water's Edge" series found that at least $1.4 trillion worth of businesses and homes line the country's tidal shores, yet the U.S. lacks a unified national response to rising sea levels. The federal government generally pays to clean up and rebuild after disasters but not to prevent harm from the next one.