Extra Extra Monday: Drug-addicted nurses, police shootings and lottery winners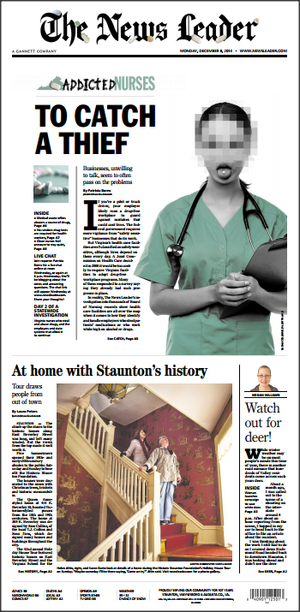 Addicted nurses steal patients' drugs | The News Leader (Staunton, VA)
A statewide investigation by The News Leader found about 900 nurses publicly disciplined by the licensing board from 2007 to mid-2013 for drug theft and use at work.
Across Virginia, scores of patients in pain during the last decade were denied necessary medication because a nurse was stealing it.
In 179 fatalities involving on-duty NYPD cops in 15 years, only 3 cases led to indictments — and just 1 conviction | New York Daily News
A Staten Island grand jury's decision not to indict white NYPD Officer Daniel Pantaleo for the chokehold death of Eric Garner — a black father of six — stunned large swaths of the city and added fuel to a nationwide surge of protests over police killings.
But history shows the odds were always in Pantaleo's favor.
Change of leadership in Crimea means property grab | The Associated Press
In an all-platform package (text, photos, video and online interactive), the AP looked at what has happened in Crimea in the 10 months it has been under Russia rule, and found thousands of businesses, buildings, farms and other choice real estate assets had been seized from their owners. In many cases, those who lost property accuse the region's new pro-Moscow rulers of taking it for their own benefit.
Serial Lottery winners raise questions | Asbury Park Press
The Asbury Park Press reviewed more than 10 years of claims, and found that many of the top players are either retailers licensed to sell lottery tickets, or relatives of retailers. We discovered that the state's top prizewinner since 2009 (134 prizes, $275,000) is the mother of a New Jersey lottery retailer. Another retailer has cashed in 244 prizes totaling more than a half-million dollars since 2004. A statistician who reviewed the Press' findings calculated that both of these players would have had to have spent approximately $1.3 million each playing the lottery to produce so many wins. Lottery fraud experts say it's a red flag for ticket "discounting." The state says it's investigating.
California's public payroll database falls short on transparency | The Center for Investigative Reporting
Four years after a small working-class town near Los Angeles became a cautionary tale of government excess, a state effort to avoid a repeat performance is falling short.
The charges of corruption in the town of Bell prompted the California state controller into action. The controller's website centralized data from thousands of local California governments for the first time. But the website, created to allow scrutiny of public payrolls, lacks enough information to pinpoint another scandal like the one that occurred in Bell, The Center for Investigative Reporting has found.
A small group of lawyers and its outsized influence at the U.S. Supreme Court | Reuters
The marble façade of the U.S. Supreme Court building proclaims a high ideal: "Equal Justice Under Law." But inside, an elite cadre of lawyers has emerged as first among equals, giving their clients a disproportionate chance to influence the law of the land.
A Reuters examination of nine years of cases shows that 66 of the 17,000 lawyers who petitioned the Supreme Court succeeded at getting their clients' appeals heard at a remarkable rate. Their appeals were at least six times more likely to be accepted by the court than were all others filed by private lawyers during that period.
Hardship on Mexican farms, a bounty for U.S. tables | LA Times
American consumers get all the salsa, squash and melons they can eat at affordable prices. And top U.S. brands — Wal-Mart, Whole Foods, Subway and Safeway, among many others — profit from produce they have come to depend on. These corporations say their Mexican suppliers have committed to decent treatment and living conditions for workers.
But a Los Angeles Times investigation found that for thousands of farm laborers south of the border, the export boom is a story of exploitation and extreme hardship.
Clinics help fuel prescription pill epidemic | Oklahoma Watch and The Oklahoman
Several Oklahoma pain clinic owners do not hold medical licenses. Public officials and experts in the field say allowing non-physician ownership of clinics makes them more difficult to regulate and helps explain why Oklahoma has among the highest prescription drug abuse and overdose death rates in the country.
The real drug problem in nursing homes | NPR
It's one of the worst fears we have for our parents or for ourselves: that we, or they, will end up in a nursing home, drugged into a stupor. And that fear is not entirely unreasonable. Almost 300,000 nursing home residents are currently receiving antipsychotic drugs, usually to suppress the anxiety or aggression that can go with Alzheimer's disease and other dementia.
Antipsychotics, however, are approved mainly to treat serious mental illnesses like schizophrenia and bipolar disorder. When it comes to dementia patients, the drugs have a black box warning, saying that they can increase the risk for heart failure, infections and death.