After an officer's death, families wait — and wait — for government benefits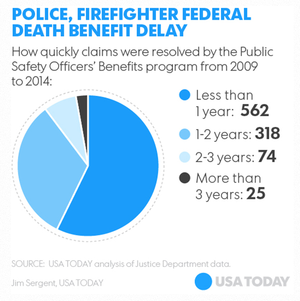 After a police officer or firefighter dies in the line of duty, their family mourns them, their communities memorialize them — and federal death benefits are supposed to reach their family within 90 days.
For hundreds of families, that 90-day wait can stretch into months and sometimes years, according to a nationwide investigation by the Des Moines Register and the USA TODAY Media Network. After combing through 1,499 case files, they found:
In more than 500 cases that were pending as of this spring, 71 percent of families had waited longer than a year for their benefits. Almost 200 families have waited at least two years, and some have waited at least four years.
In more than 900 cases closed as of April, the average wait time for death benefits was 391 days. Of those cases, 42 percent took more than a year and 25 cases lasted longer than three years.
The federal program that pays these death benefits, the Public Safety Officers' Benefits Program, has been under scrutiny on this issue for more than a decade. The agency has hired contractors on three occasions — to the tune of $24.9 million — to streamline their internal processing.
The agency has paid $464 million in survivors' benefits between 2008 and 2013.