After $100 million in budget cuts, violence is on the rise in Florida's mental hospitals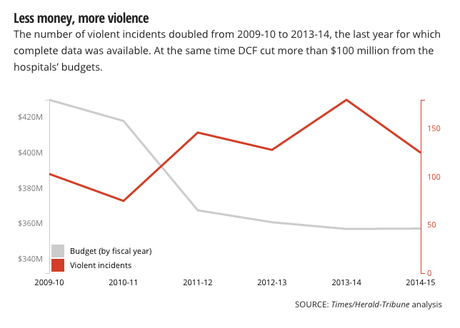 An investigation by the Tampa Bay Times and the Sarasota Herald-Tribune found that violent attacks at Florida's six largest mental hospitals have doubled since 2009. Nearly 1,000 patients hurt themselves or someone else. At least 15 people died.
Reporters spent more than a year talking to patients and their relatives; examining police, government and hospital records; and talking to current and former hospital employees.
The papers found dangerous – sometimes deadly – working conditions. Staffing shortages, lax reporting requirements and $100 million in budget cuts have plagued the institutions.
The series also includes a set of secret videos obtained by the newspapers. The hospital security cameras show death, abuse and mayhem inside the facilities.