Wealthy foreigners can buy visas through poorly regulated EB-5 program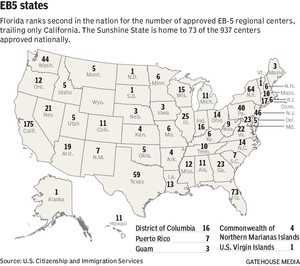 U.S. immigration is a maze. Unless you're rich. Thousands of wealthy foreigners have entered the U.S. through the EB-5 visa program, despite concerns of fraud and threats to national security, according to an investigation by the Sarasota Herald-Tribune.
A firearms dealer, an attorney who has represented dozens of criminals coming into the country, businessmen linked to white collar crimes, companies entangled in lawsuits over allegations of fraud, and developers with a notorious history of foreclosures and bankruptcies all are tied to the EB-5 immigration program in Florida, which allows foreigners to buy their way into the country for $500,000. The program has helped to fund real estate projects like the "Eiffel Tower of Miami."
But the government struggles to verify whether the funds used by foreigners to gain EB-5 visas were obtained legally, and has no centralized database to track these investors once they enter the country, relying solely on paper records, while consistently failing to record even basic information like an immigrant's name or date of birth.