Federal education data highlights rising college costs for low-income students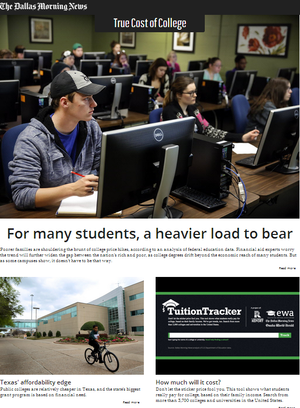 If you're shopping for a college, forget the published sticker price. Just like airline passengers on the same flight, students on the same campus can pay vastly different rates.
And on the whole, those rates are increasing faster for the poorest students.
That's what a Dallas Morning News analysis of federal education data found this year. In a project with the Hechinger Report, we examined four years of data showing what students actually paid, based on their family income. We produced several stories and an online search tool called Tuition Tracker.
The inequity was most glaring at the nation's private universities. Low-income students saw their costs rise an average of $1,700. They went from $16,300 in 2008-09 to $18,000 in 2011-12 (adjusting for inflation). Those families were expected to spend more than half their annual income on college.
The wealthiest students saw their costs rise more slowly at private universities — an average of $1,200, from $30,500 to $31,700 over the same period. While wealthier families did pay more on average, it represented a much smaller share of their income.
We also found campuses where it got more expensive for poor students and less expensive for families with six-figure incomes.
The findings raised questions about the way colleges spend their financial aid dollars. Many campuses award big scholarships to lure students with the best grades and SAT or ACT scores — not necessarily the most financial need. Those are the kind of students that can help a middling university rise in prestige and U.S. News rankings.
One critic called the practice "affirmative action for the rich." And it's happening as the Obama administration pushes to make college more affordable for low- and middle-income families.
Fun with federal education data
We used college data collected by the U.S. Department of Education. It came from the Integrated Postsecondary Education Data System. Here's what you need to know:
If you want data on (almost) every college in the country, IPEDS is your best bet. It covers two- and four-year colleges and universities. Public ones. Private ones. Liberal arts colleges and trade schools. Basically any institution that awards federal financial aid to students.

You can download data files from the IPEDS Data Center, along with SPSS, SAS and Stata scripts to import the data.

Although IPEDS is complete, it's not the most timely. As of June 2014, the most recent financial aid files are from the 2011-12 school year.

Colleges report their own data to IPEDS. So if colleges report garbage, as they sometimes do, you get garbage.
We had two main goals with the IPEDS data. First, to use it for the Tuition Tracker website so people could search for individual colleges. Second, to figure out the national and state trends in college costs that would guide our stories and reporting.
The first step was getting data on what students pay at each college, based on family income. That came from IPEDS, and it covered four academic years: 2008-09 through 2011-12.
We focused on a school's average net price. That's the total cost (tuition and fees, room and board, books and supplies) minus any grants or scholarships from the government or the college. See our handy graphic for more. Colleges report their average net price for students across five family income groups, from the lowest (under $30,000) to the highest (more than $110,000).
Using SPSS, I pulled the net price data and variables from several other IPEDS files, like whether a school was public, private nonprofit or private for-profit. Enrollment totals. Graduation rates. The average amount of grants and loans that students received.
IPEDS had data on more than 7,000 colleges. I kept only the ones in the U.S. and those that award two- or four-year undergraduate degrees (bye bye, beauty schools and medical schools). I put that data into Microsoft Excel and gave it to the people who built Tuition Tracker. Matt Wynn at the Omaha World-Herald did the back-end development in Django, and my DMN colleague Layne Smith did the front-end design. Tuition Tracker shows basic information about a school, along with charts showing the net price trends for each income group.
For the overall trends that would anchor our stories, I went back to SPSS. On a national level, we wanted to know the average net price at private universities versus public ones. We also wanted to examine state-level trends for public universities.
For that, I spent quality time with SPSS' weighting function. I wanted to calculate average net prices weighted by the number of students. That way, the costs at a huge campus like the University of Texas at Austin would count more than at a much smaller campus. So in SPSS, I wrote a script that computed average net prices, weighted by the number of students in each income group at each campus.
I also adjusted the state and national averages for inflation. Back in Excel, I sorted the state averages and found some eye-popping examples. Take the public universities in Arizona. Net prices for Arizona's poorest students rose from $6,600 to $10,300. That's a 56 percent increase. But the highest-income Arizona students saw their costs rise only 17 percent — going from $15,100 to $17,600. So while wealthier students still paid more, poorer students saw a much bigger rise in costs over four years.
The Morning News and Hechinger Report worked with the Education Writers Association to share our findings with journalists across the country. From Oregon to Michigan to Florida, reporters wrote their own stories with a regional focus. My co-writer at Hechinger, Jon Marcus, and I also led an EWA webinar showing reporters how to use Tuition Tracker and the net price data.
Asterisks and more asterisks
This may shock regular users of federal data, but the college cost numbers were loaded with long definitions and caveats. Let's start with the students who were included in the net price data. In Uncle Sam speak, "students" means full-time, first-time freshmen who received federal financial aid. And at public universities it's only those students who pay in-state tuition.
The official definition of net price is also a mouthful: It's the average amount of grants or scholarships from the government (federal, state or local) or the college, subtracted from the total cost of attendance.
All of this means we had to be careful and clear in explaining our results — to readers and to the colleges and students we sought comment from. And we explained the limitations of the data, like the fact we don't know what transfer students or out-of-state kids pay.
We disclosed a lot of that information on the Tuition Tracker site. If you look up the University of Southern California, you'll see that 61 percent of freshmen are reflected in the net price data. But at UC-Berkeley, only 31 percent of freshmen are captured.
We were also careful about the number of students in each income group. Washington University in St. Louis, for instance, appears to be a relative bargain for poor students. While the sticker price is nearly $60,000 a year, the net price for low-income students has steadily declined to just $6,600 a year.
But hover over the data in Tuition Tracker, and you'll see the school has few poor students to begin with. The net price data reflected just 40 students in the lowest income group, compared to 245 in the highest one. If Washington University admitted more low-income students, could the university keep those net prices down?
We also explained the caveats with income groups. The top income group — more than $110,000 — might be considered wealthy in Nebraska, but what about New York? And the figures don't tell you if a family has one, two or five kids in college. So one story included a comment from the University of Dallas, a private Catholic college where some families earn six figures but still qualify for federal Pell grants.
So yes, the data has its limitations (what data doesn't?). But knowing the net price figures — and knowing that many poor students pay an increasingly heavier load — sure tells you a lot more than just the sticker price.
Holly K. Hacker is an education reporter and data specialist at The Dallas Morning News. She can be reached at [email protected] or 214-977-8749. On Twitter at @hollyhacker.