Arrest, conviction data shed light on repeat drunken drivers in Wisconsin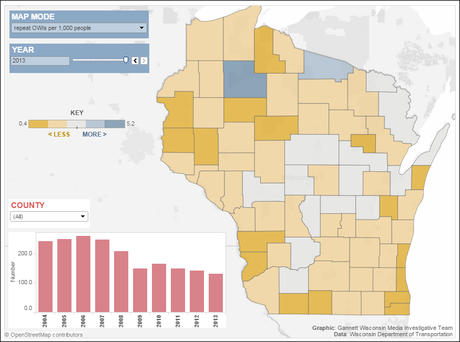 The I-Team created an interactive visualization showing OWIs in each county.
Consistently named as the state with the highest number of binge drinkers in the nation, alcohol is tightly woven through Wisconsin's culture. Drinking and driving, despite the many programs aimed at educating drivers about its dangers, is widespread, and Wisconsin remains the only state in the nation where first-time driving while intoxicated is not a crime.
Impaired driving has been the subject of many investigative projects over the years throughout the state, but the Gannett Wisconsin Media Investigative Team chose to narrow its focus considerably in November when publishing its weeklong series, Under the Influence. Instead of taking aim at first-time offenders, we took a hard look at repeat drunken drivers – many of whom, despite prison time, treatment programs and even fatal crashes, don't seem to get the message.
To determine the scope of the problem, we turned first to the Wisconsin Department of Transportation, where officials keep annual statistical data on the number of arrests and convictions for every OWI offense. We started by requesting a 10-year snapshot of data, broken down by county. The numbers were emailed to us free of charge in a Microsoft Excel spreadsheet, one that could be sorted by county, year and level of offense. The 10-year data gave us enough room to look for trends and potential problem areas to examine.
The data revealed that each year in Wisconsin during those 10 years, nearly 40 percent of OWI convictions were repeat offenders. This became the basis of the series, as we asked ourselves why drivers convicted a first time were still getting behind the wheel.
To find benchmarks, we looked to the Wisconsin State Law Library website. Statistics were also supplied by the Wisconsin chapter of Mothers Against Drunk Driving and the Wisconsin Department of Transportation. Some laws did not result in any significant changes in OWI conviction patterns, but others showed marked differences. We learned that the number of first-time OWI convictions had seen a significant drop since 2008, when tougher penalties were enacted by state lawmakers, but the percentage of repeat offenders hadn't seen a similar change. The year lawmakers required ignition interlock devices for all offenders with a blood alcohol concentration above 0.15 percent showed a similar drop.
We created an interactive visualization using Tableau, which is available for free to IRE members. Viewers could see for for each county total OWIs, repeat OWIs, and fifth-plus OWIs, both overall and per 1,000 people. We chose fifth-offense OWI because in Wisconsin, this is the level where the offense becomes a felony; second through fourth offenses are considered misdemeanors, while a first-offense is a traffic ticket.
A column chart shows the number of repeat OWI convictions per 1,000 people per year, and users can filter on a specific county or see the entire state as a single snapshot.
Used together, these tools generated heavy user traffic and allowed our readers to easily see and understand the data in a clear, meaningful way.
The data we received from the DOT was helpful, but did not contain personal or sentencing information. And, like many states, Wisconsin's online court record system isn't searchable by offense, so finding more specific information about repeat offenders demanded quite a bit more legwork.
To analyze sentencing data, the I-Team examined more than 900 cases from 2012 and 2013 in which the defendant was charged with a fifth or above OWI. To get the numbers, I-Team reporter Eric Litke emailed each of the district attorneys from all 72 Wisconsin counties asking for case numbers of every fifth or greater OWI from those years, then looked up each case individually in online court records. He then created a spreadsheet in Microsoft Excel for each OWI level that included the number of defendants sentenced to jail or prison, and the number sentenced to less than the time mandated by state law. The data showed that punishment varied dramatically by county, and less than 10 percent of offenders with fifth- or sixth- offense OWI received the maximum sentence of three years in prison.
One question we sought to answer was what other states were doing that Wisconsin wasn't. We compared OWI laws, including penalties and sentencing guidelines, from neighboring states and beyond, and found that Wisconsin lagged behind its counterparts in several ways. One key issue that emerged was license revocation. In Wisconsin, even the most egregious offenders can be eligible to drive three years after serving their sentences. In Illinois, by contrast, a fourth offense means you'll never drive legally again.
To flesh out the report, we examined several cases in depth to put a human face on the issue. For example, we interviewed a 12-time offender serving a seven-year prison sentence who still doesn't consider drinking and driving a crime. A five-time offender who struck and killed a 9-year-old child on his first conviction refused to talk to us, but we pieced together his story from court transcripts – the only documents we used that generated a fee, at $1.25 per page. The parents of a young woman killed by a repeat drunken driver shared their story, as did an eight-time offender who, now successfully undergoing treatment, is hoping to become a force for change.
During the week the series published, we offered two opportunities for community engagement. One, an online chat with a treatment specialist, allowed readers to ask questions about how to address addiction issues. The other was a community forum with an eight-person panel that included a judge, a prosecutor, a defense attorney, a treatment specialist, a state patrol OWI task force representative, an eight-time offender and a psychiatrist along with two panelists who lost loved ones to repeat drunken drivers. The forum, held at a local university, was also broadcast online.
Every member of the I-Team contributed, including reporters Eric Litke, Doug Schneider, Liz Welter, Adam Rodewald, and Nick Penzenstatler along with Editor John Ferak. Bill Glasheen, Kyle Bursaw, Sarah Kloeeping, Dan Young and Terry Lipshetz assisted with photo, video and digital presentation. Each played a unique role in producing the series. We also partnered with the Wisconsin Center for Investigative Journalism in Madison, where Bill Lueders, Sean Kirkby and Kate Golden uncovered repeat failures by Wisconsin lawmakers to pass laws that would toughen sanctions against repeat offenders and looked at unique ways some counties are tackling the issue.
Response to the series was unprecedented as calls and emails flooded in. On the last day of publication, we included our editorial board's recommendations for legislative changes that could help address the problem. Finally, an eBook compilation, available for free on CD and on iTunes, was created by our digital team and CDs were hand-delivered to every lawmaker in the state. Since the series published, two state representatives have come forward to say they are crafting new legislation to establish lifetime revocation for repeat offenders – and that their efforts are a direct result of our work.
Shereen Siewert is a reporter with the Gannett Wisconsin Media Investigative Team. She covers a wide range of issues from politics to the criminal justice system. Previously, she worked as a public safety reporter for the Wausau Daily Herald. Contact her at ssiewert@gannett.com or on Twitter at @ShereenSiewert.