Federal, state data used to track civil asset forfeitures in Virginia
When police seize cash, cars and other property, it's usually taken through a legal process known as civil asset forfeiture.
Critics say the system gives police a financial incentive to take property with relative ease and makes it difficult for people to get it back.
We wanted to take a look at how much money is flowing through local departments as a result of this process. It turned out to be a lot.
In Virginia, agencies received more than $57 million over the past six years, according to the findings of a Virginian-Pilot examination of state and federal data.
We found that police departments in Hampton Roads, the five cities in southeastern Virginia that we cover, rank among the top in the state for seizures through Virginia's Forfeited Asset Sharing Program.
The program allows departments to keep 90 percent of the proceeds, providing an incentive for officials to use the procedure over similar federal programs which let departments keep less.
The Virginia Beach Police Department seized 1,208 assets worth a combined $6 million since 2008, the most in the state. Norfolk seized the third most – 690 items worth over $3.45 million. Chesapeake and Newport News round out the top 10 in the state, with seized property worth over $2.23 million and $1.5 million, respectively.
To get started on this story, we asked ourselves a simple question – how much money are Virginia police departments making from civil asset forfeitures?
We found out that getting an answer to the question would be very complicated.
Definitions and databases
First we had to figure out where the data was kept – and exactly how officials define "civil asset forfeiture."
There are essentially two kinds of forfeitures, criminal and civil. Criminal forfeitures are forfeitures attached to a charge in the courts. That means if someone is not convicted of a crime, they get their stuff back.
You'd think that would account for cases where property was seized in connection with a drug arrest, but that's not usually the case. More often the two are handled separately and local or federal prosecutors can start the civil court proceedings to get the property and assets turned over to the government.
The Virginia Department of Criminal Justice Services Forfeited Asset Sharing Program keeps a database of all the seizures it processes, all of which are civil asset forfeitures.
We submitted a state FOIA request for that database and for $30 received a Microsoft Access file containing six tables. The tables contained information pertinent to each forfeiture since 2006. We used SQL to join a few tables that contain fields including property value, disbursement value, disbursement date, seizure date, a description of the property, which agency performed the seizure (and subsequently got the disbursement if it resulted in a forfeiture) and a disposition code, which told us the current status of the asset.
From this new table, we were able to export the data into an Excel spreadsheet and use pivot tables to get a quick picture of which agencies were seizing the most assets, the value of those assets, and how much money had been disbursed to each agency through this state program. We also used a few SQL queries to get the most valuable assets seized in each department. Using the disposition code, we were able to see how often a police department seized property, but ended up giving the asset back. This piqued our interest, especially when we saw some of our local police departments returning a large percentage of the assets they were seizing. In Newport News, right across the James River from Norfolk, 57 percent of the items that were being seized were returned to the owners or lienholders. In Portsmouth, it was happening 47 percent of the time.
So we had another angle to explore; why are some departments better at seizing assets and turning them into forfeitures than others? Through interviews with sources in different cities, we discovered that there was not just one answer. Each city handles the process slightly differently. Some cities do a better job making seizures that would be completed than others for reasons ranging from how well police are trained to when the data is entered into the database.
But all of this data was just from the state program, and we knew departments were getting money through a similar federal program as well. To get a more complete picture, we requested a copy of the Department of Justice Asset Forfeiture Program database – which contained both civil and criminal forfeitures – in the state of Virginia.
This data set, which was provided for free, came as one large Excel file, and contained similar columns as the state database, including asset type, seizing agency, asset value, disbursement date and disbursement amount. It also had a forfeiture type, so we were able to discern which seizures were criminal, and which were civil. After chopping out the criminal seizures we noticed some huge numbers being disbursed in September 2007. After some phone calls we discovered that the Purdue Pharma settlement, in which the makers of OxyContin pleaded guilty to civil and criminal charges related to the misbranding of the drug, was classified as a civil asset forfeiture, and a lot of the money was funnelled into this database. That was clouding the data, so we narrowed our time frame to seizures going back to 2008, and we did the same to our state data so we would be able to combine the total disbursement amounts.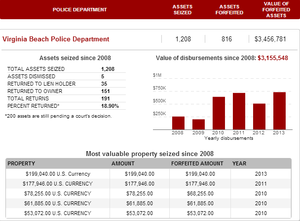 Interactive
We wanted to make a database, but we wanted it to be more interactive than just a static spreadsheet of numbers.
We used a couple of different javascript libraries we had been experimenting with (backbone, isotope, d3) to allow people to look up their police department, but also measure it against others in the state.
There was a lot of really interesting information to display, but we didn't have the room. Instead we turned each department into something of a card that expanded when you selected it.
From there we displayed the various data points, such as yearly disbursement amounts in a bar chart, a table of the most expensive assets seized in each department, and the important numbers regarding the status of the assets that were being taken.
The end result was an interactive graphic that allowed readers to further examine specific areas without bogging down the story with too many numbers.
Gary Harki is the Norfolk and Portsmouth police reporter at The Virginian-Pilot. He can be reached at [email protected] and @GaryAHarki.
Jon Davenport is a data reporter for The Virginian-Pilot and can be reached at [email protected] and @JonDavenport1.