National database used to report on hit-and-runs in Colorado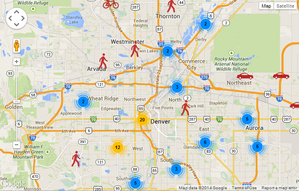 It all started with an observation from 9News Denver investigative reporter Chris Vanderveen: Doesn't it seem like there have been a lot of hit-and-runs in Colorado?
That started a year-long, joint investigation by 9News and Rocky Mountain PBS I-News that included analyzing electronic databases, getting police records from dozens of jurisdictions and poring over court documents.
We started with the National Highway Traffic Safety Administration's Fatality Analysis Reporting System database to find out how many hit-and-run fatalities had taken place in Colorado during the most recent five-year period with data, 2008 to 2012. We knew about the prominent hit-and-run cases in metro Denver, but Colorado has a lot of small towns that don't get much publicity.
The database allows you to either download all fatalities by year or customize your requests. We started with the entire database and used Microsoft Access database manager to isolate Colorado hit and run fatalities. FARS does not include the names of victims, but it does give ages, gender, race, responding law enforcement agency and time of the accident.
Chris's instincts were correct. There was a big increase in hit-and-run fatalities in 2012 – from 18 in 2011 to 34 in 2012. In addition, the FARS data included the longitude and latitude of the accident locations. That allowed us to map them using Google Fusion Tables. We created a spreadsheet of all fatalities and added columns for whether anyone had been arrested, charged or convicted.
To get those details and other information on the deaths, we did searches of TV and newspaper archives and then did records requests to law enforcement agencies for police reports. Most police agencies charged us fees ranging from $5 to about $30 depending on the size and number of reports we requested.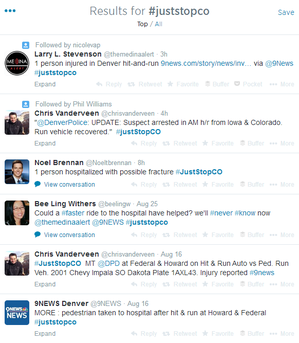 9News created a
Twitter hashtag
to get people talking about hit-and-run cases.
We were able to find the details on all but a handful of the 104 hit-and-run fatalities that took place between 2008 and 2012. We did find some quirks in the FARS data. One police report made no mention of a hit and run. We dropped that one from the list. In another case, the perpetrator and the victim of a hit and were one in the same. A man hit a school bus and fled. He was found dead in his car several miles away. We kept that one.
We also wanted to find out the extent of hit-and-run accidents with injuries by surveying the three largest police departments in the metro area – Denver, Aurora and Lakewood. Each one had its quirks. Aurora put all of its injury accidents into a PDF file and printed it out, charging us 25 cents a page. We ended up scanning the pages into a computer and converting the PDF into spreadsheets using Acrobat Pro software.
Denver initially said it could not separate hit and runs from other accidents. However, Nicole Vap, executive producer at 9News for the investigative team, remembered there was a checkbox on the accident forms to indicate a hit and run. In addition, I pointed out to Denver that Aurora and Lakewood had given us the data.
Denver came up with a spreadsheet that not only included injury hit and runs, but every hit and run that took place in the city. We used Access to analyze the accidents.
As a result, we now know that between 2011 and 2013, more than one injury hit-and-run accident took place every day in the metro area's three largest cities. And in Denver, there were an average of 17 hit-and-run accidents every day, including parked cars and fender benders.
Chris used this data in his first report and Rocky Mountain PBS wrote stories that were distributed to all of the newspapers in Colorado.
However, the data also has came in handy every time a fatal hit and run takes place in Denver. We can quickly tell viewers how many injury hit-and-run accidents took place near the site of the fatality as part of 9News' daily story.
We also mapped the injury data by geocoding the addresses in Google Fusion Tables.
Blair Shiff at 9News took all of the mapping data and created an interactive hit-and-run web page that included the circumstances of the fatalities with pictures of the victims. She did another map showing the locations of injury accidents.
Next, we looked at sentencing for hit-and-run perpetrators. We got the Colorado Judicial Department database of all cases in any of the state's 64 counties that involved someone leaving the scene of an accident resulting in injury or death.
There were not enough homicides to compare counties and jurisdictions accurately, so we looked at serious bodily injury cases. We again used Access to look at trends and found two neighboring counties in metro Denver that had different sentencing patterns – one rarely sent perpetrators to prison while the other did in almost half of its cases.
9News incorporated that into another special report and Rocky Mountain PBS wrote another package of stories that was distributed to news outlets across Colorado.
9News also created a Twitter hashtag on hit-and-run cases and conducted online chats before and during its broadcasts.
The stories had impact. The state legislature passed a law creating a statewide alert system when police were searching for the drivers in hit-and-run accidents. They passed another law extending the statute of limitations on hit-and-run fatalities.
Burt Hubbard is a data reporter who has worked for the Rocky Mountain News and Denver Post and is now part of the I-News team at Rocky Mountain PBS. He also teaches investigative reporting techniques at the University of Colorado at Boulder. He can be reached at [email protected]