Gender gap in prostitution-related arrests found in crime data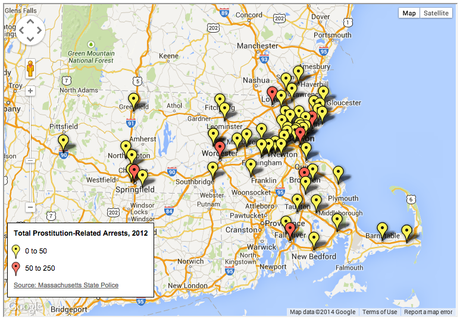 NECIR used Google Fusion Tables to map state data
We knew that more women than men were arrested for prostitution-related crimes across the U.S. despite the fact that such offenses take both buyers and sellers.
What we wanted to find out was how each Massachusetts town differed in arrest patterns and if that gender disparity had changed following the passage of a 2012 state law meant to target the demand that fuels the lucrative and often violent commercial sex trade across the United States.
The data – provided to us by the Massachusetts State Police – showed that the gender gap continues unabated: Statewide, nearly 70 percent of the 920 arrests on prostitution-related charges in 2013 were women. But more significantly, we also found that arrest ratios by gender differed widely by community – largely depending on a municipality's willingness and access to resources to go after sex buyers.
In one city in Western Massachusetts, for example, police arrested only 14 men and 157 women in 2013; in contrast, another town that long struggled with the negative effects of sex trafficking arrested 92 men and 55 women last year.
Our findings – published in regional papers and on our website at the New England Center for Investigative Reporting – have been a call to action for victim advocates who say that law enforcement must focus more energy on sex buyers, considered key by many to reducing the damaging effects of commercial sex trafficking around the world. The story followed an investigation in 2013 where we showed a lack of prosecutions and mandated fines for sex buyers despite the new state sex trafficking law.
Journalists elsewhere should be able to obtain granular data, similar to what we used, from their state police. The state police provide prostitution-related information to the Federal Bureau of Investigation each year to help create the Uniform Crime Report, a compilation of publicly available crime statistics. Already, state-by-state arrest data can be found in the federal report on Table 69 under "prostitution and commercialized vice."
We obtained the local data through a contact at the Massachusetts State Police Fusion Center, a state police crime analysis and crime reporting unit. We asked for prostitution-related arrest data segregated by sex, age, race, and location between 2008 and 2013 and received an Excel sheet of data without charge.
Once received, we did simple calculations and analysis, adding arrest totals and looking at the trends, to come up with our conclusions. First, the data prompted questions we needed answered. For example, some of the columns were marked with state police notations about the race and age of arrestees that needed clarification. We also needed to calculate arrest totals for each town.
But the most telling data surrounded the gender differentiation by municipality. While it is possible that some of the sex buyers were women and some of those arrested for selling sex could be men, our sources told us that arrests generally were separated by gender: Most men were buyers; most women, sellers.
There were other small complications with the data. When we fact checked city-by-city totals provided by the state with local police departments, we found that in some cases numbers differed slightly. That's because state police report only certain "prostitution-related arrests" to the federal government while local departments may include other types of crimes under the umbrella of prostitution-related crimes. Nonetheless, the general trends remained consistent.
We chose to use data provided by the state in our story and graphics to assure we were comparing similar statistics.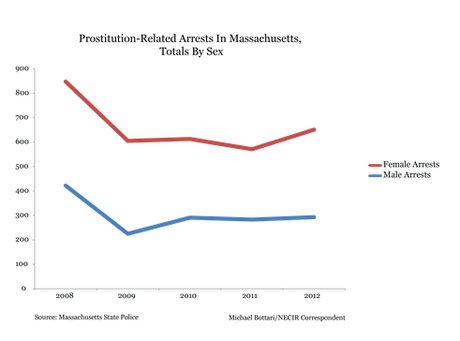 Line charts show arrest trends over time
As part of our analysis, we compiled each town's totals for 2008 to 2013 and focused on those with the most arrests. The easiest way to digest the data was to create line charts.
We contacted police departments for comment, trying to understand why some cities and towns arrested so many more women than men. Much of the answer came down to resources and priorities – some cash-strapped police departments said they had to focus on what they considered more serious crimes, others explained that arresting buyers requires more money and time.
Coincidentally, activists in Worcester, one of the cities with the widest gender gaps for prostitution-related crimes, already were planning to protest the lack of enforcement and provided us needed color and quotes for the story.
At the same time, we found outliers whose data reflected a spike in arrest of sex buyers despite financial challenges. They included city officials in Lynn, an ocean-side city that has long suffered the negative effects of prostitution, who said they had increased enforcement to push commercialized vice out of town.
As part of our package, we created graphics to show the arrest trends – we made line charts that reflected different arrest levels and pie charts that showed the percentage of men and women arrested in certain key municipalities.
We used Google Fusion Tables to map all the data we had for the state, which can be updated with new information. We customized the information boxes in Fusion Tables, using basic HTML, creating a table for each town, and listing the arrests by year and by sex, including totals. For the cities with the most active prostitution levels, we included a graphic.
The story was accompanied by a radio piece produced by our partners at WGBH public radio as well as photos and audio. As a growing number of cities and towns around the country increase efforts to go after sex buyers, this analysis could shed needed light on the issue.
Jenifer McKim is assistant managing editor and senior investigative reporter at The New England Center for Investigative Reporting, an independent newsroom based at WGBH public radio and Boston University. She can be reached at [email protected]. Michael Bottari, former web producer for the center, can be reached at [email protected].