Arrest records, census data reveal racial disparities in marijuana arrests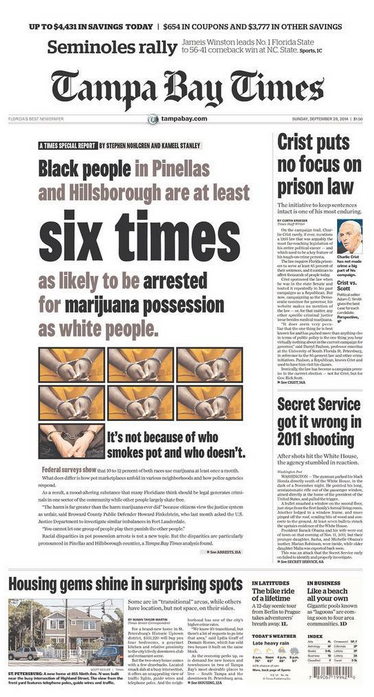 Many of us have read national stories about racial disparities in marijuana arrests. We wanted to tell our own readers what that looks like with local police departments and local people.
We found that the disparity not only exists in our area, but is much worse than disparities reported on the national and state level.
Black people in Pinellas and Hillsborough counties are at least six times as likely to be arrested for marijuana possession as white people on a per capita basis.
We had started working on stories independently. After we discovered that, our editors agreed to give us some time to dig in as a team.
Citizens complained to the newsroom about the St. Petersburg Police department, which at times had an uneasy relationship with the black community. Citizens said that the police were making stops on thin pretexts to search for drugs.
Both of us had read the 2013 ACLU study "The War on Marijuana in Black and White," which listed Pinellas County as having a 7-1 per capita black-to-white arrest ratio for possession, twice the national average.
The ACLU report was based on 10 years of data ending in 2010. Attitudes toward pot had changed dramatically since then. We wanted to answer two main questions:
Did the disparity in our area still exist? And why?
To calculate the disparity requires arrest records by race and census data by race for the same jurisdiction and the same year. That gives per capita arrest rate.
We started by gathering marijuana data for 2013, the most recent time period that gave us a whole year of arrests.
Getting and organizing the numbers proved difficult. We could have relied on FBI crime data, but we wanted more detail that only the local agencies could provide — like the locations of arrests and whether police issued notices to appear instead of taking suspects to jail.
St. Petersburg police were very cooperative. So was the Pinellas County clerk, who keeps arrest data for all the municipalities because the county controls the central jail and court system. With every agency, we asked for as many fields as possible.
Within a few weeks, we had a couple of Microsoft Excel spreadsheets with hundreds of records. We also noticed our first problem.
The clerk's arrest numbers for St. Petersburg (a few hundred) did not remotely square with police records (more than 900), though they were supposedly tracking the same arrests.
After a few weeks of deeper digging, we figured out that the two agencies were using different coding to pull arrest records from their databases.
Adjusting for that allowed us to finally get a near-perfect match for St. Petersburg arrests and the confidence that we were working with good numbers.
It was obvious from the numbers that more blacks were being arrested, but why? We began interviewing, riding along with police, talking with public defenders to provide some theories.
Both the sheriff and St. Petersburg police chief offered a defense for the disparity: Pot possession is usually ancillary to another charge, whether burglary or DUI. Their theory was that they were not deliberately targeting black people. It just pops up that way.
So we checked that. We had more than 900 misdemeanor possession arrests for St. Petersburg. We manually went into court records for every defendant and identified whether the pot arrest was accompanied by another charge, then entered that into our own database.
In almost half the cases it was the only charge, and that was giving the police a big benefit of the doubt. The St. Petersburg ratio of 6-1 held up even in the case where pot possession was the only charge. Their theory held no water.
We wanted to get a disparity ratio for the sheriff's arrests, because he was making the strongest argument that we were blowing this out of proportion.
We had his arrests by race, but could not get the racial makeup of the largely unincorporated area he serves.
We thought about teasing out his demographics by adding up population data from the American Community Survey numbers for all of Pinellas County's municipalities and then subtracting them from the countywide total – theoretically giving us demographics for the unincorporated areas. But the margins of error in the smaller municipalities were too high to do that with confidence. So we could not derive a ratio of the sheriff's per capita arrests by race.
Our last big problem with data was from Hillsborough County. The county has only two municipalities, relatively large. That allowed us to get good racial makeup data for both cities and what remained – the unincorporated areas served by the sheriff.
The sheriff cooperated early on and gave us data right away. Tampa PD, which serves by far the biggest African American neighborhoods of Hillsborough County, reacted defensively at first.
Finally, a few days before publication, Tampa started feeding us all sorts of numbers that changed by the hour. None of those numbers squared with those from the county data and a 5-1 ratio that the city data suggested.
The last glitch involved the racial makeup of Hispanics. Hillsborough has a very large Latino community, larger than the black community. In census data almost all Hispanics self-report as white, or some variation of white. But the searchable fields in jail records only allow for black or white and we could not find out on deadline how deputies were handling Latinos.
Do people self-report their race at the jail? Does the deputy look at the color of their skin and mark black or white? It was potentially a huge fly in the ointment because we could be getting a large number of "black" arrests generated by people who are counted as "white" in population statistics. We asked authorities but they couldn't tell us immediately.
Again, a manual search saved the day. We simply started looking up individual records for everyone with last names common among Hispanics (Rodriguez, Perez, Gonzales, Delgado, etc.) We looked at more than a 100 names and only a few were listed as "black," (those with dark skin). Almost all were put down as "white." So the arrest data was matching up pretty closely to the population data. Maybe a little skewing, but nothing that could explain a 5-1 black/white ratio, much less 7-1.
Kameel Stanley is a city government reporter and can be reached at [email protected] or on Twitter @cornandpotatoes. Stephen Nohlgren is a general assignment reporter and can be reached at [email protected].