State database reveals 'overbedding' problem in Illinois hospitals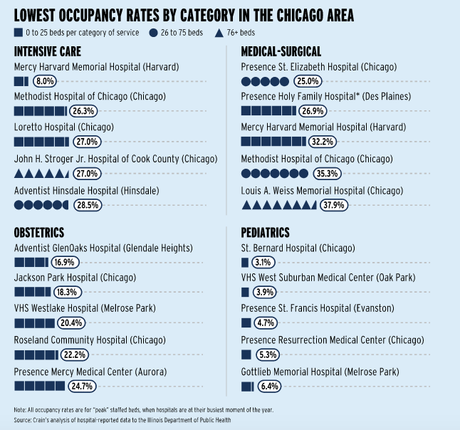 Graphic from Crain's Chicago Business
Chicago is one of the most fragmented hospital markets in the country, with 95 hospitals in a six-county area competing to survive.
Fewer patients are walking through their doors for a host of reasons. Hospitals and doctors are being paid to keep patients healthy and away from costly overnight stays, and can get reimbursed at lower rates if they don't. Advances in technology have led to same-day surgeries. In Chicago in particular, huge population shifts gutted many minority neighborhoods anchored by hospitals.
Consumers have plenty more options to get care, with clinics popping up inside retail pharmacies like Walgreens that compete with family physicians. The ripple effect? A lot of empty hospital beds.
I got the idea for this project, Running on empty, more than a year ago during a Crain's event. A panelist said he would address the elephant in the packed room. The local hospital market was 40 percent "overbedded." That means the region has too many hospitals beds.
I was intrigued. How overbedded is Chicago? Is this problem statewide? What's the impact? I started calling sources and industry experts to help guide my hunt for data to show whether this was an issue. I also wanted to have enough information to look more broadly statewide and not just hone in on Chicago. I learned I only would be able to get a slice of the most updated data from a hospital group that sold it to members.
But then I stumbled upon a website that I use often in my daily beat reporting. Best of all, it's public data that's reported by hospitals themselves.
In Illinois, hospitals have to report a trove of metrics to the Illinois Department of Public Health every year, from where their revenue comes from to how busy their ERs are and how many patients fill their beds. The state takes the information and displays it online in a PDF, as well as in a spreadsheet.
Once I found the data, but before I began my analysis, I went back to my sources to make sure I was approaching the analysis in a way that would most accurately reflect how hospitals actually use their beds.
In Illinois, hospitals report two different bed counts: authorized beds and staffed beds. They're authorized by the state to have a certain number of beds in their hospital, but they only staff so many of those beds with doctors, nurses and others based on how many patients need care. I also had to decide whether or not to include specialty facilities that treat psychiatric or rehab patients, for example.
I analyzed nine categories of service for the 213 hospitals in the state, including the most common medical-surgical beds, as well as ICU, pediatrics, mental illness and long-term care. For each service category, the beds were broken down by those that were staffed on the hospitals' busiest day. They also were broken down by patient days, inpatient admissions and observation days. Patients under observation are technically outpatients. They're too sick to go home, but not sick enough to be admitted as inpatients. Think patients who show up in the ER with heart attack symptoms.
I decided to focus on hospitals that provided general inpatient care throughout Illinois. I talked with state officials to make sure I understood their data, and I used their longtime methodology to calculate the so-called occupancy rates for the "peak" staffed beds. That's the time of the year when hospitals are at their busiest.
Using Microsoft Excel, I analyzed records from 2011 through 2013, and for hospitals with the most unused beds, I also looked at records going back a decade to make sure their recent numbers weren't an aberration.
To calculate the occupancy rate, I used the state's formula, which goes back decades. The formula incorporates patient days, observation days and staffed beds. I did a sort for each category of service per year from 2011 to 2013 to see how the bed use had changed. I sorted statewide, and then I narrowed the analysis to the six-county Chicago area. This helped me identify the different patterns among hospitals downstate vs. those closer to home. For hospitals with the most vacant beds, I calculated the occupancy rate for at least a decade to make sure there wasn't a pattern I had missed before 2011, when my initial search began. I also calculated median occupancy rates statewide and in the six-county Chicago area to see how that had changed year over year, and compared that to national occupancy rates I received from the American Hospital Association.
My findings were staggering: In 2013 alone, nearly 4 out of every 10 staffed beds sat empty even when hospitals were at their busiest.
Rural central and southern Illinois, where folks could travel miles before finding another hospital, were home to the emptiest facilities. The most vacant hospital in the state had an average daily census of 1.5 patients.
Closer to home in the six-county Chicago area, the most unused hospitals were aging ones in poor neighborhoods with dwindling populations. Three groups of half-empty hospitals sat within miles of each other.
But even newer, suburban hospitals were in trouble too. The first new hospital built in Illinois in 25 years was among the emptiest in the Chicago area.
To understand what caused the exodus of patients, I conducted more than 50 interviews. I talked to hospital executives, demographers, consultants, community organizations and officials in various states, among others. They all kindly gave me their time to probe the issue, though some hospital CEOs and hospital representatives disputed even their own data they provided to Illinois regulators.
They told me the state data I used was wrong. There is a lengthy process in which hospitals are given several opportunities to correct any information they provide to the state. But none of the hospitals did so until after I began my project and started asking questions. At least one hospital sought to correct its information after my interviews.
I also analyzed financial statements and demographic information to understand the financial health of these hospitals and how the communities around them had changed.
To make the data available for readers, Crain's graphics editor Jason McGregor built a searchable database where people could look up how empty or full their hospitals are compared to their rivals.
This project was eye-opening. I learned that governments and hospital officials across the country have made the tough decisions to close or convert facilities before they collapsed on their own. That has yet to happen in Illinois.
Kristen Schorsch is a health care reporter at Crain's Chicago Business, where she follows the money within the hospital, health insurance and pharmaceutical industries and has covered their dramatic transformations under the Affordable Care Act. She can be reached at kschorsch@crain.com or on Twitter @kschorsch.