State, local fire department data reveals slow response times, decline in manpower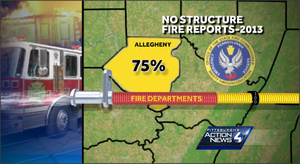 Like any TV station, WTAE covers lots of fires. But when Justin Antoniotti took over as news director several years ago, he was struck by the number of fires in Western Pennsylvania where homes burned to the ground as well as the number of times our photographers got to a fire around the same time as the firefighters.
So last year he asked me to examine how quickly western Pennsylvania fire departments were responding to fires.
I learned fire departments are supposed to send records of every structure fire to the state fire commissioner. The Pennsylvania Fire Information Reporting System (PennFIRS) reports include dispatch and on-scene times for each fire. The state forwards the reports to the Federal Emergency Management Agency, which incorporates them into the National Fire Incident Reporting System (NFIRS).
The fire commissioner's PR person warned me that the PennFIRS data might not have the information I was looking for, and suggested that I instead get 911 data from the counties. I requested PennFIRS anyway. He turned out to be right – but I'm still glad I got the state data.
The PennFIRS data came as PDF files, which I converted into Excel spreadsheets with the help of NICAR and then imported into Microsoft Access database manager. However, I noticed that none of the records included a fire department ID number (FDID), a unique identifier assigned to each fire department nationally. So I asked the commissioner's office to resend the data, which they did. That turned out to be critical.
When I sorted the data, I was struck by the small number of fire departments reporting fires. In one local county there were no reports for 90 percent of the fire departments. Even the state fire commissioner's own department – where he was still assistant chief – had no structure fire reports! I knew his and other departments had responded to multiple fires.
I later learned that fire chiefs had been complaining for years about a software glitch that kept them from filing PennFIRS reports. The reports are important not just for recordkeeping but also because state law requires them to be used by any Pennsylvania firefighter seeking to file a cancer compensation claim.
Of course, this became a story. But I still did not have the response time data. So I requested two years' worth of structure fire response times from 911 centers covering five area counties. Specifically, I asked for the date and address for each fire, as well as the entry, dispatch and on-scene times for each responding fire company.
Two counties responded with Excel files and two counties gave me PDFs. Another county gave me times and dates but left out locations and responding departments, making their data useless. (Pennsylvania's Right to Know Act says "time response logs" are public records but does not specify details of what the records should include). One county charged $6.61 for the data, with all the others providing it at no cost.
I used Cometdocs to convert one PDF to a text file and then cleaned it up in Notepad++ text editor before importing it into Access. (IRE members can get free premium Cometdocs accounts).
The other PDF included police and EMS responses for each fire. Unfortunately, the police/EMS units were not coded in a way that made them easily segregable. So I asked the county to remove them and send the data with only the first responding fire company. Which they actually did – and they also converted it to Excel. Sometimes miracles happen, even in Pennsylvania.
I used the DateDiff function in Access to calculate the response times. The results were eye-opening. Some departments were failing to meet the minimum response times established by the National Fire Protection Association (NFPA). Those times range from 4 minutes for paid departments in cities to 14 minutes for volunteers in rural areas.
I found one fire with a 39-minute response. Then there was a fire department that needed more than an hour to respond to a rekindling – two times.
I calculated averages for each municipality and, where possible, fire department.
I used our own news archives to cross-check fatal fires with the data. That led me to two cases where people died in fires at their homes less than a mile from their local fire station, after response times of 11 and 14 minutes.
The 911 data did present some concerns. About a quarter of all the on-scene times were null values. That could mean a fire crew never responded. Or it could be firefighters never notified 911 when they arrived at the fire scene. The only way to check would be to pull call reports from individual fire companies. We did ask some fire chiefs to disclose reports, but they refused. Most volunteer fire companies are private organizations so they are not subject to the public records law.
The NFPA standard covers not just response times but also the number of responders. Rural fire departments are supposed to have a minimum of six firefighters on the first response. But I learned it's not uncommon for just two firefighters to make it on the first truck.
That opened the door to another issue that has been plaguing Pennsylvania's fire service – a precipitous decline in manpower, from 300,000 volunteers three decades ago to just 50,000 today. Our stories also explored firefighter training (none is required in Pennsylvania for volunteers) and the politics of fire response (fire chiefs refusing to allow neighboring departments to back them up).
The initial story on response times sparked an angry response from volunteer firefighters; some of them even started a "Boycott WTAE" Facebook page that quickly gathered 6,000 likes. However, the reaction turned more favorable (and the boycott page disappeared) as we continued airing stories exploring the systemic problems facing Pennsylvania fire departments.
All the fire response stories re-aired as part of an hour-long documentary.
In the wake of our stories, Pennsylvania's legislature is considering bills to require mandatory training and improved incentives for volunteers.
Certainly, the problems facing volunteer firefighters are not unique to Pennsylvania. I would encourage other reporters to examine response using both 911 data and NFIRS reports.
Paul Van Osdol has been an investigative reporter at WTAE TV in Pittsburgh since 1999. Previously he worked at WJXT in Jacksonville, as well as newspapers in Florida and Massachusetts. He can be reached at pvanosdol@hearst.com.