How to investigate and analyze police pursuit data, policies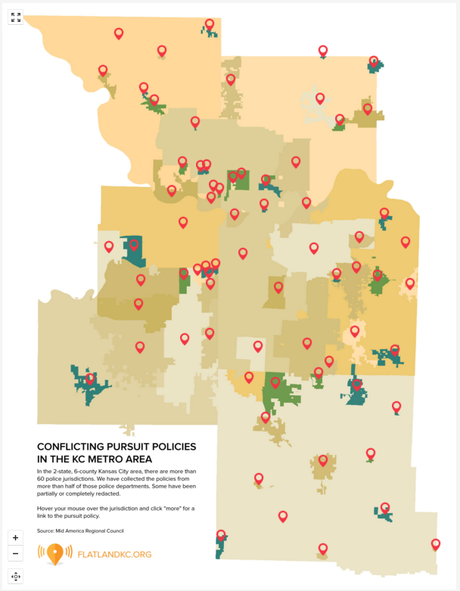 If you live in a metropolitan area with multiple police departments — as many of us do — it might surprise you to learn how many have conflicting and uncoordinated police pursuit policies that put residents at risk.
Highlighting this in your area might be quicker and easier than you think. And you might get a chance at doing what all good journalism should: foster change.
Like so many stories worth doing, this one started with a tip.
We heard that the county sheriff had hired a deputy who had been barred from working as a police officer.
Ten years earlier, the officer was involved in a pursuit-related accident. The officer had crossed through several jurisdictions and over a state line before his cruiser seriously injured a bystander.
He was chasing a stolen car — something that was allowed under his home pursuit policy. But he crashed in another jurisdiction where cops are barred from such pursuits.
Believe it or not, the home policy rules, even in other jurisdictions.
The local prosecutor charged the officer with misdemeanor reckless driving, and announced that the conviction would bar him from ever again working as a cop. Just as our tipster told us, a few years later he was driving a police cruiser again.
The tip turned out to be a decent story on its own. But we also wondered whether that decade-old reckless driving charge, which local cops and some police chiefs complained bitterly about, had any effect on police pursuit safety over the following ten years.
What we found out was … not so much.
We first needed to analyze local pursuit policies, but we had no idea how many there were.
We obtained a list of police jurisdictions and a map of their boundaries from the local regional council of governments. There are about 60 police jurisdictions. Since there were only two of us working on the project under a deadline, we identified about 30 of the biggest jurisdictions and requested their policies.
Most departments quickly complied. In fact, some departments post their policies on their websites. Others, however, refused to release them, even after an open records request.
The Missouri State Highway Patrol, the Kansas State Highway Patrol and the Overland Park Police Department refused.
The Missouri patrol cited an exemption to the Missouri Sunshine Act that involves ongoing investigations. Frankly, we thought this was wrong — the policy itself has nothing to do with ongoing investigations, it's an operating document. We followed up with a second letter explaining our opinion and still didn't get it.
The Kansas Highway Patrol cited an exemption that involves the safety of buildings. Overland Park, Kansas, heavily redacted its policy using the same exemption. Again, we thought this exemption was irrelevant and reported that they denied our request.
Our 30 pursuit policies made a five-inch stack when we printed them out. Knowing what could trigger a pursuit under each policy was central to shaping the story.
Our 30 pursuit policies made a five-inch stack when we printed them out. Knowing what could trigger a pursuit under each policy was central to shaping the story.
We built an Excel spreadsheet to help us analyze them. It clearly showed that pursuits in some departments could be triggered by nothing more than a traffic violation, while at others, pursuits were limited to violent felonies.
Next, we needed to collect data on the number of deaths and injuries from pursuit crashes — especially getting county-by-county numbers so that we could focus in on our five-county metro area.
Data collection on pursuits is often voluntary and varies from state to state, and that in turn affects the accuracy of federal data.
In Kansas and Missouri, no state laws require the collection and reporting of this information. In some states, like Wisconsin, there are. That's one reason we didn't bother to approach individual departments for the data.
We started by requesting data from the Missouri State Highway Patrol for four counties on the Missouri side of our metropolitan area. It included only the pursuits in which the patrol was directly involved. The department produced individual PDFs (about 45 in total). We entered key information into a spreadsheet by hand.
The only other county-by-county data we could find in Missouri was for all emergency vehicles (fire trucks, police cars, ambulances) involved in accidents while on emergency runs. We then paid the patrol $76.50 to go through paper accident reports and separate out only the pursuit-related crashes. That came in a spreadsheet.
We had better luck getting data for the two counties on the Kansas side of the metro area from the Kansas Department of Transportation. This was more complete — listing all police pursuits by jurisdiction and all deaths and injuries from all vehicles involved in pursuit-related accidents. And it came in the form of a spreadsheet, which was much more detailed and manageable.
Finally, we obtained all of the state-by-state and national pursuit data from the U.S. DOT's Fatality Analysis Reporting System (FARS) database. FARS only lists deaths on a statewide level, however. And we discovered that reporting to FARS is voluntary, so not all pursuits or crash deaths are included.
Given the voluntary nature of the data reporting and the incomplete county-by-county data available in Missouri, we knew our numbers were woefully incomplete. We were certain that there were more pursuit-related crashes and deaths.
That's why we created one more database.
We used a Nexis search to create an Excel spreadsheet of more than 100 news stories about pursuit crashes metrowide over the past decade.
That helped, but it did not make up for all the missing data. So we chose our wording very carefully.
For example:
"But in the decade since, there have been at least another 706 pursuit-related crashes in the metro area, according to state data analyzed by the Hale Center for Journalism and The Kansas City Star.

Those crashes killed at least 23 people, according to an analysis of more than 100 news stories over the decade. Hundreds more were injured, including at least 11 police officers.

And those numbers significantly understate the problem, at least on the Missouri side of the six-county metro area. Missouri only tracks pursuit crashes of police vehicles and does not count deaths and injuries."
But collecting data and policies will only get you part of the way there.
Check court cases for civil suits filed by victims' families and interview their lawyers about whether precedent-setting cases and state laws thwart their actions. Check state POST (Peace Officer Standards and Training) offices in your state to see whether officers are ever disciplined in pursuit cases (administrative law judge decisions in such cases are online in some states). And check state laws for any limits imposed on local police departments or "hold harmless" provisions for pursuing officers.
More than 300 people — including innocent bystanders and police officers — are killed every year in police pursuits, many of which are arguably unnecessary. Dig deep and if you find what we did, take your findings to your local regional council of governments and ask what they are doing about it. Then write a follow-up story and hold their feet to the fire.
Mike McGraw retired in 2013 from The Kansas City Star after more than 40 years in journalism, most of them as a print investigative reporter. He now reports part time for the Hale Center for Journalism at Kansas City Public Television. Contact him at mmcgraw@kcpt.org.
Bridgit Bowden, formerly of Kansas City Public Television, is the Mike Simonson Memorial Investigative Reporting Fellow at Wisconsin Public Radio and The Wisconsin Center for Investigative Journalism. Her work has appeared in such places as NPR, The Kansas City Star and Nashville Public Radio. She is a graduate of the Missouri School of Journalism. Contact her at bbowden@wisconsinwatch.org.