Getting the most from voters on campaign issues
By Martha Quillin, The News & Observer
"One hundred counties, one hundred videos."
It sounded like editor bait, not a rational undertaking for a newsroom that — like nearly every other one in the country — had watched its bylines and photo credits disappear in layoffs and early retirements.
Sure, North Carolina has 100 counties. And yes, The Raleigh News & Observer has amazing visual journalists who can tell stories with video as effectively as the best writers the company has ever had. But sending photographers to every one of those counties to ask people what was on their minds as the 2020 election approaches, and producing a separate video for each place? I pictured exhausted staff, broken-down cars, rejected expense reports and beautiful footage that would go unwatched because people in this country — and this state — are too divided to listen.
But The News & Observer committed to the idea, so we had to find a way.
The idea came from N&O Photo Editor Scott Sharpe, who wanted to go beyond elected and appointed officials who might have an agenda to push. Instead, we would have intimate conversations with those whose lives are most profoundly affected by politicians' decisions: the residents of this diverse, 500-mile-wide state that reaches from the Atlantic Ocean to the Appalachian Mountains. The videos would present subjects in their own voices and speech patterns, and within the context of their home counties, using B-roll shot by journalists on the ground and with drones.
The project began with just two people — visual journalists Julia Wall and Travis Long — picking counties on the map and carting trunkloads of gear into the tiny towns and rural counties that make up most of North Carolina.
But getting people to open up wasn't easy. People don't like being approached by strangers asking about their political beliefs, and they're especially suspicious when the strangers want to video the conversations with not one, but two cameras.
To speed the process and keep photographers from getting snake-bit, shot at or chased by dogs, I was added to the team. While the visual journalists traversed one county, I looked for people to interview in the next county they planned to visit. Later, additional reporters and visual journalists from the N&O, the Charlotte Observer and McClatchy's Washington office — as well as skilled producers and editors from throughout the company — were recruited so "Journey Across the 100" could launch in late January 2020.
To streamline, we decided to set interview goals based on county population. Tiny, sparsely populated counties would need one interview; counties with urban centers would get three or more. We looked for people of varying genders and ages from different political parties with a diverse range of occupations and educational levels. We wanted people of different races and ethnicities, and natives and transplants. We wanted every North Carolinian who clicked on the counties on our interactive map of the state to hear somebody who agreed with them on something.
In my search for subjects, I tried to go off-road, though I never left the office. I wanted people who paid attention to the news but weren't named in news stories — who were thoughtful and articulate but not slick or self-serving.
Eventually, I settled on a system for finding people. I would look at the politics of the county, see if it leaned heavily Republican or Democrat. Then, I would go to the Facebook page of the county, one of its towns or of local churches or civic groups.
I searched the posts for responses that suggested people were interested in what was going on where they lived.
I took the names I found on Facebook and searched North Carolina voter records to see if they were registered voters and what party they were affiliated with. I checked internet directories to make sure they lived in the county and to mine phone numbers. I'd then send a note through Facebook Messenger or call the person and explain that we were doing "a video documentary project in which we are talking with people about the issues that are most on their minds as the 2020 election nears."
I promised no one would be asked who they planned to vote for, though they could talk about that if they wanted. I offered to send a list of the questions a video journalist would ask. If they agreed to participate, I made an appointment for our video team to visit and logged it into a Google Doc shared with the photojournalist assigned to the county.
Hundreds of people said no. Some hung up on me. Several agreed to participate but later canceled or ghosted us. At least one person forgot the appointment and, when the photographer arrived for the interview, was completely stoned.
It was tedious, sometimes brutal work cold-calling people and asking them to talk on camera about things that could alienate them from their neighbors. It was relentless toil for the visual journalists who were driving from pillar to post, missing their families and loved ones at home, trying to meet deadlines and not blow the budget.
But when the edits were done and the videos published, each one opened a window into a part of North Carolina where other residents had not been before. In "Journey Across the 100," there is no name-calling, no shouting, no belittling other beliefs, just neighbors talking thoughtfully about how they would like political leaders to make their home a better place.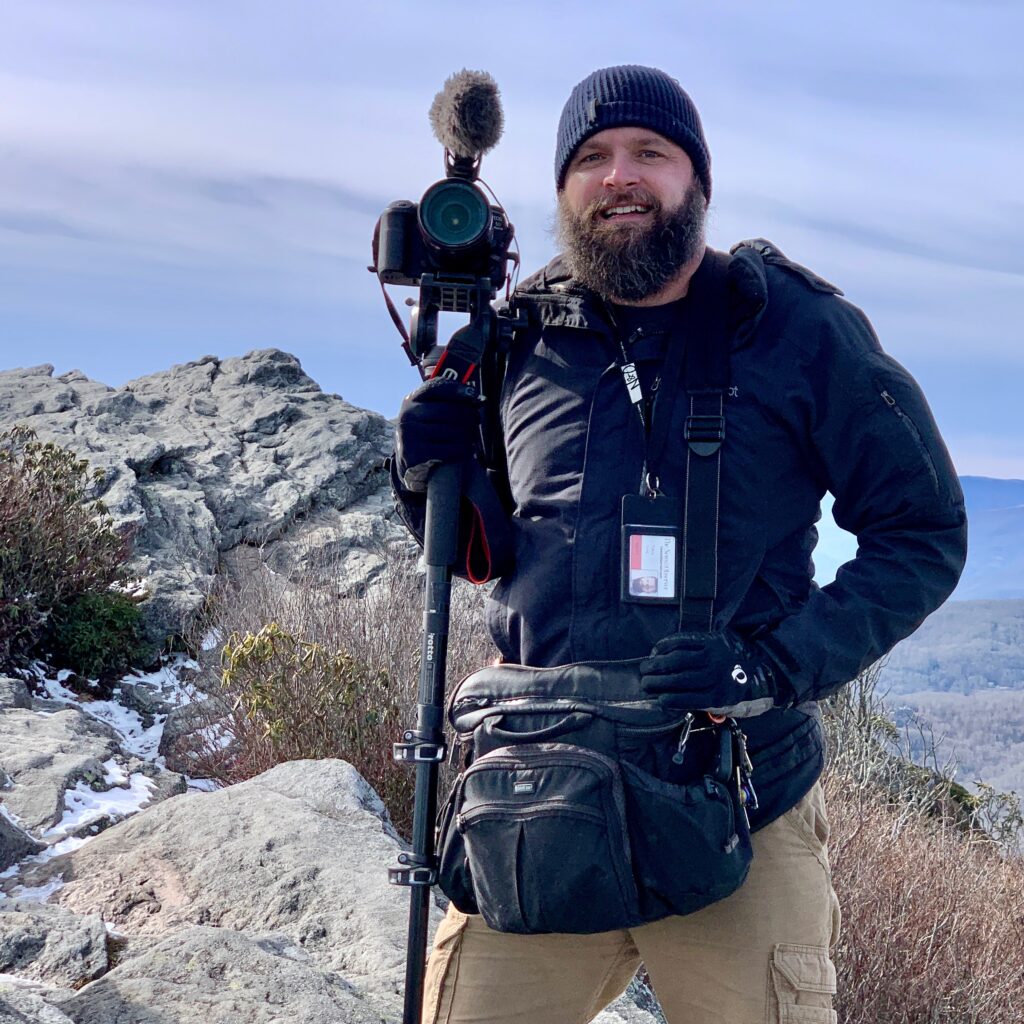 Here are some of the details of how we did it:
Communication:
• Slack: We made a Slack channel specifically for this project. It was a great place for folks to ask questions and to ensure everyone saw the answers. We also used the channel to link to and pin important folders and docs for easy access. And if there was a change or update, we could use the @channel function to make sure it alerted everyone on the team.
• Weekly meetings: We had standing meetings on Thursday afternoons starting a couple of months into the reporting process. Sometimes the meetings were long — discussions of style choices, workflow, etc. — but other times they were quick updates from the visual journalists in the field. The meetings ensured everyone had time each week to get together for a progress report, to get clarification or ask for help. Everyone felt involved and informed.
• Frame.io: This is a platform we used to upload video drafts so that several editors — or other visual journalists and producers — could provide feedback. It's a great collaborative tool that organizes comments on the timeline of a video. It helped us provide consistency across 100 videos shot and edited by a total of 13 people across the state.
Collaboration:
More than 20 journalists worked on the project, with at least 10 visual journalists, at least a half-dozen reporters, plus video editors and production folks. Key contributors are outlined below.
• Project manager: We had one person who served as project manager for the whole project, which took about six months from start to finish. Rachel Wise, editor of training and project management, worked to establish workflows and systems to keep everything consistent. She organized and led all communication, including meetings and the Slack channel.
She also met with design, social, event and graphics teams to ensure progress was being made on all fronts. Folks from across McClatchy — from Miami to D.C. to all across North Carolina — helped make this project a reality.
• Lead editor: Scott Sharpe made assignments for the visual journalists, provided support and feedback, and was the go-to for folks in the field.
• Lead visual journalists: Two lead visual journalists — Wall and Long — were the first on the road to shoot and produce a video. They also set the tone for style and did the majority of the traveling, producing and shooting throughout the project. Wall also edited the mini documentary that included footage from all nine visual journalists who contributed and served as an introduction to the project.
• Lead reporter: Martha Quillin, a longtime general assignment reporter at The News & Observer, worked to ensure visual journalists had interesting, engaged subjects to interview in each county. A dozen other reporters in The News & Observer and Charlotte Observer newsrooms helped by researching several counties, finding subjects and arranging interview times for each one. Quillin was dedicated almost exclusively to the project for more than two months.
• Lead producer: Nicole Cvetnic, who leads the regional video producer team, was tasked with divvying up which counties each of her four video producers (Ashley Reese, Stephanie Bunao, Loumay Alesali and Kevin Keister) would help edit. They ended up editing 44 out of the 100 videos shot by the VJs in the field.
Organization:
The Google Suite was a lifesaver for this project. Because we are all in different locations, we had to ensure materials were efficiently organized and easy to access.
• Google Drive: We created a folder for this project within our existing Team Drive. It housed all of our workflow docs, spreadsheets, folders with video files and images, etc.
• Google Sheets: We had several spreadsheets to organize the chaos. Our primary spreadsheet listed all counties and included columns for: the names of people who were shooting, editing and helping with reporting; a checkbox for each stage of the video (shot, edited, approved); a column where we kept track of who was interviewed in each county, so we could ensure diversity of subjects; topics discussed in each video; total population of each county; and links to the videos in our CMS. This was our Holy Grail spreadsheet that we used every day of the project.
We had other spreadsheets to keep track of sources and contact info; quotations and shots to include in the larger mini-doc; and one that was pared down and used just for the design team. The project manager took the lead in keeping everything updated.
Rachel Wise contributed to this article.
To get access to all IRE Journal issues, become an IRE member.