2005 IRE Awards winners
Honoring the best in investigative journalism
The annual IRE Awards recognize outstanding investigative work in several categories. The contest also helps identify the techniques and resources used to complete each story. Entries are placed in the IRE Resource Center, allowing members to learn from each other.
The IRE Awards were established in 1979. Winners from other years can be found on the winners page.
IRE MEDALS
The highest honor IRE can bestow for investigative reporting is the IRE Medal. This year's medal winners are: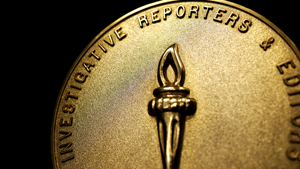 Toxic Legacy — The (Hackensack, N.J.) Record; Jan Barry, Thomas Franklin, Mary Jo Layton, Alex Nussbaum, Clint Riley, Tom Troncone, Barbara Williams, Lindy Washburn (read judges' comments)
School Bus Bloat 2005 — WJW-Cleveland; Tom Merriman, Mark DeMarino, Greg Easterly, Dave Hollis, Matt Rafferty, Chuck Rigdon (read judges' comments)
---
NEWSPAPERS
TELEVISION
OTHER MEDIA
SPECIAL CATEGORIES
---
COMPLETE LIST OF 2005 IRE AWARD WINNERS AND FINALISTS
NEWSPAPERS
Largest newspapers (more than 500,000) or wire service
Certificate:
Judges' comments: The Department of Homeland Security has been plagued by missteps from the beginning, but no one documented the full magnitude, cost and consequences of this failure until Scott Higham and Robert O'Harrow Jr. published "The High Price of Homeland Security." The reporters showed how billions have been wasted because of lax financial controls, outmoded technologies, inexperienced contractors and political influence. Among the findings: Contractors enriched themselves (one paid herself $5.4 million in salary for nine months' work); multimillion-dollar contracts inexplicably ballooned; a powerful lawmaker who controlled Homeland Security spending pocketed $120,000 in political contributions from a startup that received a $463 million DHS contract. Homeland Security officials tried to stymie the probe by withholding documents, forcing The Post to take legal action that is still pending. Despite the stonewalling, reporters were able to secure copies of damning internal documents. The series prompted DHS procurement reforms and sparked investigations by Congress and a federal fraud task force.
Finalists:
Large newspapers (250,000-500,000)
Certificate:
Judges' comments: The size and scope of the South Florida Sun-Sentinel's investigation of the Federal Emergency Management Agency made this 15-month investigation a standout. Sun-Sentinel reporters Sally Kestin, Megan O'Matz, John Maines and Jon Burstein detailed fraud and abuse nationwide that cost taxpayers more than $530 million. Residents outside storm areas got "free money" even if they had suffered little or no damage. The specifics are shocking: Wealthy people reimbursed far in excess of their actual damages; FEMA paying for funerals for those whose deaths had nothing to do with storms; criminals hired to process claims. The series led to 27 indictments and FEMA changed the way it processed disaster claims.
Finalists:
Medium newspapers (100,000-250,000)
Medal:
Toxic Legacy — The (Hackensack, N.J.) Record; Jan Barry, Thomas Franklin, Mary Jo Layton, Alex Nussbaum, Clint Riley, Tom Troncone, Barbara Williams, Lindy Washburn
Judges' comments: The Record revealed an environmental disaster of epic proportions: Twenty-five years after the Ford Motor Co. closed its massive assembly plant in Mahwah, N.J., toxic waste from the plant continues to pollute a vast area populated largely by low-income people. Thousands of families are plagued by asthma, rashes and cancer at extremely elevated rates. This work stood out not only for its exhaustive reporting and clear writing, but for its riveting multimedia presentation, which set a standard to which larger publications and broadcast outlets should aspire. The scope, depth and impact of this landmark work — by reporters Jan Barry, Mary Jo Layton, Alex Nussbaum, Clint Riley, Tom Troncone, Barbara Williams, Lindy Washburn and senior photographer Thomas Franklin — earns an IRE Medal, the organization's highest award.
Finalists:
Small newspapers (under 100,000)
Certificate:
Judges' comments: This ambitious investigation documented the devastating effects of budget cuts, bureaucratic bungling and outright fraud on some of West Virginia 's most vulnerable residents — the mentally ill. Reporter Scott Finn found that suicides had increased and that mentally ill people were flooding emergency rooms, homeless shelters and jails. Finn's storytelling acumen made this compelling reading, and undoubtedly was a factor in the impressive results: The state passed reform laws and restored funding for mental-health services.
Finalists:
Local Circulation Weeklies
Certificate:
Judges' comments: Dogged reporting by Nigel Jaquiss put the brakes on secret plans by a Texas buyout firm to strip down Oregon 's largest public utility and sell the remnants for a huge profit. Jaquiss revealed that the Texas Pacific Group tried to use local politicians and others to purchase Portland General Electric only to lay off workers, slash customer service and profit hugely by reselling the company. Jaquiss' reporting is widely credited with scuttling the deal.
Finalists:
TELEVISION
Network/syndicated
Certificate:
Judges' comments: Some reporters go undercover for their stories. The Korean Broadcasting System went undercover and underwater to prove that ships were routinely dumping highly toxic sewage sludge and industrial waste into the sea around their peninsula nation. This remarkable story traced how South Korea is only one of two countries that still allow deep-sea dumping of hazardous chemicals, waste and heavy metals in vital fishing areas. The KBS video of tainted crabs covered in animal hair is stomach-turning. KBS reporters Kim Myung Seop, Han Seung Bok, Lee Seung Ik and Yoon Hee Jin retrieved soil samples from the ocean floor, tested the toxicity of the sludge and traced its source. As a result, the South Korean government banned ocean dumping and plans to compensate fishermen whose livelihoods were harmed by the dumping.
Finalists:
Top 20 markets
IRE Medal:
School Bus Bloat 2005 — WJW-Cleveland; Tom Merriman, Mark DeMarino, Greg Easterly, Dave Hollis, Matt Rafferty, Chuck Rigdon
Judge's comments: Beginning with a tip that the Cleveland Municipal School District 's Transportation Department was padding its payroll, WJW pursued six separate investigations that revealed a system rife with deception, fraud, mismanagement and coverups. Reporter Tom Merriman and his colleagues — producer Mark DeMarino, photojournalist Dave Hollis, editors Matt Rafferty and Chuck Rigdon, and news director Greg Easterly — were extraordinarily tenacious in their quest for truth, revealing that millions of dollars in the cash-strapped district were being wasted, laws were being violated and midlevel employees were being wrongly blamed for carrying out the orders of superiors. Among the specifics: Hundreds of bus drivers were being paid millions to spend their days playing billiards; the district was inflating rider numbers to get more money from the state; luxury coach buses were being hired to transport students short distances while hundreds of district-owned buses sat idle. The WJW reports led to the resignation of the district's CEO and to major, ongoing reforms. It earns an IRE Medal, the organization's highest award.
Finalists:
Below top 20 markets
Certificate:
La Oroya — KMOV-St. Louis; Craig Cheatham, Marty Van Housen, Jim Thomas
Judges' comments: It's the type of story that rarely appears on local television: KMOV's Craig Cheatham spent years investigating the practices of a local company far from the station's broadcast area — in Peru. KMOV invested significant time, resources and commitment into challenging Doe Run, a St. Louis-based company running a lead smelter in Peru that has poisoned a community. Cheatham faced hostility from Peruvians who feared his reporting would damage the town's major employer. Yet he, news firector Marty Van Housen and photographer Jim Thomas managed to expose and document the harm to local citizens and particularly to children.
Finalists:
OTHER MEDIA:
Magazine/specialty publication
Certificate:
Judge's comments: Reporters David Evans, Michael Smith and Liz Willen conducted an exhaustive analysis exposing how healthy people are injured and killed by participating in clinical trials of experimental drugs. Immigrants and the poor are poorly informed, then wager their health on experimental drugs used in trials overseen by for-profit companies standing in for federal overseers.
Finalists:
Radio
Certificate:
Judges' comments: The CBC investigation documents a major, hidden, public-health crisis: the overdosing of Canadian seniors. The CBC found that doctors had prescribed to more than a million seniors a variety of drugs that have been found to be potentially harmful to older people who cannot metabolize drugs as well as young people. Reporters Sandra Bartlett, Bob Carty, Pauline Dakin, David McKie, Paddy Moore and Susanne Reber tell heart-wrenching stories of the elderly being hurt, killed or sent into psychotic episodes by drugs meant to help them. Doctors were slow or unwilling to recognize the adverse drug reactions, leaving many seniors addicted or comatose.
Finalists:
Online:
Books
Certificate:
Judges' comments: This book reads like an outstanding piece of literary fiction, but it is investigative reporting of the highest order. In it, Jack Hamann reached back more than six decades to expose a hidden travesty of justice by the U.S. military in World War II, a miscarriage that occurred not overseas, but at an Army outpost on Puget Sound . The Army charged 43 soldiers, all of them African-American, with rioting that resulted in the death of an Italian prisoner of war. Twenty-eight of those soldiers went to prison. But Army prosecutors, led by Leon Jaworski of Watergate fame, knew that much of the evidence they presented at court martial was misleading. Hamann, with researcher Leslie Hamann, uncovered a web of lies in a book that holds lessons for today on the tensions between national security and individual rights.
Certificate:
Judges' comments: Autism, rare in the past, is exploding in the United States , where it is now found in one in 166 children. Attention-deficit disorder also has skyrocketed. And 1 in 6 children today has a learning disability. David Kirby investigated whether one of the causes of these childhood afflictions is thimerisol, a vaccine preservative that contains mercury, a well-documented neurotoxin. In the 1990s, the mercury-containing additive was injected into children far in excess of federal safety levels. Kirby told the story of stonewalling, denial and cover-up by federal regulators, medical groups and the pharmaceutical industry. And he documents covert efforts by some of those same powerful forces — along with the U.S. Congress — to grant blanket immunity for drug companies that put mercury in vaccines. Like so many scientific controversies involving complex science and big business, the topic is controversial. Kirby's careful and meticulous reporting is exemplary in its balance, accuracy and documentation.
Finalist:
SPECIAL CATEGORIES:
Tom Renner Award
Medal:
Judges' comments: This year's Tom Renner Award is a career-recognition award for a series of incredible stories published from 1989 through 2005 — one man and one newspaper's tireless struggle to see justice done. Over the past 17 years, Jerry Mitchell of Jackson's Clarion-Ledger located new witnesses and uncovered key evidence in unresolved or unprosecuted civil-rights era killings. Among the cases reopened as a result of Mitchell's reporting: the 1963 killing of Medgar Evers and the 1964 Freedom Summer killing of three civil rights workers in Neshoba County, Miss. Mitchell's persistence in those and other cases led to the arrest and conviction of key civil-rights era killers, including Byron De La Bechwith, Klan chief Sam Bowers and, in 2005, a Klan operative who ordered the killings in the Mississippi Burning case. Mitchell's crusading work is even more heroic because the cases he's investigated were decades old but the threats against him were modern.
Finalists:
FOI Award
Medal:
The Hidden Costs of Tenure — Small Newspaper Group (Springfield, Ill., Bureau); Scott Reeder Judges' comments: Statehouse reporter Scott Reeder filed 1,500 Freedom of Information Act requests with almost 900 government entities, then worked full-time for two months policing those requests to get a remarkable 100 percent response rate. With this information, he was able to show that the state's 20-year-old law aimed at making it easier to dismiss underperforming teachers had failed and been thwarted by the state's powerful teachers unions. The data he amassed showed that of the state's 876 school districts, only 38 were actually successful in firing a teacher. This work is a testament to the power of open records.
Finalists:
Student Work (All Media)
Certificate
Judges' comments: It's hard to believe that the most important details of J. David McSwane's investigation occurred while he was still in high school in Arvada, Colo. The 17-year-old was working for his school newspaper when he began reporting the story that led the U.S. Army to convene a national stand-down to review recruiting tactics. He went undercover to expose how recruiters desperate to meet their quotas ignored his purported drug problems and the fact that he hadn't graduated from high school, improperly offering to help him pass drug screenings and to create a fake diploma. His work was later expanded for publication in Denver's Westword weekly paper.
Finalist