2007 IRE Awards winners
Honoring the best in investigative journalism
The annual IRE Awards recognize outstanding investigative work and help identify the techniques and resources used to complete each story. Entries are placed in the IRE Resource Center, allowing members to learn from each other. The IRE Awards were established in 1979. Winners from other years can be found on the winners page.
This year's awards will be presented at the 2012 IRE Conference in Boston. Read IRE's press release about this year's awards.
IRE MEDALS
The highest honor IRE can bestow for investigative reporting is the IRE Medal. This year's medal winners are: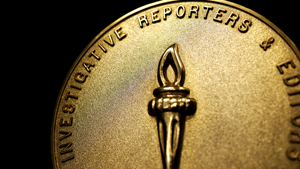 The Other Walter Reed — The Washington Post; Dana Priest, Anne Hull (Largest Newspaper Award winner) read judges' comments)
Toxic Pipeline — The New York Times; Walt Bogdanich, Jake Hooker, Brent McDonald, Robert Harris, Andy Lehren (Largest Newspaper Award winner) read judges' comments)
American Imports, Chinese Deaths — The Salt Lake Tribune; Loretta Tofani (Medium Newspaper Award winner) read judges' comments)
Mississippi Cold Case — MSNBC; David Ridgen, Michael Hannan, Brad Clarke, Judith Greenberg, Scott Hooker (Network/Syndicated winner) (read judges' comments)
SPECIAL AWARDS
Renner Award:
IRE CERTIFICATES
NEWSPAPERS
TELEVISION
OTHER MEDIA
SPECIAL CATEGORIES
---
Complete list of 2007 IRE Award Winners and Finalists
NEWSPAPERS
Largest newspapers (more than 500,000) or wire service:
MEDALS:
Judges' comments: Dana Priest and Anne Hull penetrated the secretive world of the Army's premier medical facility, Walter Reed Hospital, to document in chilling detail the callous mistreatment and neglect of America's war-wounded. Their expose — fueled by immersion reporting and fine narrative storytelling — fired a shot heard around the world and led to decisive action at the Pentagon. Truly the project with the highest impact of 2007, this brilliant work proved how a local investigation can demand an international audience and provoke international outrage.
Judges' comments: It started with a hunch about obscure poisonings in Panama. But through extraordinary effort and skill, reporters at The New York Times traced the deaths from a cough syrup back to China. In the process, they exposed a frightening new reality about globalization: You can no longer trust that simple household items such as cough syrup and toothpaste won't be deadly. When the FDA learned of the Times' story, it immediately halted all imports of Chinese glycerin. And more than 30 countries recalled Chinese made toothpaste containing anti-freeze. The project showed reporters tackling the highest level of difficulty to tell an astounding international story.
FINALISTS:
Large newspapers (250,000-500,000):
CERTIFICATE:
Judges' comments: Through tenacious shoe-leather reporting, the staff of Newsdaydocumented a danger long ignored by the Long Island Railroad and by state and federal regulators. Armed with Stanley tape measures, they found dangerous gaps between the platform and trains at the railroad's busiest stations, holes large enough for passengers to fall through. Their reporting — accompanied by compelling visuals — brought a public outcry and led to long-overdue reforms.
FINALISTS:
Medium newspapers (100,000-250,000):
MEDAL:
Judges' comments: This ambitious project shows that the mundane creature comforts of American lives have debilitating and sometimes deadly consequences for the people of China who make them. Freelance reporter Tofani and The Salt Lake Tribune take readers to manufacturing plants where young workers touch and inhale carcinogens without gloves, masks or proper ventilation in order to make cheap products that are shipped to America. Through powerful writing, tenacious investigative reporting in often dangerous situations, Tofani exposes the abuse of Chinese workers while American industry conveniently fails to discover bogus safety audits and fake record keeping. Over 15 months of reporting, freelance reporter Tofani analyzed hundreds of pages of records written in Chinese and gained the trust of workers in a closed society. We are inspired by her determination, impressed with her precision and awed by the compassion she brought to this important work.
FINALISTS:
Small newspapers (under 100,000):
CERTIFICATE:
Judges' comments: This investigation uncovered the fact that many of the people convicted of serious crimes in Richmond County, Georgia, were not able to appeal their cases. By obtaining and reviewing hundreds of cases from a ten-year period, the reporter not only discovered a miscarriage of justice, but also affected change: the local judges responded with a promise to solve this serious problem. The piece was unique in that it focused on the administration of the justice system, not just the results of that system.
FINALISTS:
Local Circulation Weeklies:
CERTIFICATE:
Judges' comments: This unusual story turns all those warnings against sexual predators on its head. The laws on where sex offenders can live in Miami are so strict that — with no place else to go — authorities force offenders to live under a bridge. Reporter Isaiah Thompson got to know these people — some of whom had families willing to take them in but couldn't. He does a masterful job showing the absurdity of their situation.
FINALISTS:
TELEVISION
Network/syndicated:
MEDAL
Judges' comments: This compelling documentary was aired by MSNBC and produced by David Ridgen of the Canadian Broadcasting Corporation. The piece impressed the judges for its creative vision, thorough reporting and dramatic results. By literally digging up the past, following every lead and hounding key witnesses and participants, the producer showcased how original investigative reporting can solve cases. And by stirring up the interest of federal prosecutors, the piece also led to the prosecution of a key perpetrator of a long-forgotten murder of two African American men in 1964. By highlighting the emotional journey of the victim's brother, the film told a story of reconciliation that gave larger meaning and context to the investigation. The medal was awarded for the originality of the work and the use of old-fashioned shoe-leather reporting.
FINALISTS:
Top 20 markets:
CERTIFICATE:
Judges' comments: WFAA-TV dug for a year into a story of deteriorating gas pipeline couplings, not a topic you'd expect to produce compelling video. But what they found was horrifying: An obsolete pipeline system. Gas leaks galore. Explosions that had already cost six lives and threatened tens of thousands more. The coverage was so explosive that it forced an entrenched bureaucracy to order the system replaced, costing the utility tens of millions of dollars and likely saving lives.
FINALISTS:
Below top 20 markets:
CERTIFICATE:
Judges' comments: This original investigation revealed that the state of Tennessee had for 20 years been allowing the dumping of low-level radioactive waste in ordinary landfills located around the state. They followed the story from the local level all the way to the national, including tracing the origin of much of the radioactive material. The pieces led to dramatic results, state government action and a moratorium on the dumping.
FINALISTS:
OTHER MEDIA
Magazine/specialty publication:
CERTIFICATE:
Judges' comments: Some stories simply make your blood boil. This examination of Army soldiers who were denied benefits for being discharged under phony personality disorder diagnoses poignantly illustrates the impact this military policy had on soldiers' lives and the difficulty Army officials had explaining the sharp rise in personality disorder cases. The magazine's reporting showed that soldiers were not only denied benefits but also asked to repay their signing bonuses under an obscure discharge regulation. Many left the Army with several thousand dollars of debt.
FINALISTS:
Book:
CERTIFICATE:
Judges' comments: In a strong field, Bob Drogin's "Curveball" stands out. The sourcing is clear and the writing compelling. The result is a detailed picture of the lies and mistakes that contributed to the Iraq War. Many of the key facts were first revealed in Drogin's Los Angeles Times stories. Now he has added context and history.
FINALISTS:
Exposed: The Toxic Chemistry of Everyday Products and What's at Stake for American Power; — Mark Schapiro
Radio:
CERTIFICATE:
Judges' comments: In 2005, MPR News documentary's reporting forced the Health Department to lower the levels of perflourinated chemicals (PFCs) considered safe for humans after the chemical was found in Twin Cities drinking water. In 2007, the State Department of Health found the contaminant in the drinking water of yet another community. Once again, MPR delivered this complex environmental story to the public. Reporters obtained maps, internal government lists of possible toxic sites, fish testing results, and memos discussing the status of an investigation that seemed stalled. The result of the work was an indictment of a system that, without scrutiny and pressure, continued to fail in its duties.
FINALISTS:
Online:
CERTIFICATE:
Judges' comments: A comprehensive and compelling examination of US military aid and assistance to foreign countries in a post- 9/11 world. The work of investigative journalists on four continents to track the origins of lobbying efforts and amounts of money involved was impressive by itself. But coupled with the power of an online database, readers were able to view unfiltered data broken into many categories. This made the project extremely accessible and easy to understand.
FINALISTS:
SPECIAL CATEGORIES
Tom Renner Award
MEDAL
Judges' comments: These stories would have been difficult to pursue under any circumstances, but it took extreme dedication to get at the truth following the assassination of Oakland Post editor Chauncey Bailey. In the tradition of the Arizona Project, this coalition of Bay area journalists delved into questionable real estate deals and contracts involving the owners of Your Muslim Bakery in Oakland. The reporters raised questions about the thoroughness of a police investigation into the group before Bailey's murder. They probed the interrogation and confession of Bailey's alleged killer. And they carried on the work that Bailey intended to pursue before his death.
(The Chauncey Bailey Project has received support from The John S. And James L. Knight Foundation, The Newspaper Guild, Sigma Delta Chi, the National Association of Black Journalists (NABJ), George Washington Williams Fellowship and the University of California, Berkeley, Graduate School of Journalism)
FINALISTS:
FOIA Award
MEDAL
Judges' comments: Investigative reporter Jim Parsons pushed open the front door of a closed government agency, PHEAA, Pennsylvania's state-run student loan agency, revealing glaring examples of wasteful and abusive spending of taxpayer money. Travel documents revealed bureaucrats spent thousands of dollars on items and services such as tuxedo rentals, alcohol, flower arrangements, NFL tickets, aromatherapy massages and greens fees. Some employees ended up having to reimburse expenditures after Parsons' stories aired. Parsons took his advocacy on behalf of open records beyond reporting. He organized the first of four statewide forums on the Pennsylvania's Open Records Act and has been instrumental in obtaining legislative support in behalf of a new state Right to Know law.
FINALISTS:
Student Work (All Media)
CERTIFICATE:
Judges' comments: After its genesis as a class project at Columbia College in Chicago, this story grew into an interesting expose of nepotism in city government. These student reporters used public records requests and numerous phone calls to identify relatives of city council members who are on the public payroll. Persistence and aggressiveness overcame the obstacle of not being taken seriously by some sources. Both the writing and the sourcing are clear. The importance to readers is high.
FINALISTS: