2008 IRE Awards winners
Honoring the best in investigative journalism
The annual IRE Awards recognize outstanding investigative work in several categories. The contest also helps identify the techniques and resources used to complete each story. Entries are placed in the IRE Resource Center, allowing members to learn from each other.
Read the press release on 2010 IRE Awards.
The IRE Awards were established in 1979. Winners from other years can be found on the winners page.
IRE MEDALS
The highest honor IRE can bestow for investigative reporting is the IRE Medal. This year's medal winner is: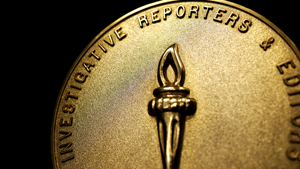 NOAH Housing Program — WWL-New Orleans; Lee Zurik (read judges' comments)
SPECIAL AWARDS
IRE Medals are also awarded to winners of two special award categories:
IRE CERTIFICATES
NEWSPAPERS
TELEVISION
OTHER MEDIA
SPECIAL CATEGORIES
---
Complete list of 2008 IRE Award Winners and Finalists
NEWSPAPERS
Largest newspapers (circulation more than 500,000) or wire service:
CERTIFICATES:
Judges' comments: Detroit Free Press reporters Jim Schaefer and M. L. Elrick spent four years trying to get text messages that Detroit's mayor exchanged with his top aide, eventually breaking stories of their affair, exposing perjury, and the expenditure of $9 million of taxpayer money spent to cover up wrongdoing and vast corruption in the Kwame Kilpatrick administration. Through careful analysis of public records obtained under the Freedom of Information Act, the reporters verified a trove of text messages and then, with the aid of other Free Press reporters, methodically demolished the mayor's carefully built façade of lies, pay-offs and cronyism – a compelling example of investigative reporting's ability to reveal abuses of power.
Judges' comments: McClatchy Washington Bureau reporters Tom Lasseter and Matthew Schofield invested extensive time and resources to track down 66 Guantanamo detainees in 11 countries on three continents over eight months to expose abuses at the Guantanamo Bay prison. Their lengthy interviews, in often dangerous places, allowed the American public to find out what really happened at Gitmo and other American detention camps. Equally impressive was the commitment of the newspaper chain: The thorough findings in a five-part series were published on the front pages of 25 McClatchy newspapers.
FINALISTS:
Large newspapers (circulation 250,000-500,000):
Judges' comments: Through their skillfull reporting, Berens and Armstrong exposed a silent killer epidemic of the antibiotic resistant bacteria known as MRSA, which Washington state hospitals ignored for decades. The reporters analyzed millions of computerized hospital records, death certificates and created their own database to uncover nearly 700 previously undisclosed deaths attributed to the infection. Families were never informed that MRSA was the cause of death. Their extensive analysis provided the first accounting of MRSA infections in Washington hospitals. Because of their investigation, MRSA infections are now being counted and legislators have proposed requiring a $20 MRSA test for all vulnerable patients.
FINALISTS:
Medium newspapers (circulation 100,000-250,000):
CERTIFICATE:
Judges' comments: Under the most difficult of circumstances, the reporters exposed deep flaws in the police investigation of the murder of journalist Chauncey Bailey. Through tenacious reporting and deep source development, Chauncey Bailey Project reporters Thomas Peele, Mary Fricker, Bob Butler, Josh Richman and A.C. Thompson reported on a stunning videotape linking someone to the murder, yet the individual has not been charged in the case and the evidence has been seemingly overlooked or dismissed by police. The project, a collaboration of more than 20 news organizations and journalism nonprofit groups, began in 2007 to pursue an investigation Bailey started. The trail continuing in 2008 with reporters looking more directly into a probe of Bailey's slaying and possible police obstruction of a local organization. The investigation was published in papers owned by the Bay Area News Group, primarily the Oakland Tribune, and aired on KTVU, which is participating in the project. (The Chauncey Bailey Project has received support from The John S. And James L. Knight Foundation, The Newspaper Guild, Sigma Delta Chi, the National Association of Black Journalists, George Washington Williams Fellowship and the University of California, Berkeley, Graduate School of Journalism.)
FINALISTS:
Newspapers (circulation under 100,000):
CERTIFICATE:
Judges' comments: Reporters Joy Blackburn and Tim Fields took on one of the island's most powerful institutions, the Charlotte Kimelman Cancer Institute, which opened with great promise but ultimately became a financial spigot for its administrators. Through source development and relentless reporting, the paper's stories led to the ouster of several executives. One former executive took a top job at Memorial Regional Hospital in Broward County Florida, but resigned when his prior criminal background came to light. The report is a clear example of journalism with impact for its community.
FINALISTS:
Local Circulation Weeklies:
CERTIFICATE:
Judges' comments: In a story published in the Fort Worth Weekly, Joaquin Sapien and Ben Welsh of the Center for Public Integrity exposed environmental abuses by Texas energy producer TXU by analyzing more than 25 million EPA emissions records over 10 years. The report found an ongoing trail of emission violations and emission levels more than 8 times the federal limit for sulfur dioxide. In community, they tracked down local families suffering from respiratory ailments. But the self-reporting by TXU meant the energy giant was penalized just once for $720.
FINALISTS:
TELEVISION
CERTIFICATE
Judges' comments: Exposing themselves to extraordinary personal risk, Scott Pelley, Solly Granatstein and the "60 Minutes" team tracked a container full of recycled electronic waste from Denver to a small town in China where they discovered archaic methods of breaking apart America's old computers, televisions and electronic equipment. The outrageous environmental conditions in the village included a river filled with toxic chemicals, children suffering from lead poisoning and pregnant women six times more likely to miscarry. Despite being forced from town by thugs protecting the dump, the crew returned to finish the story. The city of Denver canceled the contract with the recycler and the EPA opened an investigation of other companies suspected of shipping old electronics to toxic dumps overseas.)
FINALISTS:
CERTIFICATE:
Judges' comments: Joel Grover and Matt Goldberg embarked on an exhaustive investigation after getting a tip from a parent that students were told not to drink from a Los Angeles elementary school's water fountain because it contained lead. To see if the problem was widespread, the journalists tested the water at numerous LA schools and found lead levels higher than the EPA standard. The reporters also went undercover for days to capture janitors falsifying records saying they had flushed fountains daily to protect children from lead exposure. This explosive 8-month investigation set off a firestorm and held school officials accountable for breaking promises time and time again. The results: The district tested the water at all schools and replaced lead pipes to provide safe drinking water for children.
FINALISTS:
MEDAL:
Judges' comments: In a rolling investigation of 50 television segments, WWL-TV of New Orleans uncovered corruption in a city agency charged with helping rebuild homes in the wake of Hurricane Katrina. Following a source's tip, reporter Lee Zurik and his team examined New Orleans Affordable Housing records and found that money was paid to contractors to repair homes that never received any improvements—or didn't exist at all. WWL's investigation found close ties between agency managers, Mayor Ray Nagin, and the contractors doing the alleged improvements. The journalist stuck to the story in the face of public intimidation and strong initial denials by Nagin. In court, WWL forced the city to disclose agency records. The results were impressive: The program was suspended, the employees were fired and a federal grand jury launched an investigation.
FINALISTS:
OTHER MEDIA
Magazine/specialty publication:
CERTIFICATE:
Judges' comments: More frightening to read than a modern techno-thriller novel, BusinessWeek's real-life series of stories on the growing cyber-war between East and West rivets the reader with dozens of breaches in American security networks. The writers pieced together seemingly unconnected online security problems at several federal departments to reveal a wide-scale problem. Working at levels where government security made reporting extremely difficult, the stories resulted in a change in Pentagon contracting policy and briefing procedures for military and intelligence officials. The series shows work on a global scale that reaches the highest levels of government policy.
FINALISTS:
CERTIFICATE:
Judges' comments: James Bamford does it again – and wins his third IRE Award — for the latest exposé of the National Security Agency. No journalist has invested more time scrutinizing the NSA, one of the most secretive agencies in the world. Among his findings, Bamford reveals that the agency had been targeting the Yemeni home that served as Osama bin Laden's operations center prior to 9/11 but had never told the FBI that the al-Qaida terrorists were there. This is journalism that influences the national conversation on a vital topic and Bamford has demonstrated an unparalleled ability to penetrate the most secretive of institutions.
FINALISTS:
CERTIFICATE:
Judges' comments: Acting on a tip, NPR reporter Laura Sullivan spent months investigating the 1972 murder of an Angola prison guard Sullivan dug through public records and patiently persuaded prisoners, guards and others who had long kept quiet to open up about the murder. The reporters turned up such compelling new evidence that the guard's widow now doubts that two men who spent 36 years in solitary were even involved in the crime. In a graceful and compelling way, Sullivan tells a chilling tale of injustice.
FINALISTS:
CERTIFICATE:
Judges' comments: Voiceofsandiego.org reporters Will Carless, Rob Davis and Andrew Donohue work for a new breed of news organization, but have executed with aplomb a classic old-style investigative story of civic graft, insider dealing and taxpayer abuse. Working for the nascent online news publication, the reporters exposed the questionable activities of two multimillion-dollar San Diego redevelopment agencies. The rolling yearlong investigation ultimately forced out the presidents of the agencies and prompted criminal investigations and reforms.
FINALISTS:
SPECIAL CATEGORIES
MEDAL
Judges' comments: Fourteen journalists in 10 countries took great risk to provide a comprehensive and compelling look at the illicit trafficking in tobacco. The reporters found organized criminal activity robbing governments of tax money. Using hidden cameras and computer-assisted reporting, the team uncovered the story of hundreds of billions of contraband cigarettes, many being sold in the U.S. through Indian reservations. The report, which employed a sophisticated multimedia presentation and interactive Web site, also detailed how one major British manufacturer is encouraging the illegal trade.
FINALISTS:
MEDAL
Judges' comments: The newest frontier for freedom on information efforts resides on e-mail servers in government IT facilities across the country. Wayne Dolcefino and his tireless team at KTRK-Houston combed through 700,000 e-mails from the Harris County Sheriff's Department in Houston to find evidence of racism, secret surveillance, and covert work for campaign contributors to the sheriff. The station sued the county to stop a sheriff's policy that called for the deletion of all e-mails after 14 days. As a result of the series, the county revised its e-mail policy and voters rejected the sheriff's bid for re-election.
FINALISTS:
Student Work (All Media)
CERTIFICATE:
Judges' comments: For two decades professors who sexually harassed students at the University of Georgia continued to teach or were allowed to move on quietly. Then an anonymous tip sent reporters Kristen Coulter, Brian Hughes, Carolyn Crist, Matthew Grayson and Melissa Weinman digging. Despite threats of lawsuits by some professors, they produced such compelling reports that the university now requires extensive anti-harassment training for both faculty and all administrators.
FINALISTS: