2009 IRE Awards winners
Honoring the best in investigative journalism
The annual IRE Awards recognize outstanding investigative work in several categories. The contest also helps identify the techniques and resources used to complete each story. Entries are placed in the IRE Resource Center, allowing members to learn from each other.
The IRE Awards were established in 1979. Winners from other years can be found on the winners page.
IRE MEDALS
The highest honor IRE can bestow for investigative reporting is the IRE Medal. This year's medal winners are: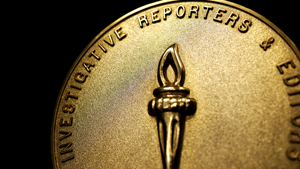 Toxic Waters — The New York Times; Charles Duhigg, Matthew Bloch, Matt Ericson, Tyson Evans, Brian Hamman, Griff Palmer, Karl Russell, Derek Willis, Brent McDonald, Zach Wise (read judges' comments)
Under Fire: Discrimination & Corruption in the Texas National Guard — KHOU-Houston; Mark Greenblatt, David Raziq, Keith Tomshe, Chris Henao, Robyn Hughes, Keith Connors (read judges' comments)
SPECIAL AWARDS
Medals are also awarded to winners of two special award categories:
Renner Award: Blood of their Brothers – The Border Trilogy — San Diego Magazine; Shane Liddick (read judges' comments)
FOI Award: Your Right to Know — Freelance; Heather Brooke (read judges' comments)
IRE CERTIFICATES
NEWSPAPERS
TELEVISION
OTHER MEDIA
SPECIAL CATEGORIES
Student (All Media): Wrongful Conviction, Unequal Compensation — New York City News Service; Clark Merrefield, Rosaleen Ortiz, Dan Macht, Joshua Cinelli, Matt Townsend, Stephen Bronner (read judges' comments)
Breaking News Investigations (All Media): Holes in the System — Milwaukee Journal Sentinel; John Diedrich, Gina Barton, Ben Poston, Ryan Haggerty, Daniel Bice (read judges' comments)
---
Complete list of 2009 IRE Award Winners and Finalists
NEWSPAPERS
Largest newspapers (circulation more than 500,000) or wire service:
MEDAL:
Judges' comments:The New York Times' Charles Duhigg and a team of database experts and multimedia specialists pulled together an exhaustive amount of information on just how poor the government's record is when it comes to protecting the nation's water. Duhigg and his team found only a fractured collection of enforcement databases on the topic. So, they built their own. Duhigg obtained records by sending out more than 500 FOIA requests to every state and more than a dozen federal agencies. The result? A sweeping indictment of the system. The project drove home the government's shoddy record with compelling human stories and searchable online databases and interactive graphics. The series led to crackdowns, significant new environmental rules and new appropriations for clean-water projects.
FINALISTS:
Large newspapers (circulation 250,000-500,000):
CERTIFICATE:
Judges' comments: Reporters Mike McGraw, Laura Bauer and Mark Morris conducted an exhaustive examination of the U.S. government's unfulfilled promise to stop the trafficking of illegal workers and underage girls sold into the sex trade in the United States. Reporters found that despite spending millions of tax dollars, the government's multi-agency effort is plagued by turf wars and poor coordination. In many cases, victims continued to suffer when they were denied services. Others, upon deportation, found themselves returning to the abusive conditions they'd fled, a direct violation of U.S. policy. In the weeks following the publication of this series, the Obama Administration signed into law an additional $12.5 million for anti-human trafficking efforts. The chairwoman of the House subcommittee over detention and deportation policies stated she would use The Star's series during oversight hearings to highlight needed reforms.
FINALISTS:
Medium newspapers (circulation 100,000-250,000):
CERTIFICATE:
Flipping Fraud — Sarasota (Fla.) Herald-Tribune; Michael Braga, Chris Davis, Matthew Doig
Judges' comments: In this well-crafted series, Michael Braga, Matthew Doig and Chris Davis, of theSarasota Herald-Tribune, exposed how a vast scheme in the housing market in Florida happened, and ultimately, contributed to the economic collapse in the state. Reporters undertook a massive effort to collect and analyze every Florida real estate transaction from the past decade. The series identified hot spots where flipping was widespread and identified big players engaged in suspected fraudulent flipping practices. Judges were impressed with the creativity behind the Herald-Tribune's online presentation. The series caused the Florida Attorney General to set up a statewide task force, and federal investigators are building cases against at least two flipping rings named in the series.
FINALISTS:
Newspapers (circulation under 100,000):
CERTIFICATE:
Judges' comments: Reporter Daniel Gilbert tackled a subject that many would find incomprehensible. Apart from his daily reporting, over a year's time Gilbert dissected an obscure and complicated Virginia state law that forced people to lease their gas rights to private energy corporations. Using extensive open records requests and building his own database, Gilbert not only found a state escrow fund of $25 million that could not be accessed to pay land owners but also gas and oil companies that never paid into the fund. He found reporting errors and redundancies that showed the fund was losing money, and he brought it all home with engaging interviews with shortchanged land owners. The series led to the first audit of the decade-old escrow fund, more attention by the department that runs it, $700,000 in back payments by oil and gas companies, and pending state legislation to make it easier for people to get paid.
FINALISTS
Local Circulation Weeklies:
CERTIFICATE:
Judges' comments: Lake Oswego Review reporter Lee van der Voo and her colleagues didn't buy it when an investigation cleared the local police department after an officer complained of widespread corruption. Van der Voo, assisted by colleague Nick Budnick of sister weekly ThePortland Tribune, spent a year investigating the investigation. The resulting three-part series showed how Lake Oswego Police Lt. Darryl Wrisley was forced to leave a job 17 years earlier after an internal investigation found he sexually assaulted a woman while on duty; that he was arrested on charges of assaulting his wife and driving drunk; and that powerful friends saved his career. They examined the charges, the officials who protected him, and the laws that prevented disclosure of his misdeeds by reviewing internal affairs investigations, job applications, background checks, memos, police reports and disciplinary files they sued to obtain.
FINALISTS:
TELEVISION
Network/syndicated:
CERTIFICATE
Judges' comments: These documentaries by reporter Ali Fegan and Producer Lars-Goran Svensson made huge headlines around the world. The team, following up on a rumor that an ultra-conservative Catholic group SSPX (Society of St. Pius X) denied the existence of the Holocaust and was able to confirm its link with extreme right-wing, neo-Nazi, Islamophobic groups in Sweden. They also found and got an interview with church head Bishop Richard Williamson, who told them there were no gas chambers and no Jews died in them. Then, just days after the first SVT documentary, the Vatican lifted a 20-year excommunication of Bishop Williamson. A second documentary detailed how the Vatican knew of Williamson's denial of the Holocaust before it reinstated him. Argentina withdrew the Bishop's residence visa – forcing him out of the country. He now faces criminal charges in Germany, where it is a crime to incite racial hatred.
FINALISTS:
Top 20 markets:
MEDAL:
Judges' comments: No system can be more impenetrable for a team of reporters than the military "old boys" network, but that's exactly what reporter Mark Greenblatt and producers David Raziq and Chris Henao took on when they followed up on a tip to check out the "Vagisil Award" being given to women in the Texas National Guard. From that one tip, the team – which also included photographer/editor Keith Tomshe and graphic artist Robyn Hughes – found a system of misogynistic actions that went beyond humiliation. In some cases, female officers were being disciplined or even discharged despite exemplary service records. Data and documents gathered by the team showed a systematic refusal to consider women for top posts, and swift punishment for any who complained about the male power structure. In the end, this two-year investigation resulted in the Texas governor firing three top generals in the Texas National Guard and the state legislature changing the way it oversees Texas Guard operations.
FINALISTS:
Below top 20 markets:
CERTIFICATE:
Judges' comments: Bob Segall, Cyndee Hebert and Bill Ditton dug through 1,680,743 individual purchases and examined 17,000 documents by hand to analyze where Indiana taxpayers' dollars were being spent. But then, in a very compelling and entertaining way, they brought the story home by taking the role of the "outraged citizen." Segall took complicated concepts and made them understandable with great interviews and creative production. This series has resulted in massive spending cuts from the top down, multiple state budgetary reviews, a new governor's spending committee, a new state purchase process which has turned down many requests that used to be rubber-stamped, and out-of-state travel expenses by state employees has been slashed – in one office by 50 percent.
FINALISTS:
OTHER MEDIA
Magazine/specialty publication:
CERTIFICATE:
Judges' comments: A.C. Thompson, who works for the nonprofit investigative center ProPublica, conducted an examination that shed light on a sensitive subject and detailed a largely unexplored story: that white vigilantes in the New Orleans neighborhood of Algiers Point shot and threatened African-American men with impunity after Hurricane Katrina devastated the city in 2005. Thompson used medical and autopsy records, documentary footage and interviews with both alleged victims and perpetrators, including police officers, doctors and others. Thompson, whose work was supported by The Investigative Fund, documented a disturbing picture of violence in a compelling investigative story.
FINALISTS:
Book:
CERTIFICATE:
Judges' comments: There have been many books about the economic crash, but "The Sellout" by investigative reporter Charles Gasparino stands out in large part because of the careful research. The book exposes the self-indulgent, risk-hungry, contempt-filled attitude of many of the Wall Street traders and bankers that led to the crisis and puts the most recent crisis into historical context. Gasparino's work goes beyond simple finger-pointing and presents, in a reader-friendly, compelling way, why the system collapsed and how current policies may be leading to another round of excessive risk-taking.
FINALISTS:
Radio:
CERTIFICATE:
Judges' comments: With this gripping, frightening and well-told tale, Youth Radio exposed an American sailor's abuse by his chief and fellow dog handlers in a canine unit in the Persian Gulf. The series, which aired on NPR's All Things Considered, told the story of a sailor who had been hog-tied in a chair, left in a kennel spread with feces and forced to simulate sex acts on videotape. Beyond uncovering one sailor's suffering, Youth Radio's reporting revealed widespread psychological, sexual and physical abuses across the unit, a pattern the U.S. Navy had investigated, ultimately dropping the case, holding no one accountable and even promoting the unit's chief. Relying on the Navy's investigation and interviews with nearly two dozen sailors and officials involved in the case, the Youth Radio team found more than 90 incidents of hazing, solicitation of sex and embezzlement, and the suicide of the chief's second-in-command. The reports resulted in a call by the Chief of Naval Operations for a review of the Navy's response to the complaints, the forced retirement of the unit's chief and an investigation into the conduct of commissioned officers in the Bahrain chain of command.
FINALISTS:
Online:
CERTIFICATE:
Disposable Army — ProPublica; T. Christian Miller, Doug Smith, Francine Orr, Pratap Chatterjee, Anvi Patel
Judges' comments: Civilian contractors have been part of the ongoing story of the wars in Iraq and Afghanistan. But ProPublica's reporting with the Los Angeles Times and ABC News in the Disposable Army series is remarkable for its depth and complexity in digging into the American government's shabby treatment of the contractors who were injured like soldiers but have had to battle for basic care and benefits while the survivors of those who have perished have been left in poverty. The reporting team fought for two years to win access to the Labor Department's database of civilian contractors, combed through numerous court records and interviewed 200 contractors. The reporting led to a congressional hearing and a systemic overhaul by the Labor Department and the Pentagon.
FINALISTS:
SPECIAL CATEGORIES
Tom Renner Award
MEDAL
Judges' comments: Reporter Shane Liddick went alone into a place few of us would dare go—the heart of the illegal drug cartels operating across the border in Mexico. Once inside this crime syndicate, Liddick was able to reach key people throughout the cartel, as well as on the other side in law enforcement. Liddick's reporting in San Diego Magazine dispels the stereotypes we have about corrupt Mexican cops and instead shows us a system at least partially populated by honest officers risking — and losing — their lives in the fight to keep some semblance of civilization in their hometown. Liddick chronicles his five years of work on this story in a gritty style that matches the gritty conditions in which he lived to do the reporting. Liddick's investigation helps us understand the complex power structure in play that's changing lives across all of Mexico, starting just 20 miles from San Diego.
FINALISTS:
FOI Award
MEDAL
Judges' comments: London-based freelancer Heather Brooke was frustrated; British public record laws kept the former U.S. journalist from reporting and writing a seemingly mundane story tracking politicians' expenses. Brooke was writing a book on the UK's then not-yet-in-effect Freedom of Information Act when she was denied access to records of members of Parliament's expenses. She began filing FOIA requests Jan. 1, 2005, the day the act took effect. Almost all of her requests were rejected, but she followed the request for MPs' second-home allowances through the appeals process that ended with a favorable ruling from the High Court of Justice, ultimately leading to the resignation of House of Commons Speaker Michael Martin among others.
FINALISTS:
Student Work (All Media)
CERTIFICATE:
Judges' comments: In 26 states, if you are wrongfully convicted of a crime, you have the right to compensation for the time lost while incarcerated. But, in New York state, a team from the CUNY Graduate School of Journalism proved the compensation system is broken because the law set up as a "moral obligation" is full of loopholes that keep victims from getting what is due them. Using open records requests and large document searches, Clark Merrefield, Rosaleen Ortiz, Dan Macht, Joshua Cinelli, Matt Townsend, Steven Bronner of the New York City News Service built an array of databases to prove their case. With great difficulty they tracked these former prisoners, now on the fringes of society. The project, completed under the direction of instructor Andrew Lehren, was compelling and well-written.
FINALISTS:
Breaking News Investigations (All Media)
CERTIFICATE:
Holes in the System — Milwaukee Journal Sentinel; John Diedrich, Gina Barton, Ben Poston, Ryan Haggerty, Daniel Bice
Judges' comments: Five reporters from the Milwaukee Journal Sentinel took the breaking news of the end of a 21-year hunt for a serial killer and turned it into a hunt of their own – a hunt to find the flaws in the Wisconsin criminal justice system that allowed Walter Ellis to kill a total of seven women. The reporters uncovered missing and faked DNA evidence in state databases that could have helped convict Ellis sooner. They also discovered Ellis had been a federal informant for a bribery investigation, allowing him to manipulate the criminal justice system while continuing his killing spree. The investigation also held the Milwaukee County Sheriff David A. Clarke, Jr. accountable. Clarke had called the state's handling of its DNA databank an "abomination," but the Journal Sentinelrevealed his department had also failed to collect DNA samples from hundreds of felons in the Milwaukee area.
FINALISTS:
Dallas Cowboys Practice Facility Collapse — The Dallas Morning News; Brooks Egerton, Brandon Formby
Fort Hood Shootings — ABC News; Brian Ross, Joseph Rhee, Matthew Cole, Avni Patel, Vic Walter, Richard Esposito, Mary-Rose Abraham, Anna Schecter, Asa Eslocker, Angela Hill, Bob Woodruff, Pierre Thomas, Jim Hill, Christine Romo, Jason Ryan, Rhonda Schwartz, Brian Deer, Judd Parson, Sandra Tukh, Rehab El Buri, Justin Grant, Megan Chuchmach, Mark Shone, James Goldston, Jim Murphy, Jon Banner, David Reiter