NICAR13 photo booth
NICAR13, from pleaseshootyourself.com from IRE/NICAR on Vimeo.
About the conference
Looking to learn skills that will help you and your newsroom thrive? Join IRE and NICAR in Louisville for our annual conference devoted to computer-assisted reporting, Feb. 28 to March 3, 2013 at the Hyatt Regency Louisville. Come and learn about tools you need to dig deeper into stories and give readers, viewers and your online audience the information they're demanding.
The CAR conference offers something for everyone, from beginners to those on the cutting edge of digital reporting. We'll offer everything from the basics on using spreadsheets, databases and online mapping to data science and the latest technological advances. You'll come away with, story ideas, plenty inspiration and tools to help you overcome typical data hurdles. Learn from the best in the business in panel discussions and during hands-on training sessions. Bypass the budget issues in your newsroom by taking classes in free software. Get a look at what the biggest names in data-driven reporting are using to make a major impact online.
There's a lot to choose from at CAR. So we asked a variety of journalists — students, beat reporters, veteran data crunchers and programmers — to tell us what they're excited about this year. Read the post to help you make the most out of the conference.
The conference will be held at the Hyatt Regency Louisville. The discounted room rate is available until February 1, 2013, or until our room block is full (whichever comes first). Our room block has sold out prior to the deadline the past few years, so make your reservation early. More travel and lodging info
ArcView mapping sessions
Those interested in taking the mapping classes (to qualify for the Esri ArcView software) must show up for the Friday morning session beginning at 7:30 a.m. at Keeneland. Slots in the class will be distributed until they are gone. If more than 24 people want to take the course, additional slots will be handed out for the Sunday morning sessions at that time. If 24 or fewer people show up on Thursday, there will not be a Sunday class. (Sunday sessions would begin at 9 a.m. and end by 11:30 a.m.)
A Night on the Town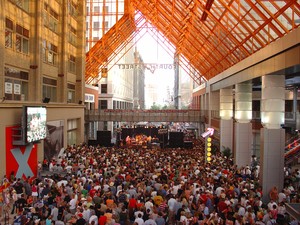 Louisville's famed 4th Street Live.
Join your fellow CAR colleagues Thursday at Sports and Social Club for a night of competitive bowling and see which team wins the night's best score. Beginning at 6:30 p.m., you can grab a drink and socialize or form a team and bowl.
Tickets for the event are $30 per person and include: (2) complimentary drink tickets and 2 hours of bowling, including shoes. Drink tickets can be used to purchase well drinks, domestic and imported beer, house wine or soda. A full dinner menu will be available.
This is a great opportunity to get out and socialize with fellow journalists, have fun and show your competitive spirit.
Sports and Social Club (427 South 4th Street) is located in Louisville's famed 4th Street Live, just steps away from the Hyatt Regency Louisville.
Business Journalism Training
Free Pre-Conference Workshop on Feb. 27: Breaking Local Stories with Economic Data
The Donald W. Reynolds National Center for Business Journalism will offer a free workshop from 2-5 p.m. on Feb. 27: Breaking Local Stories with Economic Data. Government data offer unparalleled opportunities to distinguish your reporting with trend stories about what's happening in your local economy. Especially this year, with the release of the every-five-year Economic Census, journalists will have a unique opportunity to track changes in their local community from 2007 — before the recession — to 2012. Instructors Paul Overberg of USA Today and Jeannine Aversa, late of The AP, now with the U.S. Bureau of Economic Analysis, will provide you with a road map to finding and delivering at least 15 local enterprise stories from government economic data. Examples will be specific to the Louisville region, but applicable anywhere. Sign up here for this free workshop.
Free hands-on sessions from Caspio
Caspio is offering several hands-on sessions. Pre-registration is required for these sessions.
Visualize your data with Tableau Public
Free hands-on data visualization training. Visualize data fast and publish it interactively to the web without programming with Tableau Public. Tableau Public will host two, four-hour hands-on training sessions Thursday, Feb. 28, at the CAR Conference. The sessions — one for beginners and one for more experienced users — will cover the basics of using Tableau to quickly create data visualizations and post them to your website as well as more advanced features of this free software.
Learn more about the training sessions and how to reserve a seat.
Level Up your data skills using R and Data Science! This day-long, hands-on class is taught by Hadley Wickham, author of the ggplot2 R plug-in, Assistant Professor of Statistics at Rice University, and developer at RStudio.
You'll learn intermediate to advanced R and get an understanding of the techniques and methodologies of data science that you can bring back to your newsroom and impact your work right away. You'll need a good foundation in stats. Before the class we'll provide videos and exercises that cover the basics of R so we can hit the ground running.
Preregistration is required for this session. Participants are expected to have experience with a programming language, an understanding of statistics up to linear regression and a solid foundation of work in spreadsheets, database managers, data cleaning etc. Learn more
Speaker reprint and tipsheet information
When sending reprints or tipsheets, please follow the shipping directions at this link, to avoid the risk of your box getting misplaced or lost. Don't forget to email an electronic copy to tipsheets@ire.org so it can be added to the IRE Resource Center.
---
CAR CONFERENCE BLOG