TOTAL NEWSROOM TRAINING
IRE 

TNT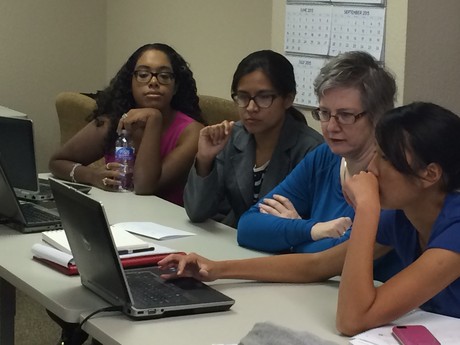 A TNT workshop at the San Angelo Standard-Times
Total Newsroom Training is a grant-based customized training program for small and medium-sized newsrooms. Through the program, IRE has trained more than 550 journalists from three dozen newsrooms around the country. Our trainers immerse themselves into these newsrooms and provide two days of on-site training along with consultations and webinars after they leave.
"It really was a game changer. It shifted the mentality." – Paul Pronovost, editor of The Cape Cod Times
See which newsrooms have received TNT training in previous years.
What TNT from IRE offers
Total Newsroom Training is designed to increase the ability of your news organization to provide watchdog and enterprise coverage for your community and to produce work that can lead to changes and improvements in those communities.
For two days we provide custom training in your newsroom based on the needs of your organization. We'll provide hands-on training using spreadsheets and other data tools, plus cover investigative reporting topics that could include:
Finding information online
Key government documents
Examining businesses and nonprofits
How to obtain public records

Ethical decisions in investigative reporting
Getting what you need out of sources
Conducting quick-hit investigations
Ensuring accuracy
IRE works with reporters and editors to help them launch stories and projects. This can involve brainstorming, story planning, sourcing, etc. We will also be available to consult with reporters, editors and producers from the news organizations in the months following training.
All newsroom staff who go through the trainings will also receive one-year IRE memberships and be eligible to apply for fellowships to IRE's data journalism bootcamp.
2019 Application
**Applications for 2019-20 are now closed.**
Applications for the 2020-21 program will open in fall 2020, pending grant approvals. If you would like to be notified when the next round opens, please contact training director Francisco Vara-Orta at francisco@ire.org.
Requirements
Please note that winning newsrooms will need to provide a projector, laptops/computers for attendees and be committed to allowing a significant portion of the staff to attend the entire training. The winning newsrooms will attend a webinar later on in the year to showcase their work.
Dates of the training will be coordinated with the winning newsrooms and trainer.
Eligibility
The program is meant to help small to medium-size news organizations improve the depth of their coverage and is open to organizations meeting the following criteria:
For newspapers, Sunday circulation of 100,000 and below
For magazines, circulation of 100,000 and below
For broadcast, markets below the Top 20
For online-only organizations, sites with local or regional audiences
Share your work with us
We want to see the work you've produced after IRE training. Send us a link via Twitter or Email. We'll feature your watchdog work on our investigative blog, Extra Extra.
For questions, please contact IRE training director Francisco Vara-Orta at francisco@ire.org.