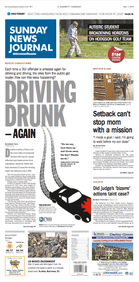 Drunk behind the wheel again: For one man, 12 DUI arrests | The News Journal (Wilmington, DE)
Despite a series of laws over the years that criminalized drunken driving for repeat offenders and made prison time mandatory, James R. Fisher has been arrested 12 times for driving under the influence since 1991.
The 55-year-old's latest arrest, number 12, came in March, about a year after his release from prison after serving his sentence for a 2009 DUI conviction.
Questions remain about botched Oklahoma execution | Tulsa World
Clayton Lockett's death took nearly four times as long as most Oklahoma executions because a failed IV line started by a medical professional whose credentials remain secret under state law slowly leaked a drug combination that experts had warned could potentially be inhumane, a Tulsa World investigation has found.
When state officials realized what was happening, they technically halted Lockett's execution, but they had no backup drugs to restart the process. Unlike protocols in other death-penalty states, Oklahoma's policy contains few — if any — fail-safes or backup plans in case something goes wrong during an execution.
Investigation shows heroin-related deaths are not accurately counted | Digital First Media
Elected officials, law enforcement officers and others proclaim there's a heroin "epidemic" sweeping the country, and it's taking hold in rural and suburban communities once considered unlikely places to find illicit drugs.
But nobody knows how many people have died.
The Centers for Disease Control and Prevention reported that 3,036 people died in 2010 from heroin overdoses, but due to problems with how death investigations are conducted and how those deaths are documented, the CDC estimates that its tally is at least 25 percent short, possibly more.
Largely invisible tank cleaning industry awash in risk | Houston Chronicle
If rivers, rails and roads are the arteries of America's surging petrochemicals industry, tank and barge cleaners are its kidneys, purifying containers so they can return to refineries and to energy and chemical companies across the nation to be refilled. But government health and safety experts don't know much about these cleaners, how many there are or where they're located, a Houston Chronicle investigation has found.
OSHA does not even know how many tank cleaning establishments it has inspected, in part because no standard industry code is used by the U.S. Department of Labor for tracking and inspecting them.
Long wait for death certificates makes tracking overdose deaths difficult | The Patriot Ledger
A death isn't officially ruled an overdose until the state medical examiner's office says so, usually after an autopsy and tests to confirm the presence of drugs in the person's body.
And getting those results can take months or even years, a Patriot Ledger review of death certificates on file in Quincy, Weymouth and Braintree has found. And that can make it difficult for law enforcement officials and organizations looking to combat the growing problem of opiate abuse to track its toll.
Uncovered: The coal dust in our wind | The Virginian-Pilot
Lamberts Point, a coal terminal on the banks of the Elizabeth River since 1885, never had an air permit because it predated the 1970 federal Clean Air Act and the resulting oversight.
In effect, there are no coal dust emission limits for Lamberts Point, provided the terminal doesn't handle more coal than allowed each year by the state; the company hasn't come close in years.
Lamberts Point is a regulatory relic, grandfathered in before the days of modern air pollution control.
Yarnell Hill Fire: System failed to alert hundreds to evacuate | The Arizona Republic
Emergency evacuation calls during the Yarnell Hill Fire were delayed 21 minutes as dispatchers struggled to overcome technological problems, new records obtained by The Arizona Republic and 12 News show.
Even then, only 79 calls went through, meaning hundreds of households in Yarnell and Peeples Valley were never notified, the records show. The new information contradicts previous claims by the Yavapai County Sheriff's Office that its automated alert system, CodeRED, worked as it was supposed to.
Records shape story of Pinyon Pines killings | The Desert Sun (Palm Springs, CA)
The 449 pages of court records obtained by The Desert Sun document evidence that convinced a 19-member grand jury to indict Robert Pape in the deaths of Rebecca "Becky" Friedli, her mother, Vicki Friedli and her mother's partner, Jon Hayward.
Becky Friedli's remains were found in the wheelbarrow. The shot, then burned remains of Vicki Friedli and Hayward were found in what was left of the torched house.
Denver parking revenue, tickets on the rise, analysis finds | The Denver Post
Denver is raking in significantly more money from parking tickets than it did just five years ago — largely because of added meters, overnight downtown parking hours, technology that speeds up ticketing and hiked street-sweeping fines.
A Denver Post analysis of parking-citation data found that collections from tickets and penalties reached $30.5 million last year.
Pain and gain: An Alabama clinic stands out amid data on Medicare payments | The Washington Post
Anesthesiologist K. Dean Willis is now garnering national attention and new scrutiny. For the first time, newly released Medicare data has identified the costs associated with specific doctors performing procedures or administering drugs. The data allows for the identification of "hotspots" for particular treatments. The Washington Post found that the Huntsville area ranked fourth in the nation in Medicare spending per enrollee for drugs administered by doctors in 2012, the only year for which data has been released.
The procedures driving much of the cost were injections of "unclassified" drugs, a catchall category used by Medicare that includes drugs mixed at compounding operations, such as the one inside Willis's clinic. Huntsville ranks No. 1 in that category.
Lawmakers pocketing your tax dollars by double billing | WVUE – New Orleans and The Times-Picayune
Six lawmakers likely owe taxpayers money, following findings from our "Louisiana Purchased" investigation. And some have already written checks to return cash that they never should have collected. It's the latest report in a joint investigation of campaign finance by FOX 8 News and Manuel Torres of NOLA.com/The Times-Picayune.
But that hasn't stopped some lawmakers from dipping into two pots of money at the same time, for the same expense.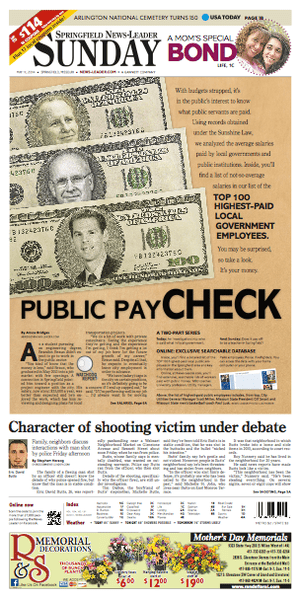 60 years after Brown v. Board of Ed, pockets of segregation remain in Md. Schools | The Baltimore Sun
Sixty years after the U.S. Supreme Court ruled that racial segregation in 21 states was unconstitutional, diversity is not guaranteed in Maryland's schools. Ten percent of the schools in Maryland have a high percentage of black students, nearly all of them in Baltimore City and Prince George's County, according to a Baltimore Sun analysis. And no political or education leaders are recommending a consolidation of suburban and urban districts that experts say would be needed to truly address an imbalance driven largely by neighborhood demographics.
Public PayCHECK: Check out local government salaries | Springfield (MO) News-Leader
Recent salary survey shows that City of Springfield wages often were less than the wages offered for comparable jobs in other cities.
But a News-Leader analysis of public employee salaries shows that city government workers have no more — and no less — cause for complaint than other area workers.
Overall, city wages appear to mirror those of others in the community. As of February, the average hourly wage of a City of Springfield employee was $17.75, according to payroll records obtained by the News-Leader.
How much salt is in your well water? For some, too much | Poughkeepsie (NY) Journal
More than half of the private wells in the Town of East Fishkill have higher concentrations of sodium from road salt than some government health standards recommend, according to a new study by local scientists.
The findings by the Cary Institute of Ecosystem Studies are preliminary. But they represent the first scientific analysis of well test data collected as a result of laws enacted in 2007 by three southern Dutchess County towns. The findings highlight the potential for continued and deeper analysis of the growing body of well test data, which include results for dozens of other contaminants at each location.
The data were provided to the Cary Institute by the Poughkeepsie Journal, which used custom software to collect and collate the well test results from the Dutchess County Department of Health's website.
Watchdog: City schools pay $3M in unused vacation | Democrat & Chronicle (Rochester, NY)
There is no limit to how many hours Rochester School District supervisory staffers can exchange, save for what they carry over and accrue in a given year. And they have cashed out in greater number, for more hours and more pay on average than other district employees, records show. Over the past three years, they accounted for an average $2.2 million of the district's $3 million annual payout for unused vacation.
Migration: Rhode Islanders moving out for jobs takes toll on state | Providence Journal
Rhode Island's population dropped by more than 24,000 people from 2004 through 2012, according to the Census Bureau — an exodus unprecedented in Rhode Island's history. After peaking at 1,074,579 in 2004, it dropped each year until 2012, when it reached 1,050,292 before adding about 1,200 in 2013.
Obscure law is freeing county mental patients | The Seattle Times
A Seattle Times investigation has found that people like Gregory Benson are now released on technicalities from King County hospitals — without treatment or monitoring — on average every other day.
During a recent 10-week period, at least 35 people deemed by the county to be imminent threats to themselves or others were released after an evaluator did not show up in time — more than 5 percent of the caseload in that period, according to data collected by prosecutors at the request of The Times.
At that rate, 182 severely mentally ill people will be dumped out of the system this year.
Justice of the Peace job means big money – for some | WDSU – New Orelans
They can pronounce you "man and wife..." evict you from your home and settle your minor legal claims. It is, by all accounts, a position with very basic judicial responsibilities.
But the WDSU I-Team has learned that – depending on where a justice of the peace serves – the financial rewards can be huge.
When fees paid to the office are considered, a Jefferson Parish man is one of the best compensated elected officials in Louisiana, taking home more money than the governor here – and in Alabama and Mississippi – and more than any other judge in the state.