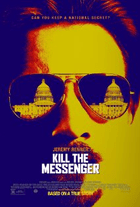 Interested in learning more about the story behind the new movie, "Kill the Messenger"? Listen to this panel from the 1997 IRE National Conference in Phoenix, Ariz. titled "Can Investigative Reporting Go Too Far?".
In the early 90's investigative reporter Gary Webb of the San Jose Mercury News dug into the CIA's involvement of cocaine trafficking into the US.
After the story was published in 1996, Webb and the Mercury News experienced intense criticism not only from the U.S. government but from fellow reporters and news organizations.
On this panel, Webb defends himself and the story while Jeff Leen of The Washington Post offers criticism. Steve Weinberg moderates the panel. Several members of the audience also weigh in with questions and comments.
We've also included Steve Weinberg's IRE Journal article on the same subject.
//