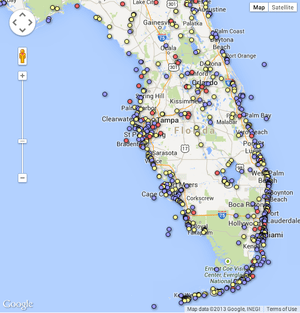 FCIR created this map of boating accidents. Click the map for the interactive version.
Last January, Florida Center for Investigative Reporting and NBC 6 in Miami announced a partnership to produce more local in-depth investigations.
Even before our partnership was announced, we had already decided during a brainstorm session that boating fatalities would be one of such stories.
We knew that Florida have continuously held the dubious first place for boating fatalities and accidents in the nation. But we wanted to dig up deeper and find out why.
I had done some preliminary work prior to our meeting and looked at the annual boating accident reports (2008-2011) produced by the Florida Fish and Wildlife Conservation Commission, the state agency that polices Florida's waters.
The reports are detailed listing data from all the state's 67 counties. I downloaded the reports onto PDFtoExcel, which converts and e-mails the data on a spreadsheet. The data included number of registered recreational vessels by county, accidents, injuries, fatalities and damages in dollars. I built a spreadsheet from each year and just made some easy functions in excel, such as ranking and percentage change calculations to see the changes, if any, for those years.
As I reviewed the 2011 report, the most recent year available, I noticed the Fish and Wildlife Conservation Commission mentioned that Florida law requires only those born on or after 1988 to take safety education courses to be licensed for Florida's waters.
This became the center of the story after I looked at the fatality data and noticed a distinctive pattern: the vast majority of boat operators killed in Florida's waterways are 35 years and older, who are not wearing life jackets and have no formal boating safety education. This was important because the data showed that those who are educated and, for example, wear life jackets are less likely to be involved in boating accidents.
I initially filed an open records request to obtain the exact location on all accidents including fatalities reported in 2011 for several counties, but I later expanded that to the whole state. This data allowed Grant Smith, FCIR data visualization extraordinaire to build an interactive map listing the exact location (longitude and latitude), report number, county date and time of accident, number of vessels, injuries and fatalities and total cost in damages.
In that same request I also asked for copies of all fatalities reports for South Florida (Broward, Miami-Dade, Palm Beach and Monroe counties) for 2011, which allowed us to find good anecdotes to illustrate the issues.
After a quick meeting with NBC investigative reporter Myriam Masihy and her producer Sandra Esquivel, we divided our tasks and started looking for good anecdotes to tell.
We also spent several hours patrolling Miami waters with Jorge Pino, a public information officer for the Florida Fish and Wildlife Conservation Commission. During our interview with Pino said something interesting: Florida's recreational boating is a multi-billion dollar industry.
I thought I needed to look into that as well to find out how big it is and the economic impact in the state but also because in Florida like in most states, businesses are powerful players in politics constantly working to influence and shape policy.
During my research I learned about the Florida Boating Safety Advisory Council, an 18-member board created to review boating-related issues and make recommendations to the Florida Fish and Wildlife Conservation Commission. The advisory council is composed of members of the marine industry and two legislators, both appointed by the governor.
I visited Florida Division of Elections and downloaded the campaign contributions made to both state legislators and found contributions made from the marine industry to both politicians.
During a talk with my editor, Trevor Aaronson, associate director of FCIR.org, he suggested that I tracked the legislation to find out the sponsors of the bill, which was approved in 2009.
That proved to be more difficult than anything I had done thus far. I spent hours mulling over hundreds of records on the state's senate archives before I found the bill which was part of a huge agency bill submitted by the Fish and Wildlife Conservation Commission.
After I found the sponsors and those sitting on the committees I began to look into campaign contributions from the industry to all these legislators. The records available showed the initial proposal was to make boating safety education mandatory for everybody, but within two months the bill changed to only those born on or after 1988. It wasn't clear at all who made the change from one committee after another. One thing was clear, the marine industry has financially supported all the legislators sitting on the committees that reviewed and debated this bill.
I began to make calls to the sponsors of the bill (now former state senators) in my attempts to find out the drama behind this legislation.
Lessons learned:
Don't expect that state agency flacks will help you in any way. During my interview with one of the state agency official, he noted the current law was approved because of a family had pushed for the legislation.

Always follow the money.

Politicians don't like to talk about the past especially after they have moved onto another job.
The final stories are here:
Mc Nelly Torres is the Associate Director of the Florida Center for Investigative Reporting and a member of the IRE Board of Directors.