By Perla Arellano
In areas such as Mexico and parts of the Middle East, many journalists have died in their role as watchdogs.
At the recent IRE Conference in San Antonio, the session "Reporting amid danger: When journalist are targeted and newsrooms are infiltrated" included Tim Johnson from McClatchy Newspapers, Gaston Monge Estrada from El Universal, Rana Sabbagh from Arab Reporters for Investigative Journalism, and Andrew Donohue from The Center of Investigative Reporting as moderator.
Many journalists have died because of their work in Mexico after reporting on drug gangs and crime, and many times officers write it off as a robbery gone wrong with no more further investigation, Johnson said.
"The message it sends is 'it's all right kill a journalist in Mexico,'" he said.
He added that there are many dangers that reporters have in the country such as corrupt officers and organized crime.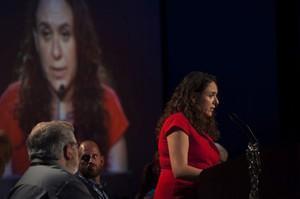 'On the other side of the border they are killing journalists like flies.'
As Mexican journalists become war reporters in their own country, Marcela Turati of the news magazine Proceso makes a plea to the investigative reporting community. Explore the speech that captivated 1,200 journalists at the 2013 IRE Conference.
Infiltration in the newsroom is too common in Mexico, too, he said, as some journalists are under someone else's control.
He explained one scenario how of how infiltration happens: A journalist gets a tip through a text message on where a body is located. That journalist is first to the scene and breaks the news. The journalists keeps getting those tips, keeps getting the news, and then eventually gets offered money. And then the journalist is bought off.
Estrada, with Donohue as his translator, spoke of the situation many journalists face in Mexico and described the new wave of violence.
Crime has always existed in Mexico, he said, but it was dominated by only two major groups. Estrada explained that 10 years ago many exterior groups came into Laredo, Mexico and planted themselves there.
It was something new for the journalist and everyone wanted to cover the crime news, known as "la nota roja."
Soon journalist were being killed and news room infiltrated by organized crime. Journalist calls were being listened to and lives were being tracked.
Rana Sabbagh explained that violence and newsroom infiltration are not unique to Mexico. In the wake of the Arab Spring, administrations in many countries have brought intimidation, not freedom, to the press.
In regards to violence, she recalled an incident that happened the capital city of Jordan a few years ago, in which journalists covering a pro-reform demonstration were told to wear orange vests that said "press" for their safety. When the pro-reform demonstrators clashed with government supporters and police used the batons to break up the clash, several journalists were among those beaten by police.
Sabbagh also explained a situation in Egypt, where dozens of chief editors at news organizations were replaced, and ones affiliated with the Muslim Brotherhood were appointed instead. Journalists protested, she said, but it did not stop them.
Those chief editors have become journalists biggest enemies, she said, and have taken the solidarity out of newsrooms.
Perla Arellano is a journalism student at Amarillo College.