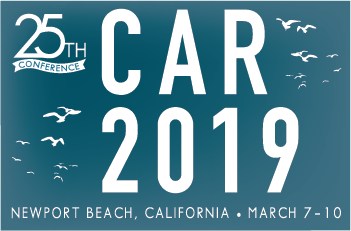 The #NICAR19 conference in Newport Beach, California, will feature a record number of hands-on computer labs, first-ever Master Class workshops and a celebration of the 25th national Computer-Assisted Reporting (CAR) Conference.
Registration is now open for the conference, which runs March 7-10.
In response to record attendance at #NICAR18 in Chicago, IRE will increase the offerings in Newport Beach, which will feature nine hands-on computer classrooms — a record for a CAR Conference. In addition, #NICAR19 will offer more pre-registration hands-on workshops than ever before. Newport Beach will offer at least 311 hours of sessions — hands-on labs, panels, demos and small group discussions — compared with 264 in Chicago.
"Our team is putting together what promises to be an action-packed conference," Executive Director Doug Haddix said. "It will be filled with the largest array of panels and hands-on training that IRE has ever offered during our CAR Conference."
The 2019 gathering also will mark the 25th CAR Conference, with special events on tap to celebrate the milestone. The first CAR conference took place in 1993 in Raleigh, North Carolina. IRE did not hold CAR conferences in 1996 and 2001.
More details about the schedule will be released in the coming weeks and months. In the meantime, here are a few highlights and other details to help you plan:
Registration: Early bird registration is $305 for professionals and $100 for students.
Hotel and travel: We recommend booking a room at the conference hotel early, as the reserved block of rooms likely will sell out. There are several airports in the area, with John Wayne Airport in Orange County (SNA) being the closest (about five miles from the conference hotel). See detailed hotel and travel information here.
Hands-on workshops: If you want to guarantee a spot in a hands-on class, register now for workshops in skills including Excel, Python, R and mapping. A half-day class costs $35; full-day classes cost $70. Pre-registering for one or more of these workshops is the only way to ensure a seat in a class. Most of these deep-dive classes will sell out before the conference. Other one-hour hands-on classes are filled on a first-come, first-served basis.
More hands-on classes: In the coming weeks, we plan on adding more pre-registration workshops in design, JavaScript and web scraping. Look for those details soon.
Master Classes: This year's conference also will feature Master Class workshops — a first for the CAR Conference! Master classes are half-day, intensive workshops in skills such as interviewing, writing, editing and leadership. Master classes will cost $35; registration will be available in the coming weeks.
Code of conduct: IRE is committed to ensuring a safe and enjoyable experience for all of our attendees. Please familiarize yourself with the IRE code of conduct before registering.
Stay up to date: Sign up here to receive emails as we release new information about the conference, including schedule highlights, hotel block updates, new workshops and more.
We hope to see you in Newport Beach!