By Mc Nelly Torres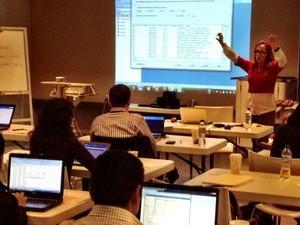 Víctor Hugo Michel is excited and overwhelmed.
He hasn't stopped thinking about all the stories he will be able to report and write using the data analysis and investigative tools he learned this past weekend at the IberoAmericana University in México City.
"I never thought I could organize data, rank it and compare it electronically to find new trends and information which is not easy to see with the naked eye," said Michel, a reporter for the newspaper Grupo Milenio in México City. "These tools are like using a new set of glasses with three-dimensional vision providing me with something I didn't even know existed."
Alejandra Guillén came from Guadalajara, Jalisco, about eight hours away from México City. She said the training introduced her to technology and techniques she can use in her daily reporting.
"I usually don't have the time to analyze data manually, so my work has always been superficial," said Guillén, who works for El Informador, a daily newspaper in Guadalajara, México. "But now I understand how I can use these tools to be more efficient."
Michel and Guillén were among 25 journalists who spent three days with me learning data analysis tools and investigative techniques as part of a workshop sponsored by the Periodistas de a Pie, an organization based in México City, and including the Florida Center for Investigative Reporting.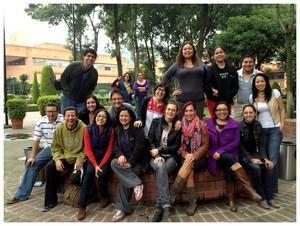 The training sessions were the latest in a series I've been invited to conduct throughout Latin America and the United States.
I always feel inspired after a day of training journalists. I love to watch their eyes shine with excitement when I show them how I reported a story using data analysis tools. As a board member for Investigative Reporters and Editors, I've experienced this many times while training journalists in the U.S. and abroad.
These journalists, all talented in their own right, are starving for information and new techniques to do their jobs more effectively. They all watched in awe when I showed them how to do a property search in Florida or how to find corporation records, information easily available to reporters in the United States.
Founded in 2007, Periodistas de a Pie is a network of journalists in México whose mission is to defend freedom of speech and the public's right to information as well as improve the quality of journalism in the country through training sessions. Periodistas de a Pie's focus also is to help and protect journalists working in dangerous parts of the country.
In a nation where most public interest data is not easy available, particularly when compared to data access in the United States, these journalists face many challenges — in some cases life-threatening ones — to inform the public. But these journalists are passionate about the work, and it didn't take long for them to understand the potential of these tools as we began to work together on hands-on lessons.
For me, the visit to México City was the second trip of this kind in recent weeks. At the beginning of September, I went to Puerto Rico, where I was born and raised, after El Centro de Periodismo Investigativo de Puerto Rico invited me to teach data analysis tools to local journalists.
In San Juan, I saw the familiar faces of people who participated in last year's CPIPR workshop.
Jackeline Del Toro, an El Vocero reporter who attended my session last year, was excited to see me at this year's data journalism training. She quickly said hello to me and shared how the session I taught last year helped her change the way she approaches complex stories.
"It helped me to see beyond the data I have in front of me," Del Toro said as she told me about a project she reported about transsexual people in Puerto Rico.
Del Toro has already seen results. Her project won an award from the Association of Journalists of Puerto Rico.
As I teach these workshops, one of my objectives is to change the culture among journalists who say they hate numbers and math. To me, that's absurd. Journalists report on numbers. If we don't understand budgets, statistics and numbers, how can we do our jobs with accuracy and integrity? If I can change one reporter's mentality, I've done my job.
Daniela Edith Rea Gómez, of México, is one of the journalists whose comfort with numbers and data changed for the better after the training session.
"I've always shied away from numbers, because I've considered them the enemy," said Gómez, who works for the newspaper Reforma and is a member of the Periodistas de a Pie. "But this training showed me how data can be used to write high-impact stories. Now it is my responsibility to build onto what I learned and work that into my own investigations."
Mc Nelly Torres is associate director of the Florida Center for Investigative Reporting, an investigative bilingual nonprofit in the Sunshine State, a member of the IRE Board of Directors.