The History of IRE
Story by Kasia Kovacs
Chapter 1: Desert Rats
Phoenix, AZ – June 1976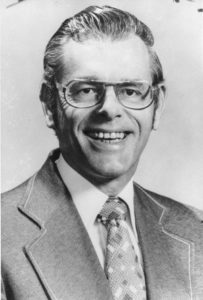 Reporter Don Bolles was invited to speak on a panel at the first IRE Conference in Indianapolis.
Bolles was an investigative reporter, the lone-wolf type, the kind who would attach a piece of Scotch tape to the hood of his blue Datsun to make sure that nobody had tampered with his engine.
By 1976, he'd left the investigative beat and become a state capitol reporter. Fellow reporters at The Arizona Republic noticed that his days were less stressful and his drinking less intense.
But Bolles' investigative itch never quite subsided. When he received a telephone call from a man named John Adamson who claimed to have a tip connecting Arizona Sen. Barry Goldwater and prominent state GOP figure Harry Rosenzweig to mafia-associated land fraud, Bolles agreed to meet.
"John Adamson … Lobby at 11:25 … Clarendon House … 4th and Clarendon," Bolles wrote in his office calendar.
On June 2, Bolles walked into the Clarendon House lobby. After he waited for 15 minutes, Adamson called to say the source fell through. Bolles headed back to his car.
When he entered his car, a bomb planted underneath detonated.
Bolles lasted 11 days in the hospital before he passed away. He died days before the first IRE Conference.
Indianapolis – June 1976
In the late '60s and early '70s, reporters in different cities had been scrutinizing illegality and corruption. IRE was the brainchild of a group of journalists that gathered in Indianapolis.
"There was a lot of ferment going on at the time, a lot of people becoming aware of investigative reporting," said Jim Steele, an IRE member since the beginning. "A lot of people pin it to Watergate, but the impetus really came from the Vietnam War and the critical journalism that came up in the coverage of the war."
In February 1975, that nationwide effervescence of investigative reporting was condensed into IRE during an organizational meeting in Reston, Virginia.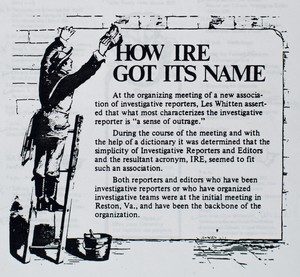 "It was exciting, it was fun, it was interesting," Myrta Pulliam, IRE cofounder, said of the Reston meeting. "Everybody had their own idea of what that is, and we had to mush all of that into something that would work."
Investigative reporters often felt the unhealthy side effects of their craft — being isolated from other journalists and hovering above the line between diligent and paranoid. IRE was an effort to pool together resources from investigative reporters across the country and create a network of information and collaboration.
The first conference in 1976 drew more than 200 journalists eager to share tips, strategies and drinks.
"There was tremendous excitement about the possibilities at that first meeting," Steele said.
But even with the simmering excitement that accompanies the beginning of a movement, a dark undercurrent shaded conversations in hallways between panels and lectures.
Bolles' absence had a palpable presence in that Indianapolis hotel. A fake tip and a car bomb — that could have been any conference attendee's fate.
After a growing number of conversations about their Arizona colleague, the IRE journalists made an unprecedented decision. They would go to Phoenix and finish Bolles' reporting.
The reporters didn't descend upon Phoenix to solve Bolles' murder. Rather, they went to prove a point and buy an investigative reporting insurance policy: You can't kill a story by killing a reporter.
Arizona – 1976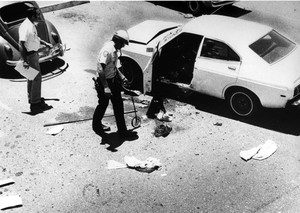 Arizona was different then, and so was Phoenix.
There was a desolate feeling to the city, with an underdeveloped, industrial downtown and spread-out buildings.
The city sweltered, but mobsters came to cool down from cities with more powerful political forces, such as Las Vegas and Chicago. Phoenix was low-key and altogether more permissive than other mafia hot spots.
Beyond Phoenix and Tucson, the rest of the state was largely uninhabited. It was the Wild West of the 1970s, a Martian landscape where the law-abiding majority moved right on through, which left the others to stick around and play with the rules as they wished. An Arizonan's climb to power could be made with the handshake of a mobster.
U.S. Senator, failed presidential candidate and native Arizonan Barry Goldwater knew how the state's political games were played. If Barry was one of Arizona's most potent political forces, his brother Bob was its business behemoth. The Goldwaters and Rosenzweig were suspected of having ties with Arizona's mobsters, but nobody had connected them to their alleged crimes. That's what Bolles was curious to find out, said Chuck Kelly, who was a 30-year-old reporter at The Arizona Republic when the news of Bolles' injuries reached the paper.
"It was pretty clear what had happened and why," Kelly said. "We all had the suspicion it was the mafia. I wasn't great friends with Bolles, but I was his colleague. My reaction was a professional one. I wanted to find out what had happened."
So Kelly signed on to work with IRE for two weeks, which was typical of most reporters. The Phoenix Project, as it was originally called, was a five-month feat of interviewing high-profile businessmen, politicians and mobsters; tracking down land-fraud documents as far away as Las Vegas; and cross-indexing and verifying findings. Thirty-eight reporters and editors left their respective news organizations — sometimes voluntarily, sometimes on paid leave — for a few weeks at a time.
Phoenix, AZ – October 1976
The contributors came from across the nation and included Harry Jones, a veteran investigative reporter for the Kansas City Star.
Jones was in his mid-40s when he heard about Bolles' death. He wasn't terribly close with Bolles, but he remembered working at a college newspaper with Bolles' younger sister. Jones had been an investigative reporter for The Kansas City Star for years, and he knew his way around records on organized crime and political corruption.
When Jones arrived for his first three-week commitment in October at IRE's temporary headquarters, the Adams Hotel, he was surprised to walk into a room entirely repurposed for the sake of the project. Bedroom furniture had been removed, and in its place were file cabinets, some large filled with documents, and others small, stuffed with cross-indexed memos on 3 x 5 notecards.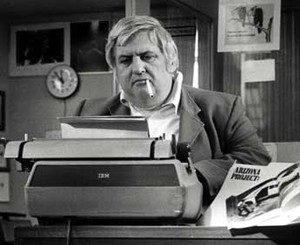 Jones also found the man undeniably in charge of the project, Bob Greene, sitting at his corner desk and sifting through memos with cigarette in hand.
If Jones was a soft-spoken man, Greene was his opposite.
A dogged Newsday editor who had already won two Pulitzers, Greene had an imposing presence. He was tall and heavy, with a mane of graying hair. As Milwaukee Journal reporter and Arizona Project contributor Dave Offer recalls, he was a "giant bean bag chair" of a man with a narcoleptic habit that would cause him to fall asleep mid-conversation, but he would always wake up with a perfectly logical response.
Greene didn't waste any time in handing Jones his first assignment. He sent Jones out to Arrowhead Ranch, a citrus farm rumored to hire undocumented immigrants and owned in part by the well-off Martori family. Bob Goldwater was the co-owner. IRE reporters had been tipped off by a former United Farm Workers union leader who told them about undocumented workers living on the ranch without homes.
The team left Phoenix in two cars and drove toward the foothills of the desert mountains.
The citrus farm was a half-hour drive north of Phoenix, but Jones could see it from far away. Hundreds of acres of 15-foot trees formed a vast green oasis, out of place within the dry landscape.
Jones and the reporters dodged armed security guards and a monitoring helicopter overhead as they walked deeper into the citrus groves in search of laborers.
When Jones finally came upon a group, he found them sleeping in shelters made from orange crates. A pregnant woman lay under one of these crates, next to three young children and a six-month-old baby with dirt smudged on his face. The people lived with their own excrement on the ground — no toilets at Arrowhead — and flies swarmed in the air. One child swallowed his soup, which was spiked with dead flies.
The reporters asked for the laborers' identification. What they found, though, weren't legitimate social security cards at all, but false cards with scribbled numbers. The reporters soon deduced that the undocumented workers had no idea they'd been duped; they had been given these cards by the coyotes, or guides that helped them cross the desert border from Mexico to Arizona. Despite having perfect knowledge that these cards were fake, Arrowhead hired the undocumented immigrants.
In April 1972, during a gathering at the Scottsdale Diner Club, a farm union member asked Barry Goldwater why Bob was hiring "illegal labor."
"My brother is over 21, and he knows what he is doing," Barry said. "If you people would get off your butts and go to work, he wouldn't have to hire (Mexican) nationals."
It was an alarming finding, but only one of several published in The Arizona Project. The reporters found evidence of widespread land fraud, dealings between politicians and mobsters and inadequate law enforcement resources. Arizona was the last vestige of the Wild West, and by pooling together their time and skills, the IRE reporters were able to expose corruption in the state. Both Barry and Bob Goldwater, now deceased, were accused of questionable associations, but neither were ever convicted or charged with crimes.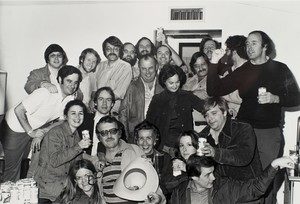 "Deep and dirty was one of our sayings," said Pulliam, referring to the sometimes unsavory figures interviewed for the project.
Pulliam was the "glue that held everything together" as Jim Polk, IRE's third president and former NBC investigative reporter, called her.
The daughter of Eugene Pulliam, publisher of The Indianapolis Star, Myrta had proven her acumen and assertiveness by sharing a Pulitzer Prize in her late 20s for a team investigation on police corruption.
Myrta was cunning, too.
One day in the Adams Hotel, when the two women secretaries were out running errands, the reporters found themselves with empty coffee cups. So they instructed Myrta to make a new pot of coffee.
Myrta grimaced. She had work to do. She didn't complain, though; instead, she took a careful look at the coffeemaker instructions. The coffeemaker called for two scoops of coffee. She added a lot more.
"They never asked me to make coffee again," Myrta said.
Not everyone in the reporting community supported IRE's project; newspaper giants The New York Times and The Washington Post both questioned its legitimacy and called the project out on claims of sensationalism and vigilante journalism. They refused to send reporters to work with IRE. Although The Arizona Republic allowed reporters like Kelly to participate, it didn't print the project's 23-part series, which debuted March 13, 1977.
And yet, The Arizona Project exposed widespread corruption pervasive in the state and was one of the first nation-wide efforts to bring together competitive investigative journalists to work as a team.
"The Arizona Project strengthened IRE," Offer said, "gave it a great deal of legitimacy."
Now it was time to find funding and a home.
Chapter 2: Looking for Solid Ground
After The Arizona Project was published, a wealthy rancher with a mafia connection sued IRE for libel. The jury awarded him $15,000 for emotional distress but decided that the Project had not libeled him, nor had his privacy been invaded.
Nonetheless, five others named in the Arizona Project followed suit, and the debt racked up.
By 1980, IRE "had no more than two or three hundred dollars in the bank," according to a letter from then-president Jerry Uhrhammer. "Financially, we are hanging on by our fingernails."
But money wasn't IRE's only problem. It also needed a home.
In 1977, in the basement at the University of Missouri in Columbia, graduate student John Ullmann bumped into journalism school Dean Roy Fischer. Ullmann showed him a short article in Editor and Publisher Magazine — IRE was looking for a location for its headquarters.
IRE had been considering cities on the East Coast — Boston, maybe College Park, Maryland. But Ullmann wondered if the University of Missouri should add its name to the pot and fight for IRE to be based in the Midwest, a more central location. Fischer agreed and told Ullmann to ring up Bob Greene to toss Missouri's name in the hat.
"Wait, you want me to call Bob Greene?" asked Ullmann.
Ullmann did just that, and Missouri was officially a contender.
Tennessee – 1978
Later that year, Ullmann was off the grid. It was time to take a break from school, and he was hiking through the green ferns and arching trees of the Appalachian Trail.
Ullmann had fallen into a pattern. Each week, he'd trek along the trail with his 45-pound backpack. The weekends were for hiking down to whatever village was nearby and stocking up on supplies.
When Ullmann visited the villages on the weekends, he'd also check the post. His sister knew approximately where he would be on the weekends, so she sent him his mail.
One day in southern Virginia, Ullmann found that his sister had forwarded a letter to him from Jim Polk, then president of IRE. The letter informed Ullmann that IRE would be based in Missouri, and furthermore, he was elected executive director.
"Congratulations or condolences—I'm not sure which is in order," Polk's letter began.
Well, this took Ullmann by surprise.
Ullmann found the phone at the post office, fed it a few quarters and called Polk.
"If you're going to be the executive director, and Bob Greene says you are, so I say you are," Ullmann remembered Polk saying, "you've got to come out of there and work."
"You know where Thornton's Gap, Virginia is?" Ullmann remembers asking. "Meet me there in two weeks."
Thornton's Gap is not a town, nor a rest stop, but a literal gap in the Appalachian Trail. Sure enough, two weeks later, Ullmann arrived at this gap in the trail. He sat down in the grass by the road and was ready to be greeted by Jim Polk. He waited. The sun began to set. The sky became dark.
Finally, a car pulled up. There was Polk. He had just gotten off work and was still dressed in a TV-ready suit; although "he had loosened his tie," Ullmann recalled.
A scruffy-bearded Ullmann and clean-cut Polk grabbed thin steaks "to make sure he got one good square meal after his Dan'l-Boone-in-the-Wilderness weeks-long self-survival ego trip," Polk said.
At this point in its infancy, IRE still only had a little money in the bank. The University of Missouri offered it a home, some funding and a couple of graduate assistantships to help with staffing. Ullmann's role as executive director was also part of this package deal.
When Ullmann accepted the position — after all, it paid a whole $13,000 a year — Polk already had his first task lined up.
"His first job was to take a shower," Polk said, "because he hadn't bathed in two months."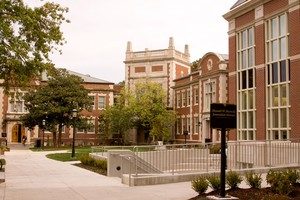 The first IRE office was, more or less, Ullmann's office. It was in a small room on the third floor of Walter Williams Hall, and it was stuffed with books and stacks of newspapers.
George Kennedy, a professor at the University of Missouri who eventually became editor of the IRE Journal, remembered the office always being crowded with a stream of students wandering in and out.
Kennedy edited the Journal, but Ullmann physically put it together. Dean Fischer allowed him to use the empty Columbia Missourian offices late at night and into the early hours of the morning to paste up pages before sending them off to the printer.
Kennedy and Ullmann aimed for the Journal to be a resource for IRE readers, so early issues discussed FOIA laws, offered how-to guides (including "Tracking a Trail by Telephone" and "Defending your Investigation in Court") and had book reviews.
In addition, IRE connected journalists through its national and regional conferences. The organization's plan to rotate cities allowed journalists from across the country to attend the conferences, which generally grew in popularity every year.
Chapter Three: Heading Toward the Future
When Ullmann stepped down from his post in 1983, he passed the torch to Steve Weinberg, a professor at the University of Missouri journalism school. The IRE office moved from Ullmann's tiny third-floor office to a slightly larger, but much dingier, room in the basement of the journalism school.
During Weinberg's tenure as executive director, a debate was brewing among members of IRE and the journalism community at large about the definition of investigative reporting. At IRE's conception, many assumed that the craft was limited to probing illegal activities. But Weinberg was among those who insisted that investigative journalism could be much more than that.
"It didn't have to just look into illegality," Weinberg said. "Quality investigative reporting could be in-depth, explanatory reporting."
He and others argued that the work of veteran investigative reporters and longtime IRE members Don Barlett and Jim Steele should be considered for the IRE awards, even though their reporting on the failures of the American Dream had little to do with investigations into illegal undertakings.
In essence, during the 1980s, IRE played a role in the evolving definition of investigative reporting.
When Brant Houston arrived in 1992, he took over what was then known as MICAR, or the Missouri Institute for Computer-Assisted Reporting. Houston, a no-nonsense man who had had years of database reporting under his belt, was ready to share his expertise.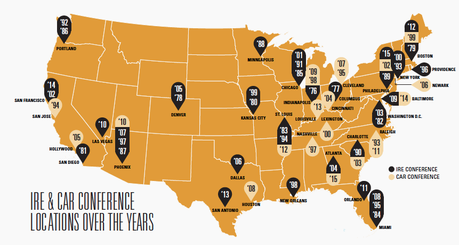 In 1997, Houston became the executive director of IRE in addition to running MICAR, which expanded nationally to become NICAR. For all intents and purposes, the marriage of IRE and NICAR was a perfect match.
"Databases and journalism go hand in hand," Houston said. "Once you blend these things together, investigative reporting can have a much greater impact."
All of IRE's leaps and bounds into the digital age, however, were put in danger by one major threat — water.
The IRE and NICAR offices were located in the journalism school's basement, catty-corner to the quad where students lounged on bright spring days. But the IRE staff was kept underground, devoid of windows and subjected to periodic flooding.
The flooding happened not once or twice, but about every time it rained. During particularly bad storms, the water rose more than six inches. It was uncomfortable for staff, but the real threat was to the computers that stored IRE's precious databases.
So, Houston decided it was time to move to higher ground.
After receiving permission to temporarily move to the Missourian's old offices, IRE and NICAR emerged from the windowless basement room.
"Basically, IRE and NICAR were squatters," Houston said.
The IRE offices remain there today.
Epilogue: It Continues
Before IRE's beginning, investigative journalists were a sharp but stubborn breed, happy to bury (and effectively isolate) themselves under documents and data.
Don Bolles suspected that the sparks of corruption were burning in Arizona, but he had neither the resources nor the camaraderie to reveal it.
The Arizona Project reporters defended the freedom of the press. They proved that the news was larger than a lone reporter, and it could not be killed.
IRE members abroad, though, still face dangerous conditions. At least 66 reporters were killed in 2014, according to Reporters Without Borders. More than 140 were imprisoned.
But IRE has motivated the sort of reporting strengthened by solidarity the world over. Since reporter Khadija Ismahilova was arrested and jailed in Azerbaijan on charges that she incited her disgruntled ex-boyfriend to commit suicide, her fellow journalists have continued her reporting. The similarities to The Arizona Project are no accident; her colleagues' decision to finish her stories was inspired by the project.
More than anything else, IRE has created a network in which more than 5,000 members are happy to pool together resources, documents and techniques for the sake of the public good. Forty years after that small group of reporters met in Reston, and 39 years after IRE's first conference in Indianapolis, investigative reporters are more empowered to put out fires together.
"IRE works to promote the role and responsibility of the free press," Ullmann said. "Nobody's doing anything more important."