NICAR 2012: St. Louis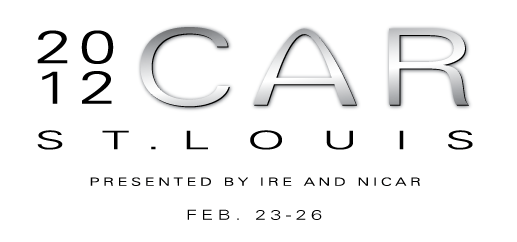 Looking to learn skills that will help you and your newsroom thrive?
Join IRE and NICAR in St. Louis for our annual conference devoted to computer-assisted reporting, Feb. 23-26, 2012, at the St. Louis Union Station Marriott. Come and learn about tools you need to dig deeper into stories and give readers, viewers and your online audience the information they're demanding.
The CAR conference offers something for everyone, from beginners to those on the cutting edge of digital reporting. We'll offer everything from the basics on using spreadsheets, databases and online mapping to the latest technological advances. Learn from the best in the business in panel discussions and during hands-on training sessions. Bypass the budget issues in your newsroom by taking classes in free software. Get a look at what the biggest names in data-driven reporting are using to make a major impact online.
---

This day-long workshop held Thursday, Feb. 23 will give you a practical understanding of how to approach information that comes in inconvenient, unstructured forms: tweets, e-mails, reports, videos and other records. You'll learn the basics of unstructured data analysis and tools you can use to lasso your records. Join us for NewsCamp, and you too can learn from the best in the business — whether you're a rank beginner, or experienced designer/developer.
Whether you are a journalist with an interest but no technical background or an experienced developer or programmer, you'll walk away from NewsCamp with new knowledge and skills you can use right away.
Learn more about the workshop and how to register. (Pre-registration is required.)
The afternoon hands-on sessions for NewsCamp, music sessions and jam lessons, are now full. The morning panels are still available to attendees, space permitting in each room.
Liberate the data with Scraperwiki

IRE and ScraperWiki are hosting a 12-hour data liberation marathon during the CAR Conference from 6 p.m. Thursday, Feb. 23, to 6 a.m. on Friday, Feb. 24.
We're soliciting your nominations for data sets that you're longing to crunch but haven't been able to get your hands on. We'll build a list of prime candidates for liberation. Then, on the opening evening of the CAR Conference, all those willing to join in the fight to free the data will join in an overnight scraping fest. The experts from Scraperwiki will be on hand to lend their expertise and their platform. They'll lead an opening session how to scrape using Scraperwiki, and the liberation will begin. Nominate a data set to liberate and sign up for the free event. All you need to bring is a laptop.
Visualize your data with Tableau Public
Free hands-on data visualization training
Visualize data fast and publish it interactively to the web without programming with Tableau Public. Tableau Public will host two, four-hour hands-on training sessions Thursday, Feb. 23, at the CAR Conference. The sessions — one for beginners and one for more experienced users — will cover the basics of using Tableau to quickly create data visualizations and post them to your website as well as more advanced features of this free software.
Learn more about the training sessions and how to reserve a seat.
Follow the Money — Tracking Companies' Influence on Politics
Free business journalism training before the conference
Come to a free Reynolds Center workshop on Wednesday, Feb. 22, the afternoon before the CAR Conference. Bring the name of a company you follow to this workshop and learn how to track its efforts at political influence from two experts: New York Times reporter Ron Nixon and Sunlight Foundation editorial director Bill Allison. They will help you:
Find campaign contributions and lobbying expenditures by companies at the state and federal level;
Tie company spending on candidates or lobbying to legislative or regulatory actions; and
Find corporate contributions to independent groups.
For more information and to register for this free training, visit the Reynolds site. You must register in advance to attend this training.
Looking for a roommate for the conference? Post your information to the roommate forum.
IRE will sell two NICAR T-shirts at the 2012 Conference. Members submitted ideas for designs and voted on their favorite.