NICAR will be back in Nashville this spring after 26 years. We can't wait to see y'all on March 2-5, 2023! Registration is now open and professional members can register at the early-bird rate of $299 until January 9. Student members can register at any time for $100. We'll be at the Renaissance Nashville Hotel — book your stay now before the discounted block fills up.
NICAR23 will not include virtual sessions. Our goal is to provide the best possible experience and we have found, based on attendee feedback, that a hybrid event does not meet the highest level of standards that IRE members have come to expect. We instead have significantly bolstered our affordable and accessible virtual training opportunities scheduled throughout the year.
Additionally, we're expanding and rebranding the DBEI Symposium, our all-virtual conference held in the fall, to IRE Access Fest. Access Fest will offer programming focused on diversity, belonging, equity and inclusion, and also provide trainings that you would see at a typical IRE or NICAR Conference. Check out DBEI21 and DBEI22 schedules for examples. Access Fest will be held on October 12-14, 2023 - more details coming soon!
We'd love to hear from you about what else you'd like to see. Fill this form out any time you have an idea for an event.
We're lining up a schedule for NICAR23 packed with data workshops, hands-on classes and panels, but there's still time to send us your ideas! The pitch form will remain open through September 30. For questions about pitching or anything else, please email conference@ire.org.
IRE is committed to providing a friendly, safe and welcoming environment for all, regardless of gender, ethnicity, sexual orientation, physical ability, age, appearance or religion. Take a moment to read through the IRE Code of Conduct before making a pitch: ire.org/conduct.
If you need financial assistance to join us in Nashville, you can apply for one of our many fellowships. Get your application in by January 9. For questions, email Anna López at anna@ire.org.
Keep up to date with all things NICAR23 related by signing up for the NICAR23 newsletter.
IRE is keeping the health and safety of our members at the forefront as we plan the conference. IRE will continue to monitor CDC, local and state guidelines leading up to the conference and will update attendees on protocols as the conference gets closer.
Welcome to the virtual #NICAR21 conference! If you've already registered, here's what you need to know to access the conference.
(If you still need to register, you can do that online and then follow these instructions. You will receive an email to access the conference platform within one business day of registration. During conference week, we will work to give access as soon as possible after registration.)
Getting started & accessing the virtual conference platform
The NICAR21 virtual conference is online at nicar21.org. We highly recommend you bookmark this URL for easy access, especially since you can access it for a full year!
If you've already registered, you should have received an email link with access to Pathable, our virtual conference platform. Using the link from that email, you'll be asked to set a password. You will need this email and password to access Pathable during and after the conference.
Can't find the email? Search your inbox and Spam folder for "Pathable." If you still can't find it, email logistics@ire.org.
What are the technical requirements?
Google Chrome: Recommended browser for the best experience on Pathable. Make sure you are running the latest version, and that you allow pop-ups.
Zoom: Please download Zoom to your computer before the start of the conference.
What time zone is the agenda?
The Pathable agenda will automatically reflect your time zone.
How do I build my own schedule?
To add live sessions to your agenda, start on the main Agenda page (go to Schedule > Agenda). When you find a session you want to add to your schedule, click on the green plus sign located in the upper right-hand corner of each session.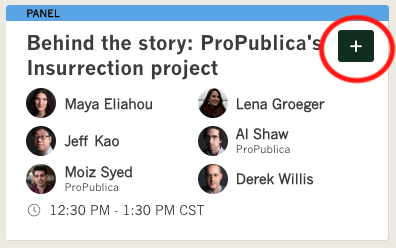 Anything you add will show up on your My Agenda page (go to Schedule > My Agenda). You can also export your schedule to your personal calendar by using the Export Calendar feature located in My Agenda.
How do hands-on classes work?
The conference features seven virtual data labs where you can learn spreadsheets, SQL, data wrangling, data viz, Python, R and web scraping -- with no sign-ups or extra fee required. The classes are all on demand and will be available for a year after the conference so you can work at your own pace and come back for refreshers.
Access the labs under Schedule > Virtual hands-on labs.
How can I get live help with hands-on skill lessons?
To compliment the virtual labs, we are offering live office hours where you can meet with an experience data journalist to help with a particular skill or project. Sign up here to be matched with an expert. 
Note: You must sign up by Monday, Feb. 22 for one-on-one office hours. If you don't sign up, you can come to open office hours found on the Agenda.
Will all the sessions be recorded?
Most of the live sessions are being recorded and will be available in Pathable for one year after the conference. Every session description notes whether the session will be recorded.
As a general rule: panels and conversations will be recorded; networking and happy hour sessions will not.
Recorded sessions will be available for viewing a few hours after the session concludes. In addition, any tipsheets from the session will be available in the Files tab for each session.
How does Zoom work inside Pathable?
Most panels (webinar-style meetings) will have the Zoom room embedded inside the Pathable page. This allows you to view the session even if your device or organization limits Zoom access. When you're in the Pathable room, you'll see the video on the left and the chat box on the right.
When you "Join a live meeting," you may experience a brief delay and see a gray/black box as the embedded video loads.
If the embedded format shown above isn't working, you also have the option to "use the Zoom app instead." This will open a new Zoom window. (Find it directly under the video window in Pathable.)

Will I be on a camera? Will I be muted?
It depends! There are two types of Zoom rooms, each noted at the bottom of that session's description.
Webinar room: Only speakers can be on video and unmute themselves. Attendees are in listen/view-only mode, unless they use the "Raise Hand" button and the session host allows them to speak. At NICAR21, we use this setup for most of the live panels and demos.

Meeting room: These are what most of us use in our day-to-day lives. Anyone — speakers or attendees — can be on video and unmute if they choose. At NICAR21, we mostly use this setup for networking sessions, conversations and a few demos.
Finally, a note: If your organization or device limits Zoom access, you may not be able to unmute or go on video. But you should still be able to view the content and use the chat in Pathable.
Can I go in and out of sessions?
Yes, you can enter and leave any live session (as long as it is not at capacity).
How do I get technical support or help?
If you are having technical difficulties, make sure you are using Google Chrome. This will take care of some common problems, like a slow-loading browser or audio issues. But if you still need help, reach out one of the following ways:
Use our live Help Desk: An IRE staff member will be available each day during the conference to assist with any questions. Here are the Help Desk hours:

Wednesday, March 3: 8 a.m. – 1 p.m. (ET)
Thursday, March 4: 11 a.m. – 1 p.m. (ET)
Friday, March 5: 11 a.m. – 1 p.m. (ET)

Contact Pathable Technical Support: From the Pathable navigation bar, click on Tech Support > Get Support. This will open a chat box and connect you with someone at Pathable. This is a free service provided to attendees by IRE.
Send IRE an email. If you have a question about registration or other non-technical issues, email us at logistics@ire.org.
NICAR21 is moving online in March, and IRE needs your help to build a strong and successful virtual data journalism conference.
We are gathering ideas from our community via this form through Dec. 6. We want to know what session topics you'd like to see, what format is most helpful to you and how we can help you network and build connections with other members online. With an online conference, we have lots of flexibility to try different things, explore emerging technologies and connect with each other on new levels.
IRE's annual data journalism conference was originally scheduled for March 4-7, 2021, in Baltimore, Maryland. We are moving the event online because of the ongoing coronavirus pandemic. Sign up for NICAR21 email updates here.
"NICAR is such a unique conference with its hands-on training, innovative sessions and collaborative spirit," IRE Deputy Executive Director Denise Malan said. "While we wish we could see everyone in person, we are excited to create something new and different for NICAR this year, and make the event more accessible to journalists, educators and students around the globe."
Here's what we're planning so far and what kind of input we're seeking:
The conference will be the week of March 4, exact dates to be determined. We'd like to hear what days work best for you and how long each day should be.
We are planning live panels, demos and networking sessions, and we need pitches for session and speaker ideas. Let us know what you'd like to learn or speak about. We're especially interested in ideas that are practical and relevant to current events such as coronavirus, police conduct and racial equity.
Hands-on data skills will be taught via on-demand, pre-recorded videos led by IRE trainers, so that anyone can learn at their own pace. There will be beginner, intermediate and advanced lessons so attendees can jump in at their current skill level. We'll offer sessions in spreadsheets, SQL, programming and data viz.
To complement the on-demand data training, we plan to offer multiple office hours for attendees to get one-on-one help with any data skill or help setting up their computers for data work. If you'd like to volunteer to help during an office hour session, please let us know via the form.
We're also seeking volunteers for "digital coaches" who will get a badge in the conference platform signifying that people can reach out to them for help during the conference.
It wouldn't be NICAR without the fun, community-building events! We plan to have some fun sessions that have nothing to do with data or journalism so you can relax and socialize with your fellow NICARians. We'd love to hear your ideas for happy hour and fun mixer sessions.
All attendees will receive access to the conference site, including hands-on classes and live session recordings, for a year afterward.
As always, we rely on this amazing, diverse community to help us highlight the very best in data journalism, and we cannot wait to see what you come up with! Feel free to reach out at any time to conference@ire.org.
In early March, we put together a panel at the 2020 NICAR Conference on how to cover the response to COVID-19. Although much has changed in the past month, there were some key takeaways from the panel that will ring true throughout the pandemic. 
Panelists Caroline Chen from ProPublica, Anna Barry-Jester from Kaiser Health News and Sarah Babcock from the New Orleans Health Department, offered four tips for how to cover the coronavirus outbreak.
1. Look at lab capacity when reporting on testing
From the beginning of this outbreak, the United States decided against using the World Health Organization's test guidelines. Caroline Chen noticed the slow rollout of testing, and eventually realized that American tests weren't working properly. 
"I had noted that it was taking New York City still a couple days to get answers to their tests. At that point, they were still coming back negative," Chen said.
The tests were later found to be faulty. 
"That [decision to go with our own protocol] lost us a bunch of time," she said. 
The lack of testing allowed the virus to spread in the United States undetected, exposing many people to the coronavirus without the knowledge of health departments. If you want to look into testing in your own area, Chen suggested looking at capacity. If a lab only has one technician and that person can only do X number of tests a day, how many tests can they realistically run?
2. Pull inspection reports to see if hospitals were prepared for the outbreak
The United States, by many metrics, was underprepared for the coronavirus outbreak. The Trump administration closed the White House pandemic office well before the COVID-19 outbreak began, stunting the federal government's ability to respond. But Sarah Babcock of the New Orleans Health Department said local and regional health agencies are ready for this kind of outbreak.
"We have infectious disease outbreaks every single day around the country. And so our response to COVID-19 is the same as a child with measles, just at a larger scale," Babcock said. 
The local health department is notified if an odd number of people start showing up in the hospital system, and it knows which symptoms are cropping up often in the community, Babcock said.
"Almost every [health department] is already going to have a flu pandemic or infectious disease outbreak plan on the shelf ready to go," she said. 
Hospitals were preparing for the crisis to hit the U.S., and Chen said you can pull past inspection reports to see whether they were adequately prepared. 
"There is a specific citation that can be given by [Centers for Medicare & Medicaid Services] inspectors or federal government inspectors, that the tag is infection control specifically," she said. 
You can ask experts to look at those tags and tell you whether the hospital is following proper protocols to protect health care workers and whether they've had recent training on personal protective equipment.
Reporters should keep an eye on local nursing homes for signs of the outbreak, Anna Barry-Jester said. One Washington nursing home was linked to 34 coronavirus deaths. 
Kaiser Health News has a tool available to look at infection records in nursing homes across the U.S. Using the tool, you can quickly find the number of times homes in your city or state have been cited for infection control violations since 2017.
3. Be careful with statistics
Because testing is so limited, it's hard to know what the actual fatality rates are for COVID-19. 
"Not every person that has coronavirus is ever going to get tested," Babcock said. "And there's never going to be a time where anyone who wants a coronavirus test can get a coronavirus test." 
The expected fatality rate has fluctuated significantly across time and location. In South Korea, which has expansive testing and a relatively mild rate of infection, death rates have remained much lower: just 0.6 percent. Italy, meanwhile, has limited testing and an elderly population, so its death rate is nearly 8 percent.
Chen also cautions against predictive statistics for infections. While epidemiologists are creating great models for how many infections there might be in a given city in the next few months, writing headlines with those numbers could cause a panic. 
"People are just going to take that and run off in a panic," Chen said. "So I just try not to do that. I think that's fear mongering."
4. Health department officials can be the most reliable human sources
If you're trying to find data about coronavirus, the Centers for Disease Control and Prevention  and the World Health Organization are obvious go-tos. But Chen also recommends the Association of Public Health Laboratories. 
"They are very media friendly, and they're sort of aggregating information," she said. 
You can also look into public health associations, both regionally and nationally, Barry-Jester said. The American Public Health Association is one option, and it has regional offices across the country. 
Johns Hopkins University has also put together a Coronavirus Resource Center that has updated information and stats. 
When it comes to human sources, Babcock cautioned against using your local doctor as a health expert. 
"They don't always have information that came out early that morning with the latest statistics or don't know the background that hasn't been released publicly yet," she said. "The people who are going to know your most accurate and timely information are your health department officials."
Babcock suggested interviewing public health officials, but said they're often busy because of the outbreak. Instead of asking for individual interviews, she urged reporters to go to press conferences whenever they happen. 
"I would say it is 1,000 times easier to get a written statement or a phone call than it is an in-person interview," Babcock said.
You can find the tipsheet from the NICAR20 session here. 
The 2020 NICAR Conference begins on Thursday. Below you'll find a few bits of information to help you prepare.
For the latest information about panels, speakers and special events at the conference, please visit our conference website at ire.org/nicar20. 
Hotel information
The conference is taking place at the New Orleans Marriott, 555 Canal Street, New Orleans, LA 70130.
Registration
Registration opens Wednesday at 3 p.m. and will be open Thursday, Friday and Saturday in Preservation Foyer located on the 2nd floor. Be sure to bring photo identification when picking up your name badge. 
Coronavirus update
IRE continues to monitor information from local and national public health authorities regarding COVID-19. During NICAR20, IRE will provide hand sanitizer throughout the conference meeting space. In addition, we will have disinfectant wipes for our hands-on computer labs. The Centers for Disease Control (CDC) has a COVID-19 site with regular updates. If you need to cancel your registration, please see our policy on the NICAR20 registration page.
Weather
Weather looks to be in the 60s during the week. See the 10-day forecast.  
Conference WiFi
Wireless internet is provided to all NICAR conference attendees. 
Network/SSID: IRE
Password: NICAR2020 (case sensitive)
Have a question or need help in a session?
Room monitors will be stationed in the hallways during sessions and will be happy to answer your questions.
Hands-on classes
We will have nine computer labs again this year. Seating is limited. If there's a hands-on class you really want to take, plan on getting there early.
Tipsheets & Links
If you're a speaker, please send any materials you've developed to tipsheets@ire.org. We'll be posting these resources on our website as they are received.
NICAR Conference schedule & mobile app
There are a few ways to track the full schedule of panels, hands-on sessions and special events with accurate, up-to-the-minute details: 
Special events & partner events
Be sure to check out the list of special events taking place this week. Events include a welcome reception Thursday, the Philip Meyer Awards presentation and reception Friday and a closing reception at the New Orleans Audubon Aquarium of the Americas on Saturday. Also, be sure to check out the partner events taking place during the conference.
IRE Principles (Code of Conduct)
Investigative Reporters & Editors is committed to providing a friendly, safe and welcoming environment for all, regardless of race, gender identity or expression, ethnicity, sexual orientation, physical ability, age, appearance or religion.
IRE supports vigorous debate and welcomes disagreement, while maintaining a civil and respectful community. Discriminatory or harassing behavior is not permitted.
IRE may take any action it deems appropriate to deal with those who violate our principles, including exclusion from our events, forums, listservs and the organization itself.
This code of conduct covers all participants in IRE events and is in effect the entire time from the beginning until the end of our conferences.
If you feel threatened or in immediate jeopardy during an IRE event, you should call building security by calling 0 from a house phone, or local police by dialing 911.
During the scheduled program, concerns can be brought to the attention of IRE staff or board members in person. Staff members will have red ribbons on their name badges, and board members will have blue ribbons. To report a possible violation, email conduct@ire.org.
We wanted to share a brief message regarding the emerging public health concerns posed by the COVID-19 virus. We are closely monitoring updates from local and national public health authorities regarding the situation in communities where cases of the new coronavirus have been confirmed.
At present, there is no information to suggest that there is an imminent risk to our annual data journalism conference next week. Fortunately, there are a limited number of confirmed cases in the United States.
The Centers for Disease Control (CDC) is working with state and local governments to implement aggressive measures to prevent the spread of coronavirus. The CDC has a COVID-19 page online with full details. The Share Facts, Not Fear page is especially helpful.
During NICAR20, IRE will provide hand sanitizer throughout the conference meeting space. In addition, we will have disinfectant wipes for our hands-on computer labs.
In addition, there are several easy ways that we all can help minimize the risk of exposure. These are the same basic steps we should be taking daily to help prevent the spread of illnesses such as the flu and the common cold:
Wash your hands frequently: Keeping hands clean through improved hand hygiene is one of the most important steps we can take to avoid getting sick and spreading germs to others.
Cover your mouth and nose with a tissue when you cough or sneeze. If you don't have a tissue, cough or sneeze into your upper sleeve, not your hands.
Avoid close contact with people who are sick, or who appear to have symptoms of a respiratory illness.
With continued aggressive good hygiene, we can all do our part to help keep everyone healthy.
We will continue to provide updates as the situation develops and new information becomes available.
If you have questions or concerns, please feel free to contact IRE by emailing logistics@ire.org.
The 2020 NICAR Conference app is now available through Guidebook!
We encourage you to download our mobile guide to enhance your experience in New Orleans. You'll be able to plan your day with a personalized schedule, browse maps and connect with other attendees.
The app is free and compatible with iPhones, iPads, iPod Touches and Android devices.
To get the guide, choose one of the methods below:
Download "Guidebook" from the Apple App Store or the Google Play Store, tap download guides, and search for "2020 NICAR Conference."
Visit this webpage and enter your cell phone number to get a text message with a link to download Guidebook. You can also use the widget below.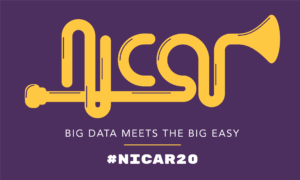 The votes are in and the 2020 NICAR T-shirt has been selected!
Jan Diehm won our annual contest. You'll be able to buy her design at the 2020 NICAR Conference in New Orleans. Any extra shirts will be available for purchase online in the IRE Store.
Thanks to everyone who entered designs and voted.
Help us pick a T-shirt to sell at the 2020 NICAR Conference in New Orleans!
Voting will stay open for about one week, ending Sunday, Jan. 26 at midnight (PST).
The designer of the winning T-shirt gets a free shirt and $50 in the IRE Store.
Visit the contest page to view the designs and vote.
Earn bragging rights and help raise money for future training events by participating in our annual NICAR Conference T-shirt contest.
All ideas celebrating data and data journalism are welcome, from a simple, classic design with #NICAR20 on it to bad SQL puns (SELECT * FROM tshirts WHERE tshirts.thisone = "Awesome").
There are only a few guidelines:
It must be work appropriate.
There are no restrictions on colors, but keep in mind that the more detailed/multi-colored the graphic, the costlier it will be for NICAR to print the shirts.
It should include #NICAR20 to celebrate the 2020 data journalism conference.
By sending in the suggestion to NICAR, you don't retain rights to the final T-shirt. (This does not include bragging rights, which the designer will maintain in perpetuity.)
We will accept entries up through Sunday, Jan. 19. Send official entries as JPG or PNG files to shirts@ire.org. Only submissions sent to that email will be entered in the contest.
Designs will be posted to the contest page as they are received. Starting Monday, Jan. 20, you'll be able to vote for your favorite designs.
The designer of the winning T-shirt gets a free shirt and $50 in the IRE Store.
We look forward to your ideas and another great NICAR Conference, March 5-8 in New Orleans.