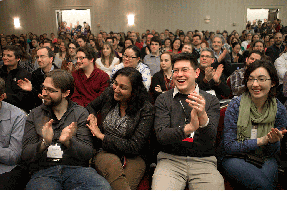 Thanks to everyone who pitched and voted on the 2015 Lightning Talks. Here are the talks we'll be hearing Friday, March 6 at 4:30 p.m. You can read more about them on our Lightning Talks page.
The end of maps, in 7 charts — Darla Cameron
Beautiful Satellite Images in 5 Minutes — Jeff Larson
10 Things I Hate About You — Lily Mihalik and Anthony Pesce
Stop trying to multitask. You're terrible at it. — Chris Canipe
5 data visualizations - each in 5 lines or less of R code — Sharon Machlis
Seven awesome features you will want in your next charting tool — Gregor Aisch
The Five Stages of Terrible Data: Denial, Anger, Bargaining, Depression, Acceptance — Steven Rich
Wrestling with data (without coding) — MaryJo Webster
What do blind people see? A thought-talk about our obsession with visuals and how it translates for the blind — Suyeon Son
Decision, decisions! Lessons for deeply-interactive storytelling — Nadja Popovich
And a special thanks to Sisi Wei and Jeremy Bowers for developing our new Lightning Talks platform!