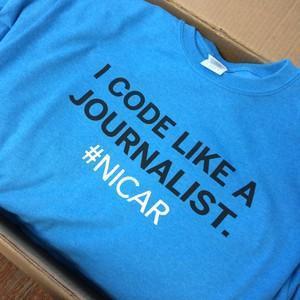 It's almost time for the annual CAR Conference T-shirt contest!
If you don't have a design ready to go, don't worry. You still have plenty of time to come up with your best data journalism one-liners, SQL puns and NICAR logo designs.
The winner gets bragging rights, a free shirt and $50 in the IRE Store. Runners-up will be sold as laptop stickers.
Here's how it works:
Jan 22-31: Submit you designs by emailing them to shirts@ire.org. We'll take just about any high-resolution format.
Feb. 1-7: Vote for your favorite designs. We'll have links on the homepage and CAR Conference page.
Feb. 10: Winning designs announced on the IRE website.
We only have a few guidelines:
The T-shirt should include NICAR or the National Institute for Computer-Assisted Reporting somewhere on it, but shouldn't be designed specifically for the 2016 CAR Conference.
It must be work appropriate.
There are no restrictions on colors or design, but keep in mind the more detailed/multi-colored the graphic work, the costlier it will be for NICAR to print the shirts.
By sending in the suggestion to NICAR, you don't retain rights to the final T-shirt. (This does not include bragging rights, which the designer will maintain in perpetuity.)
We look forward to your ideas and another great CAR Conference March 10-13 in Denver.