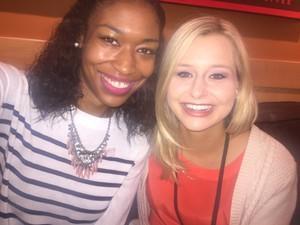 Jocelyn Stargell-Zachery (left) and Breanna Molloy (right) at the 2016 IRE Conference.
Photo by Jocelyn Stargell-Zachery
At the IRE Conference in New Orleans, 2016 Knight Scholar Jocelyn Stargell-Zachery spoke with attendee Breanna Molloy, a multimedia journalist at KATC in Lafayette, Louisiana.
Stargell-Zachery: What is your background? Did you originally go to journalism school?
Molloy: Well, I originally went to film school and moved to Los Angeles, California and tried to do the whole industry thing. I realized that it was something that I really did not want to do. I kind of got stuck in that techie niche and really did not have creative input in the stories that I was telling. Long story short, I came across the blog of Matt Pearl at 11 Alive News (WXIA-TV in Atlanta) and saw his stories and thought, this is what I want to do.
Stargell-Zachery: What made you choose to be a MMJ instead of an editor or producer?
Molloy: I knew I wanted to be an MMJ because I was passionate about telling stories of others and being able to take my camera into more remote places. I thought that being an MMJ was perfect because you don't have that intimidating photog and crew that usually people shy away from. It was truly an epiphany when I found out that people do not aspire to be MMJs, that they'd rather have the cameraman and crew.
Stargell-Zachery: At what point did you know that journalism was your career path?
Molloy: After following Pearl's stories. I planned on going back to grad school to gain a better understanding of the field of journalism. But after creating my reel and sending it to a few anchors, news directors and recruiters, I got a hit and landed my first TV job here in Lafayette. I found that being a journalist was doing little mini documentaries every day. I did not know that reporters also could shoot and edit. It added that creative aspect for me. I had done videography and editing also, so I thought this was my dream job.
Stargell-Zachery: What are you currently working on?
Molloy: I am of course working on stories here in Lafayette, Louisiana, but I just found out that I will get the chance to go to Cuba and work as an MMJ there. I am very excited for this project because it is something that I have been working really hard on.
Q: How important is it to have investigative skills in this field and do you have any tips for aspiring MMJs?
Molloy: You will use the skills learned at this conference in everyday reporting, not just while working on investigative stories. So the skills here are essential ones that aspiring MMJs need. I would say the two most important things are to not let fear stop you from trying. Of course you are going to get doors shut on you and you are going to fail, but the most important thing is to not let it defeat you. Also, do not be afraid to move in your stand-ups. Show action and show that you are comfortable on camera.