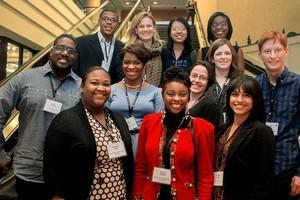 2014 CAR Conference Knight Scholars and mentors pose for a group picture.
Applications are now being accepted from college students at several historically black colleges and universities for the Knight Scholarship to attend IRE's 2015 data journalism and annual investigative reporting conferences. Apply online by Sunday, Dec. 7.
The 2015 conferences include our annual data journalism conference in March in Atlanta and the annual investigative reporting conference in June in Philadelphia. Both conferences offer great opportunities to learn, network with professional journalists and build new skills. More details about each conference can be found below.
Scholarships will cover travel and registration for selected students. They will also receive mentorship before and during the conference to help them make the most out of the experience. Each student will contribute to our conference blog during the event. See what previous scholars wrote about by clicking here.
Eligibility and application information
Students from the following schools are eligible for this scholarship:
Florida A&M University

Grambling State University

Hampton University

Howard University

Jackson State University

Morehouse College

Norfolk State University

North Carolina A&T State University

Savannah State University

Southern University
Application requirements
Each student must complete an application. Students will be asked to select a preferred conference that he or she would like to attend. Applicants will be asked to upload (or provide links for) two published work samples. If no work has been published, please submit some classwork that best demonstrates your abilities. Students must include the contact information for at least one reference. Lastly, each student will be asked to answer the following questions, each in no more than 200 words:
Please describe your career goals and what led you to pursue journalism.

Please tell us why you want to attend a conference and what you hope to gain from the experience.
---
IRE's Data Journalism Conference March 2015
The Computer-Assisted Reporting Conference will be held in Atlanta, March 5-8, 2015. It's a skills-based conference that drew about 1,000 people from around the world to Baltimore in 2014. Attendees can expect to leave with story ideas and tools to help with everything from obtaining to analyzing to visualizing data. Many hands-on classes will be offered at this conference giving attendees experience working with tools that can help up their game. This conference is suitable for all skill levels – from reporters who want to dig deeper to developers who want to create the latest in data visualization. Attendees include students, educators, reporters, editors, producers, news application developers and more. Look to the IRE website for more information on this conference and check out the speakers and schedule from the 2014 conference in Baltimore here.
IRE's Annual Investigative Reporting Conference June 2015
The best in the business will gather for more than 150 panels, hands-on classes and special presentations about covering business, public safety, government, health care, education, the military, the environment and other key beats at the annual investigative reporting conference. Speakers will share strategies for locating documents and gaining access to public records, finding the best stories and managing investigations. More than 1,600 journalists from around the world attended the 2014 conference in San Francisco where special tracks highlighted campus investigations, broadcast and writing the investigative story. Look to the IRE website for more information on this conference and check out the speakers and schedule from the 2014 conference in San Francisco here.
About IRE
IRE is a grassroots nonprofit organization dedicated to improving the quality of investigative reporting. We have more than 4,500 members and this past year we've conducted training for journalists in 23 states and in Latin America, Africa, Asia, the Middle East and Europe. Programs of IRE include the National Institute for Computer Assisted Reporting and DocumentCloud.
Please contact training@ire.org with any questions.