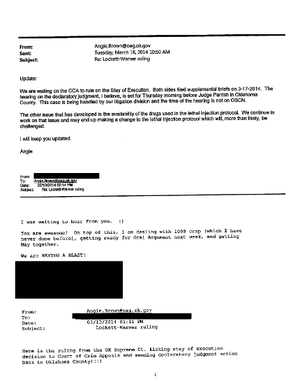 In the weeks leading up to a botched execution, an Oklahoma assistant attorney general referred to defense attorneys' warnings that the execution could go awry as "hysterical speculation," records released to the Tulsa World show.
Assistant Attorney General John Hadden also wrote in a March 21 email that he was "not eager to answer a bunch of questions" from reporters about the state's execution plans but worried about appearing "overly secretive."
Attorney General Scott Pruitt's office released more than 100 pages of emails to the World Friday following an Open Records Act request. The World requested all emails since March 1 regarding the execution of Lockett and Warner and development of the state's execution protocol.
The World's records requests to Fallin's office, DOC and the DPS all remain pending.
RELATED: