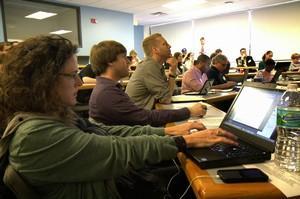 Participants at the Jacksonville Watchdog Workshop. (Photo courtesy of Tracey Eaton)
Couldn't make it to one of our Watchdog Workshops this year? We recorded audio from many of our panels and, thanks to a generous grant from the Ethics and Excellence in Journalism Foundation, have made it available for download online.
We have recordings from the following workshops: Jacksonville, Buffalo, Portland, Washington DC, Tucson, Wyoming, Los Angeles, Iowa City, and New York (limited).
Get tips on covering minority communities from Los Angeles Times reporter Anh Do and MSNBC anchor Richard Lui. Listen to USA TODAY reporter Brad Heath talk about fighting for public records. And get tons of ideas for quick-hit investigations, successful web searches and effective interviews.
How to download:
Audio is only for IRE members, so make sure you're logged in.
Click on any of the workshops listed above to get to the individual event schedules, located at the bottom of the page.
Click on the session you're interested in. If we have audio*, you'll see a blue link near the top that says "Audio file: Download here."
*We don't upload sessions done by IRE trainers, although some sessions co-taught by IRE staff have been added.