Two incumbents and five newcomers were elected to two-year terms for the IRE Board of Directors in election results announced Saturday. IRE members also elected two members of the Contest Committee, which judges the IRE Awards.
Here are vote totals for the seven candidates elected to the Board of Directors:
Jennifer Forsyth, The Wall Street Journal: 689

Jodi Upton, Syracuse University: 685

Jennifer LaFleur, Investigative Reporting Workshop: 684

Kat Stafford, The Associated Press: 652

Mark Rochester, Type Investigations: 617

Mark Walker, The New York Times: 616

Marisa Kwiatkowski, USA TODAY: 598
Here are results for the remaining candidates:
Norberto Santana Jr., Voice of OC: 550

Lee Zurik, WVUE-TV (New Orleans): 543

Jill Riepenhoff, Gray Television: 480

Kiran Chawla, independent journalist: 458

Matt Dempsey, The Houston Chronicle: 381

Mike Reilley, University of Illinois-Chicago: 184
For a one-year term on the IRE Contest Committee, Jessica Huseman and Fernando Diaz secured seats. Here are voting results:
Jessica Huseman, ProPublica: 802

Fernando Diaz, The Chicago Reporter: 571

Kameel Stanley, USA TODAY Network: 535

Saleem Khan, INVSTG8.NET: 301
Online voting began May 19 and ended Saturday. 
The seven journalists elected Saturday to the IRE Board of Directors joined six incumbents, whose terms expire next year. The newly constituted board met Saturday and elected officers to serve for one year on the Executive Committee:
President: Jodi Upton
Vice president: Steven Rich
Treasurer: Brian M. Rosenthal 
Secretary: Bethany Barnes
At-large member of the Executive Committee: Jennifer LaFleur
Due to the ongoing coronavirus pandemic, the 2020 IRE conference will be a virtual event rather than an in-person gathering. For the first time, attendees across the United States and around the world will be able to participate in the signature investigative reporting event via a secure, interactive digital platform.
"We're disappointed not to be able to see our IRE family in person," IRE Board President Cheryl W. Thompson said. "But large indoor gatherings continue to be a potential danger during a pandemic, and the health and safety of our attendees are our top priority."
The #IRE20 conference had been scheduled for late August at National Harbor, Maryland, just outside Washington, D.C.
Instead, a virtual #IRE20 global conference will be held Sept. 21-25. Most sessions will take place from noon to 4 p.m. Eastern time, to allow for participation across the United States and around the world. Most sessions will be recorded and available for attendees on demand for up to one year on the Pathable platform.
"This will be a historic event for IRE -- our first global virtual conference," Executive Director Doug Haddix said. "As always, we'll deliver a robust schedule filled with panels, demos and plenty of opportunities for attendees to interact one-on-one, in small groups and in larger gatherings."
Ronan Farrow will give the keynote speech, as previously scheduled. Farrow is author of the best-selling "Catch and Kill: Lies, Spies and a Conspiracy to Protect Predators." His 2019 book details his efforts to investigate allegations of rape, sexual assault and abuse of women by powerful Hollywood producer Harvey Weinstein and allegations of intimidation and cover-up by powerful institutions including the news media. Farrow is a contributing writer to The New Yorker. He previously worked as an anchor and investigative reporter at MSNBC and NBC News, with his print commentary and reporting appearing in publications including the Los Angeles Times, Wall Street Journal and the Washington Post.
Registration is expected to open in mid- to late July. Until then, here are FAQs to provide information known at this point:
What happens if I already registered for the August conference?
You'll receive an email with information about your options and instructions. You may:
Cancel the registration and receive a full refund (minus any membership fees paid).

Cancel the registration and donate the amount to IRE general operations or a

specific scholarship or fellowship fund

.

Transfer your registration to the virtual conference (with a refund of the cost difference).

Transfer your registration to the virtual conference and donate the cost difference to IRE general operations or a

specific scholarship or fellowship fund

.
What should I do if I already have reserved rooms at the Gaylord National Hotel?
Attendees who have reservations through the IRE room block at Gaylord National Hotel will be canceled directly by the hotel and any deposits will be refunded. 
How about airline, train or other travel arrangements?
IRE is not able to refund airline, train or other transportation ticket costs. Please contact your transportation company directly regarding ticket cancellations. During this time of heightened health concerns, many airlines have relaxed their cancellation policies.
What will registration cost for the virtual IRE20 conference?
The IRE Board of Directors is creating a task force to study pricing options. Rates will be set before registration opens in mid- to late July.
When will registration open?
Mid- to late July.
I've never been to a virtual conference. How will it work?
Once you're registered, you'll receive a secure link that will allow you (and only you!) to sign into the online conference a few days before the event begins on September 21. Once inside the virtual conference, you may browse the schedule, build your own personalized schedule, request one-on-one meetings with other attendees and much more. We expect to offer several options during any given time slot. The majority of sessions will feature video presentations with several speakers -- typically using slides and tipsheets, similar to in-person events. During most sessions, you'll be able to ask questions and interact with panelists in real time. We'll also feature interactive social gatherings online. A variety of one-hour and 30-minute sessions will be offered, with ample breaks, during the half-day conference blocks. Stay tuned for more details as we put together all of the offerings.
Will I need special equipment or software to participate?
No. All you'll need is Internet access and a computer, laptop or tablet — much as you need to participate in an online video meeting. To attend a virtual meeting on the Pathable platform, we strongly recommend using Google Chrome or Microsoft Edge browsers. 
What if I'm working, attending class or dealing with other obligations that cause me to miss some sessions?
That's the beauty of a virtual conference. Most sessions will be recorded and available to attendees for up to one year. You can view them at your convenience. Most sessions will include video plus any related tipsheets, slide decks and chat transcripts.
How does a virtual conference provide value to university students and professors?
For colleges and universities, the #IRE20 conference will provide a wide array of high-caliber digital learning materials. The $50 rate for students is more affordable than many textbooks. We encourage professors to integrate the #IRE20 digital conference into their syllabi for the upcoming academic year. In addition, a fully revised new edition of The Investigative Reporter's Handbook is available for use in classrooms and newsrooms. IRE members receive discounted pricing.
Will #IRE20 be useful to international journalists?
Absolutely. An in-person IRE conference typically attracts 150 or more international journalists. We encourage international journalists, educators and students to join us online for #IRE20. An affordable registration rate -- plus no need to spend money on travel, lodging and meals -- opens up opportunities for far more journalists around the world to join IRE for learning, inspiration and collaboration. We'll also provide ways for international journalists to connect with one another during the conference.
Will there still be a mentorship program? 
Yes. We'll start taking applications soon for mentors and mentees. Being online, this year's program will look a little different. But IRE still will match mentors with mentees and arrange for them to meet at a special event during the online conference.
What about the IRE Awards luncheon?
We'll honor all IRE Award finalists and winners as in past years with an inspirational video, just as we would have done in person. In addition, we're exploring creative new ways for attendees to interact with award winners in small video meetups. The physical awards will be shipped to winners.
Will smaller master classes be offered?
Yes, stay tuned for details on these exciting add-ons to the conference. We plan to offer small, interactive workshops on interviewing, writing, open source research, verification and more.
Will there be swag?
To commemorate IRE's first virtual conference, T-shirts and other items will be available for purchase in the IRE Store.    
How can I become a sponsor of the virtual #IRE20 conference?
We're working with current #IRE20 sponsors to show them interactive opportunities in our virtual conference platform. If you'd like information on the benefits of sponsoring #IRE20, please contact Chris Vachon, IRE director of partnerships, by email: chris@ire.org.
How can I keep up with new developments connected to #IRE20?
Please sign up here to receive e-mail updates about #IRE20. It's the best way to stay up-to-date on the latest virtual conference news. If you already signed up for #IRE20 email updates (for our in-person conference), your information is still on our email list.
What if I have other questions?
We don't know all of the answers at this point, but feel free to email any questions to info@ire.org.
Despite the ongoing fallout from the coronavirus pandemic, IRE expects to close the current fiscal year on June 30 without posting a deficit. In addition, IRE forecasts a balanced budget for the new fiscal year that begins July 1.
Two months ago, IRE anticipated a shortfall for this current fiscal year of more than $60,000, even after approval of Paycheck Protection Program funds through the Small Business Administration. However, higher-than-anticipated revenue and other factors have erased the expected budget shortfall.
"Our IRE staff has worked hard to trim expenses and generate revenue after COVID-19 forced us to suspend all in-person workshops, data bootcamps and other training," IRE Executive Director Doug Haddix said. "We're in a much better financial position than we expected in April."
Here are factors that helped IRE move from an expected deficit to a small surplus for the fiscal year ending June 30:
Approval of a two-year loan of $233,453 from Commerce Bank in Columbia, Missouri, at an interest rate of 1 percent through the

Paycheck Protection Program

. It carries no fees or prepayment penalties. The program is designed to avoid layoffs and furloughs at small businesses and nonprofit organizations by reimbursing payroll costs for eight weeks. IRE expects that at least $187,000 of the loan will be forgiven. The remainder will be repaid in the next fiscal year.

Increased revenue from IRE training and data services that were not anticipated in April. Since then, IRE staff has created new weeklong online data bootcamps as well as two-day mini bootcamps. IRE also has delivered other customized training virtually for clients.

Agreement by several funders to repurpose existing grants from in-person training to virtual training or general operating expenses. For example, the Inasmuch Foundation agreed to transfer remaining funds from three canceled watchdog workshops toward a sponsorship of IRE's new

free webinar series

, which has attracted more than 7,000 journalists.

Stabilization of IRE membership levels and higher growth than we expected, based on the success of a new membership drive and renewals of members who want to vote in the IRE Board of Directors election.

Elimination of a part-time contract position that handled logistics for in-person training events.
"The pandemic makes budget forecasts for the coming fiscal year especially tricky," Haddix said. "We've mapped out a variety of scenarios, and we don't anticipate a deficit under any of them."
The IRE Board of Directors will consider the preliminary fiscal 2021 budget during its meeting from 2-5 p.m. EDT next Thursday, June 18. IRE members are welcome to attend via Zoom. Registration is required, for online security. Click the board meeting registration page for full details. 
In addition, members are encouraged to attend the annual IRE Membership Meeting at 5:30 p.m. on Saturday, June 20. Registration also is required. Click the membership meeting page for information. Haddix and IRE Board President Cheryl W. Thompson will present the "State of IRE 2020" report and take questions from members. Results will be announced afterward for the elections for the IRE Board of Directors and the IRE Contest Committee, which judges the IRE Awards.
For questions or assistance registering, please email logistics@ire.org.
IRE is hosting three important virtual events this month -- two of which require advance registration (for online security):
IRE Board of Directors meeting

, 2-5 p.m. EDT on Thursday, June 18. This event is open to current IRE members. Registration is required.

Click here for information and a link

to sign up. Closer to the event, registered attendees will receive a secure link to join the Zoom video meeting, plus a packet of information. Members will have a chance to ask questions or make comments at the close of regular board business.

IRE Candidate Forum

, 6 p.m. EDT on Friday, June 19. No registration required. You may tune in for the candidate forum

at this link

. Candidates for the IRE Board of Directors each will give two-minute statements via a Zoom video meeting. Full details about the candidates may be found on the

IRE 2020 Board Candidates page

. Electronic online voting will remain open until 5 p.m. EDT on Saturday, June 20. Results will be announced after the IRE annual membership meeting (registration required), which is scheduled to begin at 5:30 p.m. EDT on June 20, also via Zoom.

IRE Membership Meeting

, 5:30 p.m. EDT on Saturday, June 20. This event is open to current IRE members. Registration is required.

Click here for information and a link

to sign up. Closer to the event, registered attendees will receive a secure link to join the Zoom meeting.

IRE Board President Cheryl W. Thompson and IRE Executive Director Doug Haddix will provide the State of IRE 2020 presentation. After their report, members will be able to ask questions and make comments. Immediately afterward, election results will be announced for the Board of Directors. After a 30-minute break, n

ewly elected board members will join the rest of the board for a brief reorganization meeting to elect officers. This meeting, which also is open to members, will be held on the same Zoom link as the IRE Membership Meeting.
If you have questions or any difficulty registering, please email logistics@ire.org.
The board of Investigative Reporters and Editors calls on all levels of government across the country to protect the rights of citizens to assemble and protest against racial injustice and for the rights of journalists to chronicle those protests.
IRE has supported the rights of journalists the world over to do their jobs without fear of persecution. The fight isn't just overseas. It's right here, right now.
News gathering is not a crime. Taking photos or video of police actions is not a crime. Writing down the names and badge numbers of law enforcement officers is not a crime.
Police have arrested, gassed and assaulted clearly identified journalists doing their jobs in cities across the country since the uprising began following the killing of George Floyd.
But it's not enough to decry the treatment of journalists by law enforcement and other government forces. When rubber bullets are fired at protesters and tear gas is lobbed into crowds, the action doesn't become more heinous because journalists are among them.
All citizens have a right to free speech. Journalists have a right to be there, to bear witness, to share the stories of what happened.
The driver of these protests nationwide is structural racism and its impact on black and brown people for generations. Journalists have told the story of this injustice since the country's founding:
Ida B. Wells wrote about lynchings in the South.
Vernon Jarrett chronicled the experiences of being black in America.
Les Payne covered the assassination of Dr. Martin Luther King Jr, and involuntary sterilization of black women.
And countless more examples from journalists of the current era writing on injustices such as redlining, police shootings and employment discrimination.
IRE is dedicated to supporting investigative reporting that speaks truth to power and to improving the quality of journalism in the U.S. and throughout the world.
Part of that mission is about pushing the news industry to be more inclusive, more diverse and more supportive of journalists of color.
All members have access to the IRE Resource Center, featuring tipsheets and story archives to help journalists investigate the impact of racial injustice and the violation of First Amendment rights during the recent protests. For any journalist looking for guidance on covering police misconduct, IRE has made the following resources available for free: https://www.ire.org/archives/41996
IRE stands committed to its members, to journalists here and the world over, and to the freedoms of all people to speak out and bear witness.
As a public service, IRE is making key resources available for free to all journalists interested in investigating police use of force, misconduct and corruption. Typically, these tipsheets, presentations and contest entries are available solely for IRE members.
"All of us have been shocked at what we've seen across the country, as peaceful demonstrators and working journalists alike have been subjected to excessive force and detention by some law-enforcement officers," IRE Executive Director Doug Haddix said.
IRE members in recent years have produced step-by-step tipsheets and guides on story ideas, resources, strategies and tactics for holding law-enforcement officials accountable. Those resources offer invaluable advice and guidance for journalists covering current demonstrations and police actions.
"Journalists in communities across America have a responsibility to report thoroughly and accurately on police actions," Haddix said. "We hope these IRE resources enable reporters to hold the powerful accountable and empower their communities with essential information."
Please feel free to share these resources with your colleagues and other journalists interested in digging deeper into police conduct:
Resources from conferences
Basic first steps to identify potential stories of police misconduct or corruption
Learn how to harness data to uncover police misconduct
Investigating police lawsuits, tracking misconduct lawsuits and settlement payments
How to write about police misconduct when disciplinary records aren't public
After Ferguson: What's next for reporting on policing in America? DeRay Mckesson, Oliver Laughland, Errin Haines Whack, Wesley Lowery
Covering the protest line
Stories entered in the IRE Awards
The stories included below were entered into the IRE Awards and in most cases, honored as a winner or finalist. As part of their submission, entrants are required to fill out a series of questions that detail how the story got started, data and documents used, and other helpful information for reporters looking to tell similar stories. 
Unwarranted, WBBM-Chicago
A more than year-long project that exposed a pattern of police officers raiding the wrong homes, traumatizing and pointing guns at innocent children, causing significant and unnecessary destruction, and violating citizens' Fourth Amendment rights.
Trapped in Gangland, ProPublica
A look at the crackdown on MS-13 that uncovered the opposite of what President Trump praised law enforcement officials for: inept or superficial investigations into brutal murders, demeaning of victims' families, and arrests and deportations of Latino teenagers on questionable evidence.
The Force Report, NJ Advance Media
A 16-month investigation by NJ Advance Media produced the most comprehensive statewide database of police use of force in the United States. The first-of-its-kind resource allows people to search every use of force by local officers and state troopers from 2012 through 2016, the most recent full year available.
Tarnished Brass, USA TODAY Network
This series gives readers a deep understanding of the scope of police misconduct and the secrecy surrounding it. Records detail at least 200,000 incidents of alleged misconduct by some 85,000 officers, much of it previously unreported. This represents the most complete list of officer misconduct ever created.
How California Law Shielded Dishonest Cops, Los Angeles Times
The Times published an investigation that looked into a confidential list of about 300 Los Angeles County sheriff's deputies who had been disciplined for falsifying reports, lying to supervisors and other wrongdoing. The department's list was so secret that even prosecutors weren't given access, despite the fact that deputies on the list were potential witnesses in thousands of criminal court cases.
Bargaining the Badge, KXAN-Austin
Across Texas, hundreds of law enforcement officers have permanently surrendered their peace officer licenses in the past four years. A KXAN investigation of 297 of those surrenders uncovered nearly all the officers were accused or charged with a crime – most often felonies.
IRE Radio Podcast
You can find the IRE Radio Podcast on Soundcloud, Apple Podcasts, Stitcher and Google Play. The following episodes cover investigations into law enforcement:
When Police Kill: When police kill civilians, the victims are often people of color. So, when Arizona Republic reporters Uriel Garcia and Bree Burkitt decided to investigate police shootings in their state, they knew their sources should be as diverse as their community. Go behind the reporting to learn how they tallied police shootings, identified sources, and used data and documents to show the true scope of the problem.
Sheriff Joe: For a local sheriff, Joe Arpaio can't seem to stay out of the national news. The longtime Maricopa County Sheriff made headlines again this summer when, in the wake of a criminal conviction, he was pardoned by President Trump. But Arpaio's story goes back nearly two decades. On this episode we're turning back the clock to the late 2000s, when reporter Ryan Gabrielson and Paul Giblin of the East Valley Tribune launched an investigation into some of the questionable things happening in Arpaio's office. Their investigation would go on to win a Pulitzer Prize and change the conversation around "America's toughest sheriff."
Staining The System: Pamela Colloff, a senior reporter at ProPublica and writer-at-large for The New York Times Magazine, takes us through her investigation into the case of Joe Bryan, a high school principal serving 99 years in prison for the murder of his wife. His conviction was based largely on expert testimony surrounding bloodstain patterns prosecutors argued placed Joe at the scene of the crime.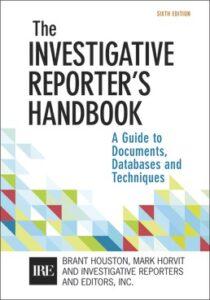 A thoroughly rewritten and extensively updated sixth edition of "The Investigative Reporter's Handbook" can be ordered online in time for the fall academic semester. IRE members qualify for discounted pricing.
Recognizing how quickly some online sources come and go, this edition will be supported by the IRE Resource Center, which regularly will maintain and update links to web sites and articles. The digital supplement of resources and links will be pegged to each chapter.
Two former IRE executive directors — Mark Horvit and Brant Houston — collaborated to produce the new edition of the book, which was updated last in 2009. Since its debut, the book has been viewed as the definitive guide for investigative journalists. It's been used widely in journalism classrooms and newsrooms for decades as essential reading and reference.
"Every chapter has been updated and recast to reflect advances in the field, current trends and technology, and recent investigative work," said Horvit, who served as IRE executive director from 2007-16. He now works as director of the State Government Reporting Program at the Missouri School of Journalism. "I and countless other journalists have relied on the Handbook as a definitive source for all things investigative, and we wanted to make sure this new edition carried on that tradition."
Houston, who served as IRE executive director from 1997-2007 and has served since then as the Knight Chair of Investigative Reporting at the University of Illinois, added: "This edition will ensure that the Handbook continues to be a valuable and lasting encyclopedic guide for classrooms and newsrooms."
The book, published by Macmillan Learning, features 23 detailed chapters on topics including a wide variety of specific beats, data, documents and writing the compelling investigation. Two new chapters focus on news collaborations and social justice investigations.
"I'm grateful to Mark and Brant for their expertise, dedication and countless hours of work on this project," IRE Executive Director Doug Haddix said. "They're provided an invaluable service to educators, students and working journalists."
Starting today, IRE members can vote online for the IRE Board of Directors and Contest Committee. Ballots will be sent to the primary e-mail listed in your membership profile.
Seven of the board's 13 seats are up for election this year. Members will also be voting for two members of the Contest Committee, which judges the IRE Awards. To learn more about the candidates, click here.
After your vote is cast, it cannot be changed. Please be mindful that candidates for the IRE board and the contest committee have the option of joining the race up until 6 p.m. (EDT) on June 19.
Although the IRE national conference has been postponed until late August, IRE will follow the same calendar as it has in recent years connected to board elections. As is customary, a candidates forum will be held at 6 p.m. EDT on Friday, June 19. Electronic online voting will be open until 5 p.m. EDT on Saturday, June 20. Results will be announced at the end of the IRE annual membership meeting, which is scheduled for 5:30 p.m. EDT on June 20. The candidates forum and IRE annual membership meeting will be conducted via a Zoom webinar.
To learn more about the voting process, click here.
Update (May 20): The first camp set for June 15-16 is sold out. Another mini-bootcamp will be offered online June 29-30. See below for registration details.
Registration is open for IRE's first-ever online mini-bootcamp in data journalism.
In the bootcamp, which will be June 15-16, attendees will learn fundamentals of cleaning, analyzing and visualizing data using spreadsheets and Tableau. Courses will be taught remotely through live instruction, small-group workshops and activities.
In addition to two days of live, hands-on training, attendees receive:
Support to set up their home computers for data work

Open lab time to work on personal projects with one-on-one guidance from the trainers

Ongoing access to all videos recorded during the bootcamp, plus additional training videos and materials

An e-book filled with step-by-step instructions on using spreadsheets and Tableau

Practice datasets to continue learning   
The mini-bootcamp is designed to help journalists learn fundamental data skills during the coronavirus pandemic. It is geared toward beginners, and no data experience is necessary to enroll.
"Our data journalism bootcamps have a long history of teaching practical skills that any journalist in the newsroom can use immediately," said Denise Malan, IRE deputy executive director. "We're excited for this new evolution in our data training program that will help members build these skills during a time they are needed more than ever."
Dates: June 15-16, 2020 (sold out); June 29-30 (registration open at this link)
Capacity: 20 attendees
Cost: $250 (Attendees also must be current IRE members. Membership costs $70/professionals and $25/students)
Questions? Email training@ire.org
Ron Campbell credits IRE for rescuing him after being laid off in 2014 from The Orange County Register.
"I had a new full-time job within five months and I had part-time work within, literally, one week of my layoff," he said. "Because I had developed skills sufficient that I could almost immediately find employment after having to turn in my badge and walk out of a job that I had had for more than 20 years."
Campbell, now the data editor for NBC Owned Television Stations, views his $70 annual IRE membership as a career lifeline. "Having grown and added skills through IRE, I was able to survive. So think of IRE, think of that $70, as a way of purchasing a life vest."
Campbell is one of dozens of journalists this month helping celebrate the value of IRE membership in short video testimonials.
We invite you, too, to share how IRE has helped you -- and how you have helped others through IRE. Post your comments, along with a short video clip or photo, on Twitter, Facebook, Instagram or LinkedIn. Please use #IREstrong and tag @IRE_NICAR. During May, help us flood our social streams with IRE camaraderie and impact!
"If you've let your IRE membership lapse, we'd love to have you back in the fold," IRE Executive Director Doug Haddix said. "And if you've thought that IRE benefited only projects or I-Team reporters, we'd love to show you how every journalist can be an investigative journalist.
"I've been a member for 22 years, and I owe my career to IRE," Haddix said. "When times get tough, IRE is even more critical to help navigate troubled waters."
In true IRE spirit, the Support a Journalist program enables you to contribute toward memberships for professional journalists and academics who have been laid off or furloughed, or whose job has been eliminated within the past year. Full details are online for those who need help and for those able to help financially.
Student memberships remain a bargain at $25 a year. IRE student members are able to extend their $25 membership rate for three years after college graduation.
Resources available only to IRE members include the quarterly IRE Journal magazine, thousands of tipsheets, and premium reporting tools such as Tableau Desktop. In addition, IRE has taken steps during the coronavirus pandemic to provide journalists, students and educators with free resources. Check out our series of free webinars and our expanded NICAR-Learn collection of data tool tutorials, filled with new videos and free access for a year.
Through IRE, you can get to the bottom of your story and the top of your field.
Not even a pandemic can disconnect IRE members. Collaboration, training, resources, support. That's been the IRE way for more than four decades. Together, for decades to come, we'll remain afloat.