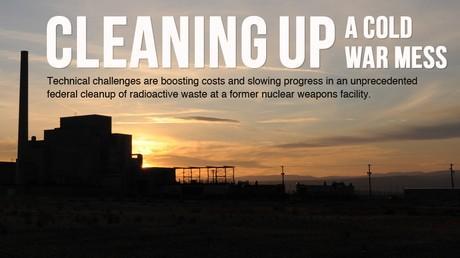 In "Problems plague cleanup at Hanford nuclear waste site," USA Today's Peter Eisler takes on 56 million gallons of radioactive waste and finds he isn't the only one who has a few things to learn. After 10 years of developing the "first-of-its-kind" nuclear waste treatment plant, the Department of Energy and its contractors still don't know how to build it.
Project costs tripled to $12.3 billion and the start-up date was moved to 2019 from 2011, Eisler reported.
By using in-depth interviews and federal employees' documented concerns over "technical problems," Eisler was able to relay to the public the dangers that lay behind major cost and schedule adjustments:
"We're continuing with a failed design," said Donald Alexander, a senior U.S. government scientist on the project.

"There's a lot of pressure … from Congress, from the state, from the community to make progress," he added. As a result, "the design processes are cut short, the safety analyses are cut short, and the oversight is cut short. … We have to stop now and figure out how to do this right, before we move any further."
Three federal investigations were already in progress when this article was published, but the article has brought more awareness.
"I think we created a greater sense of urgency," Eisler said.
In his follow-up story, "Extra scrutiny urged on design of Hanford nuke-waste plant," Eisler found congress members willing to speak out.
"Engineers and other experts aren't just warning that the way this facility has been operated risks wasting more time and money by proceeding. … They're warning that continuing with these plans risks people's lives," said Rep. Ed Markey, D-Mass. "The Energy Department needs to prove it is committed to addressing the rampant mismanagement at the plant."
IRE asked Eisler how he first came across the story, obtained documents and got sources on the record.
What led him to the "technical problems" causing costs and schedules to change was a previous source and his own preliminary research.
"When I looked at technical concerns, I became aware that there were scientists raising concerns internally," Eisler said.
At each agency there is a complaint process, and reporters can use these complaints to get a sense of what is going on inside an organization.
"When a technical person on a project like this has a concern about a safety or design issue they provide a DPO (differing professional opinion)," he said.
Reporters can request to view DPOs, he said.
Eisler did not have to make a FOIA request; both the Department of Energy and the contractor, Bechtel National, were cooperative, he said.
But if an agency is difficult, "The trick is to know exactly what it is you are asking for," he said. Then the reporter and the agency in question can save time.
"If you have a source that tells you there was a letter sent on a particular date, to a particular person and this was what the subject was, they will give it to you because they know if you ask for it (FOIA it) you will get it," Eisler said.
FOIA requests can be a lengthy process, and Eisler said for him it is a "tool of last resort."
So how did he get the exact subject, date and persons involved in a letter before calling the Department of Energy?
He worked his sources.
"I would get tipped off that there was a particular letter or something," Eisler said. "And in several cases get someone to tell me enough about the letter to figure out who had copies of the letters, distributed to multiple people, and just started working my way through."
Once Eisler had the documents he was able to prove what people were telling him.
Some documents didn't require much legwork. The Defense Nuclear Facilities Safety Board posts all of its official correspondence with agencies such as the Department of Energy and contractors to its website, Eisler said. They also keep staff at most of the major nuclear weapons sites.
Besides documents, Eisler was able to get sources on the record.
"They were willing because they were frustrated and they felt their concerns weren't being heard," he said.
People feel safe in numbers, if a reporter is having a hard time finding a source he or she might try a union, he said.
Although he didn't use unions in this story, he said union members are easy to find because they often live on-site and can steer journalists to important sources.
"Engineers and scientists like to talk about what they do," he said.
Reporters need to be prepared to ask the most basic questions when talking about such technical issues, he said.
"It's important to be able to ask a question again and again and be willing to admit what you don't know."
Click here to read Part 2.
Johanna Somers is a graduate student at the University of Missouri School of Journalism