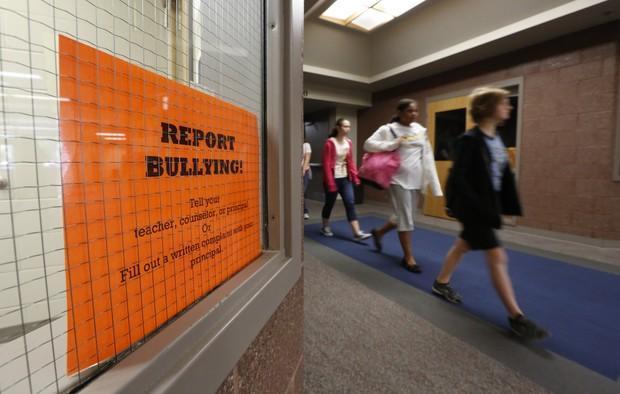 Students head to lunch at Woodrow Wilson Middle School in Council Bluffs. The school district reported 58 alleged incidents to the state in five years, arguably a low rate for an urban district of 9,000 students. David Purdy/The Register
In reporting, timing is everything. For Des Moines Register reporter Kyle Munson, the topic of bullying in Iowa schools was reaching a climax as his work was being finalized. During the release of his series "Bullying in Iowa," Iowa had faced two deaths related to bullying incidents, the most recent involving a northwest Iowa teen who committed suicide after being harassed for sexual orientation. The release of the documentary Bully, which featured a bullying incident in Sioux City, Iowa, was also nearing release. The initial shock of the deaths had made an impact, and Munson believed it was time to help people understand the facts behind the issue.
Behind The Story is a weekly series from IRE exploring the investigative process. If you have a suggestion for the series, email web@ire.org.
Five years earlier, Iowa had passed a law requiring schools to report any incidents of bullying. Since then, the state had never released a public database of schools' reports. Munson and Jeffrey Kummer, the Des Moines Register's Assistant Politics Editor, began researching the subject by meeting with Iowa's Department of Education to find out how the city's law was working. The state "never provided this data in a rich way because they didn't trust it," Munson says. Each school had created its own rating system and implemented it differently, so Munson and Kummer began compiling their own database based on each district's data.
To supplement the data, Munson phoned school superintendents and principals, asking for more information about the usage of the program. At least one administrator said she didn't know when and how often the reports had been used in the school. Based on the schools' reports, bullying in Iowa was occurring at levels much lower than the national average. Munson felt that the reports couldn't have been accurate. While researching, he found one student group which tallied incidents of sexual-orientation slurs over the course of a week , counting 426 uses. He featured the group in his story "How Much Bullying? State Doesn't Know."
"As we were doing this, the state was compiling a much better database," Munson says. The state has plans to reform the program, and Gov. Terry Branstad will be hosting an anti-bullying summit in November.
Munson believes everyone wants the changes, but there is not much the state can do. "The only stick the districts have over schools is accreditation - the nuclear option," he says. Any new programs will require more formal and accurate reporting, but schools also need more training and more help in implementing a new system. It's uncertain whether they will receive this additional assistance.
Munson has plans to follow up on the report during the anti-bullying summit in November and again at the end of the school year. His father was a middle school teacher for 38 years, but bullying has changed since then, particularly in cases such as cyberbullying. He hopes the Iowa Department of Education's new plans attempt to understand and formalize processes for preventing bullying regardless of where and how it occurs.
Kyle Munson may be reached via kmunson@desmoine.gannett.com or @kylemunson on Twitter.