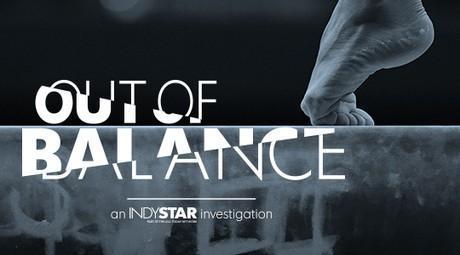 "Out of Balance" from the Indianapolis Star
In many ways, the summer of 2016 was an exciting time for USA Gymnastics, the national governing body that oversees the sport and its thousands of athletes. American gymnasts were Olympic darlings. They brought home more medals in their sport than any other country in the world.
However, this summer also had its downsides for the organization. The day before the games began, reporters Marisa Kwiatkowski, Mark Alesia and Tim Evans of the Indianapolis Star published an investigation revealing a system-wide policy that allowed predatory coaches to sexually abuse gymnasts for years.
IndyStar filed records requests in 10 states and reviewed thousands of pages of documents over the course of four and a half months. Their reporting found that USAG, which is headquartered in Indianapolis, has private sexual misconduct files on 54 coaches spanning 10 years. But unless the allegations came to officials directly from the victim or the victim's parent, the organization wouldn't take any measures to intervene.
Finding the story
Like many investigations, "Out of Balance" sprung from previous reporting. Kwiatkowski was looking into suspected child sexual abuse in Indiana schools when she got a tip to check out a policy at USA Gymnastics.
"I was digging into that topic and working on a broader story about why this is so common," Kwiatkowski said. "Why is there this hesitation on the part of officials to report these allegations to authorities?"
Her source told her about a Georgia court case in which a victim of a sexually abusive coach sued USA Gymnastics and the coach in civil court. Depositions from high-ranking USAG officials were being used in the case, and their statements were at risk of being sealed by the court. That same day, she flew to the small courthouse in Effingham County, Georgia to collect the documents before it was too late.
The coach, William McCabe, had been the focus of several complaints to USA Gymnastics since 1998. The organization never reported the allegations to police, and it wasn't until 2006 that McCabe was finally charged with "molesting gymnasts, secretly videotaping girls changing clothes and posting their naked pictures on the internet." In the eight years he went unchecked, he abused several underage gymnasts.
While the bulk of the USAG depositions were sealed by the time she arrived, Kwiatkowski collected reams of court records related to the lawsuit.
"I got almost a thousand pages of documents while I was there," Kwiatkowski said. "That started the entire thing."
From top to to bottom:

Marisa Kwiatkowski, Mark Alesia and

Tim Evans
Digging in
Kwiatkowski returned to Indianapolis, where she began poring over the documents.
"It was very clear very quickly that there was way too much for one person to do," she said. "So we pretty much immediately got my colleagues involved."
Alesia and Evans joined the reporting team, which Kwiatkowski said made the project possible. "This was very much a team project all the way," she said.
Pieces of the USAG depositions from the Georgia case clearly illustrated a problem. USA Gymnastics was receiving complaints about coaches; however, the organization decided not to take action unless they heard directly from a victim or parent.
Indiana law doesn't require firsthand information to report suspected abuse. It only requires that the reporter has "reason to believe" abuse has occurred. Legal experts told IndyStar that it's clear USA Gymnastics' policy violates state law.
"For us, the next step was trying to figure out how prevalent it was, and how often this policy had come into play," Kwiatkowski said. "We started backgrounding hundreds of coaches."
They started with the banned coaches and members list, a group of people USAG no longer allows to participate in sanctioned events.
"Most of them had been criminally convicted," Kwiatkowski said. "The bulk of them coaches, the bulk of them for reasons of sexual misconduct."
They then started requesting USAG's 990s as well as police and court records related to the coaches in order to see what, if anything, the organization might have known about their behavior before they were officially charged.
They found solid evidence of four cases in which the organization knew about abuse, but did not report the coach to authorities. Those coaches went on to abuse at least 14 other underage gymnasts between the time USAG was notified and they were arrested.
The court documents also showed that the organization maintains a file of complaints on 54 coaches over a ten year period, from 1996-2006. The documents are kept secret and filed away in a drawer in their executive office in Indianapolis. The documents, with victims' names redacted, were entered as evidence in the Georgia case along with the depositions of USAG officials.
IndyStar filed a motion to make those files public. The judge ruled in favor of releasing the documents at the end of August, three weeks after the investigation was published.
Telling survivors' stories
Clearly, several former underage gymnasts failed to be protected due to USAG's policy. IndyStar's next step was to reach out to them and tell their stories. The team looked for news articles about each of the coaches to see if any of their victims had spoken publicly, and attempted to contact them.
"The last thing that we want to do is traumatize somebody who's already been traumatized," Kwiatkowski said. "So we were really sensitive to how we approached people who may have been abused."
They were very clear with the survivors they approached about what they were trying to do, and what would be required of them if they chose to tell their story.
"We were really impressed by the strength and the bravery of the people we interviewed who had gone through these situations," Kwiatkowski said. "They were willing to put themselves and their stories out there in the public eye… because they want kids to be safer, they want this not to happen to somebody else."
The team had a discussion about how explicit they would ask survivors to be when telling their stories. They decided it was important to ask victims to share as much as they were comfortable with.
"We wanted people to understand, this wasn't just like a hand slipped," Kwiatkowski said. "It was pretty significant things that they went through, and the public [needs] to understand why this matters."
They spoke with each survivor and asked them if they were comfortable sharing their stories in such detail. Every single person said yes.
Putting it all together
Once IndyStar found their documents and sources, it was time to put everything together. Kwiatkowski said it was a lengthy editing and bulletproofing process.
Their editing team also debated how to begin the story: Would it be better to start with a hard news lead, or a narrative story detailing one coach or victim's experience? Ultimately, they chose to stick with a hard news opener.
"The public has read the narrative of a predatory coach all over the country," Kwiatkowski said. "What set our investigation apart was it was a policy for handling these allegations and not reporting all of them. The ultimate thought process was to lead with what makes this unique."
The piece launched on August 4, the day before the opening ceremony of the Rio Olympics, where American gymnasts were placed at the center of the world's athletic stage. Those athletes will also participate in the Kellogg's Tour of Gymnastics Champions beginning Sept. 15. IndyStar called those events "a one-two punch of publicity that typically prompts a membership surge at gyms."
However, Kwiatkowski said that releasing the piece the day before the Olympics wasn't part of a larger plan. But when all the fact checking was completed, the Olympics were about to get underway.
"We published when we were satisfied that the story met our standards, which are rigorous," Jeff Taylor, executive editor of IndyStar, wrote in a post on Facebook. "We also believe the public had a right to know right away — meaning as soon as we could responsibly publish what we had found."
Changes ahead
After the first story was published, victims from all over the country began reaching out to IndyStar to share their own experiences. Kwiatkowski and her colleagues wrote several other stories as a part of the project, including reports on convicted predators who were left off the banned coaches list and an Olympic medalist who has been abused.
The investigation also grabbed the attention of lawmakers. U.S. senators from Indiana, California, Vermont and Connecticut sent a letter citing IndyStar's investigation to the president of USA Gymnastics, expressing their concern about the organization's sexual abuse reporting policy.
Most recently, the team reported on two former gymnasts who have accused a prominent USA Gymnastics team physician of sexual abuse. One of the gymnasts is an Olympic medalist.
Kwiatkowski said they will continue reporting on the issue, and that they may be aided by new documents. The judge in the Georgia case ruled in favor of releasing the sealed sexual abuse complaint files USA Gymnastics holds on more than 50 coaches. Kwiatkowski said that they are currently undergoing a review process in order to ensure the victims' names, medical records and financial records are kept confidential.
"USA Gymnastics attorneys did say that they were planning to appeal the judge's order, so we imagine that it'll be going through the legal process still," Kwiatkowski said. "But the judge made it clear that he felt those documents should be publicly available."
When the team reached out to survivors they had already spoken with, they all said they were thrilled to learn that the documents – redacted of victim information – would be made public. For IndyStar, the decision brings the prospect of deeper reporting, and 54 more cases to investigate.
"It's definitely started a conversation," Kwiatkowski said. "There's a lot more for us to do."
Contact Riley Beggin at rileyb@ire.org.