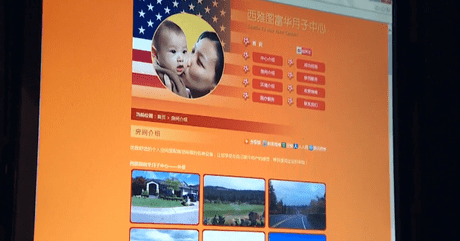 A screenshot from KING 5 TV's broadcast showing the website for Seattle Fu Hua Enterprises LLC
There were elusive aspects to this story that dogged Chris Ingalls from the beginning — the inscrutable website, the murky legal environment, the incognito maternity mansion. But none was more important, or more delicate, than scoring the face-to-face interviews that unravelled everything.
It began two years ago. A Chinese viewer had written to Seattle's KING 5 TV, where Ingalls works on the investigations team, asking if the station was aware of a business that flew pregnant women into the country to give birth. The anonymous tipster included a link to the business' website, written entirely in Mandarin.
For parents who want their children born on American soil — which automatically grants the baby U.S. citizenship — the website offered to help arrange a travel visa for the mother. Once in Seattle, she would spend about three months in an expansive house near a golf course until she gave birth.
Why, Ingalls wondered, was this shady-sounding business in such an upscale area? Was this somehow legal? And who else knew about it?
For a year and a half, the story went nowhere. Nobody at the station spoke Mandarin, so Ingalls showed the site to someone who did; the two of them still couldn't find anything worth reporting. The golf course on the website looked familiar, but Ingalls couldn't track down the house.
He was ready to give up when a third tip came in. It wasn't much different than the others — Have you guys seen this website? Isn't this illegal? — but Ingalls pulled up the website again anyway. He clicked "translate" on Google Chrome and found something new: the website had been updated. There were more pictures, and a company name, Seattle Fu Hua Enterprises LLC, now appeared at the bottom of the page. Ingalls pulled the company's corporate registration with Washington state. He found the names of the owner and some employees, along with phone numbers and email addresses. He tried them all.
To his surprise, one of the employees called him back. She spoke English, and she agreed to meet him at a coffee shop. Ingalls hightailed it there in less than a half hour. He came alone, but she was still uneasy. Halfway through the interview, she asked if he was secretly recording her.
"There was a lot of reticence there, no question about it," Ingalls said. "But that was the door opening for me, right?"
He wasn't able to persuade that first source to tell her story on camera, but she did agree to help him. She and others had left Fu Hua Enterprises after a falling out with the owner, and she agreed to vouch for Ingalls to the other disgruntled employees.
"In the fast-paced world that we're in, we try to tie up the interview on the phone, we try to rope them in on the phone, and that wouldn't have worked in this case"
- Chris Ingalls
That was crucial, Ingalls said, for getting him access to a community in which he was very much an outsider. And making his pitch to the ex-employees in person — or, even better, having a trusted member of the community make the pitch for him — worked so much better than trying to introduce himself over voicemail, he said.
"In the fast-paced world that we're in, we try to tie up the interview on the phone, we try to rope them in on the phone, and that wouldn't have worked in this case," he said.
By meeting with sources in an environment where they felt at ease, "they can see you and talk to you and see that you're a regular person," he said.
Together, Ingalls and his initial source convinced the former house manager for Fu Hua to sit down for an interview on camera. Ingalls would give the man a pseudonym, Jung, and his face would be hidden in shadows.
It was the first time they met, Ingalls said, and "the interview did not start off well."
Jung and the first source didn't think they had done anything wrong, and they worried how Ingalls' story would portray them.
"That was a big hurdle to overcome — 'Are you going to blame me?' — that's what they wanted to know," Ingalls said. "And my answer was truthful, which is important: I don't know if this is against the law or not, but I want you to tell me what you were doing, what your role was and what you saw. And if you tell me you didn't believe you were breaking the law, I will put that on TV and will say that."
Essentially, Jung wanted a chance to tell their side of the story, Ingalls said. "So that was sort of the way that I encouraged him: You have nothing to hide, so tell me what you know about how this process was working." And because they were speaking from different cultural perspectives, Ingalls tried to conduct the interview gently.
"What you do to make people feel comfortable with you, to show them you're not trying to shame them or single them out (as) something that's an oddity — that part you need to be very, very careful about," he said. "It's trying to have that personal connection so that person is willing to tell you their story."
Jung was worried his English wasn't good enough for television, and initially he was very guarded. But having his friend, Ingalls' first source, in the room during the interview helped a lot, Ingalls said. "His friend had told him, 'You need to paint an accurate picture of what was happening here.' And that sort of loosened him up a little bit."
Over their 45-minute interview, Ingalls was able to piece together how Fu Hua Enterprises operated: The owner coached the mothers to conceal their pregnancies and to lie to immigration officials about why they came to Seattle. The mothers would give birth, pay for their medical treatment in cash, and leave. Between one and four women at a time would stay in the house near the golf course, paying about $45,000.
(After his story aired, Ingalls was contacted by a woman in China who had used Fu Hua Enterprises. She confirmed Ingalls' reporting and added more details, like the dodgy real estate investments connected with the company's owner, which Ingalls reported in a follow-up story.)
So Ingalls had his material, but how to frame it?
"I didn't want this to be a slam on any immigrant that wants to come to this country," he said. In the online text that accompanied his broadcast, he referenced Jeb Bush's "anchor babies" comments, but overall he tried to avoid politics.
"The moment your story indicates 'immigration: good' or 'immigration: bad,' or Republican this or Democrat that, you lose a certain part of your audience, because they think they know what this is all about," he said.
Instead, he tried to focus on whether Fu Hua Enterprises was breaking the law.
"I mean, I don't care what community they're from. If they're violating the law, they're violating the law," he said. "I always feel like your default there is, well is this legal or is it illegal?"
That wasn't such an easy question to answer. Ingalls, who has covered the federal justice system, soon realized birth tourism existed in a legal grey area. His sources told him contradictory things, pointed to different agencies' divergent policies, and they finally admitted to him, "Hey, we're kinda confused too," Ingalls said.
But lying to immigration officials about their reasons for coming to the U.S. — as the women using Fu Hua Enterprises had been coached to do, according to Ingalls' sources — was clearly illegal.
"That, to me, was all that I needed to know for us to make the story go the way it did," he said. "That made me comfortable right there."
Adam Aton is a graduate student at the Missouri School of Journalism and a student employee at IRE. You can follow him on Twitter here or email him at adama@ire.org.