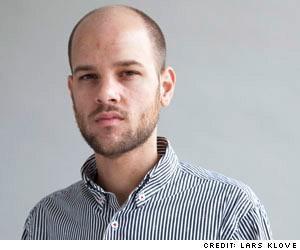 Justin Elliott of ProPublica
Justin Elliott, Jesse Eisinger and Laura Sullivan turned a vague tip about the American Red Cross' inefficiency into a powerful report about the organization's failings after Hurricane Isaac and Superstorm Sandy.
The joint project between ProPublica and NPR revealed that hundreds of millions of dollars pouring in from donors in 2012 fell to organization leaders often more concerned with the appearance that they were helping than with actually providing aid. The team of reporters got the story through public records, internal emails and documents, and accounts from current and former disaster relief specialists.
The team reported the project in earnest for about five months, but the story has its earliest roots in a tip ProPublica's Eisinger received at the beginning of the year. Someone wanted him to look into where exactly the $312 million in Sandy donations had gone. Eisinger and Elliott, also of ProPublica, soon realized just how tightly the Red Cross protected that information.
We basically couldn't answer the question," Elliott said.
So, for the time being, that became the story. The two posted an article about how difficult it was to track donations from beginning to end. In that piece, ProPublica included a call: "If you have experience with or information about the American Red Cross, including its operations after Sandy," it read, "email justin@propublica.org.
While sources gradually came forward, ProPublica enlisted the help of NPR to launch a deeper investigation. NPR's Sullivan added another experienced reporter to the team and the public radio platform gave their story a wider audience.
The reporters sent out a score of state and federal public records requests. They sought correspondence between the Red Cross and the government agencies – New York City's Office of Emergency Management and the New Jersey Governor's Office, among others – that played a role in responding to the storms.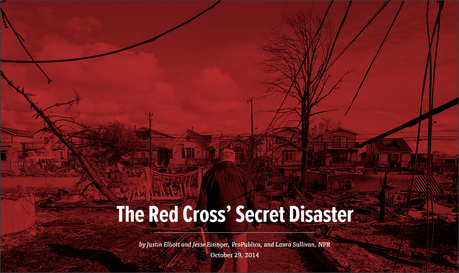 ProPublica's Red Cross investigation page
The team hit a snag in New York, but in some ways the problem ended up working in their favor. The team had asked for information that the attorney general's office had gathered from charities that raised money after Sandy. The office had released some of it the information, including some hard numbers, in a summary format but Elliott wanted to see all the raw data.
In response to the Freedom of Information Law request, Elliott received a letter in the mail from the Red Cross that said the agency had hired a major law firm to fight the request. The agency argued that the information Elliott sought should be exempt as a "trade secret."
It struck us as incredibly strange because the Red Cross is not like Goldman Sachs or something," he said. "If they have a trade secret about how they better respond to disasters, seems like that shouldn't be a secret."
ProPublica again used the endless space of the internet to its advantage, posting a story that might not have justified space in print. It went "fairly viral," Elliott said. And again, ProPublica included that line, asking anyone with information about the Red Cross' dealings after Sandy to come forward.
"I think that we maybe – or at least speaking for myself – in the past have just assumed that potential sources know that we want to hear from them," Elliott said. "But sometimes it requires a little bit of nudging."
In time, the Red Cross ended up reversing course and dropping its fight to exempt the files as "trade secrets." Getting word out about ProPublica and NPR's ongoing investigation helped bring more sources forward.
Reaction to the story was swift. The Red Cross denounced the reporting and then, in what Elliott described as a slight softening in tone, admitted that there were some problems but they're getting better.
And the story isn't over. ProPublica and NPR have continued to report. Since the investigation, they've released a story about an internal survey that shows Red Cross employees' distrust of the organization's leadership.
While Elliott continues to focus his energy on the massive organization, he urged other journalists to investigate similarly overlooked agencies.
"For the last few years, basically no one's been covering it," he said of the Red Cross. "So I think in general, there's a lot of other institutions out there, including non-profits, that aren't getting the coverage they deserve."
Shawn Shinneman is a graduate student at the Missouri School of Journalism and a student employee at IRE. Prior to graduate school, he spent two and a half years reporting daily news at a newspaper in the Chicago suburbs. You can follow him on Twitter or email him at shawns@ire.org.
Listen to Elliott and Shinneman discuss the Red Cross story and learn more about reporting on charities on the IRE Radio Podcast. Listen to NPR's version of the Red Cross investigation here. And don't forget to follow Elliott, Eisinger and Sullivan on Twitter.