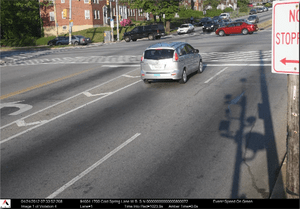 This car received a ticket from a Baltimore area camera while stopped at a red light. This case was one of the errors uncovered in the Baltimore Sun's series on red light cameras.
The Baltimore Sun's investigation of red light cameras over the past year prompted changes to the system a city task force to study the cameras, a lawsuit and draft legislation. Though officials have refused to credit the paper's reporting for the policy changes, the Sun's findings exposed wrongful tickets -- including idling vehicles cited for moving violations -- that the city is now working to correct.
But the investigation started, months before those changes, with much more humble goals.
"I thought what we would find mainly is a tremendous amount of outsourcing and a lack of oversight," Baltimore Sun reporter Luke Broadwater said. "I thought we could paint a picture of a big voluminous system. I didn't think we'd learn the cameras were erroneous."
Exposing those flaws required reporters Broadwater and Scott Calvert to understand the complexities of RADAR and LIDAR and to know the inner workings of city and county ticketing processes. But the most crucial aspects of their reporting were much less complex: fighting for public records and performing simple math.
It all began with one reporter surfing the web. Scott Calvert doesn't exactly have a beat at the Sun, he said -- his job is to enterprise. So one day in April when he had some down time, he began searching for story ideas at the Baltimore open data portal.
He noticed data on parking tickets were available, and that gave him the idea that he could get data on red-light and speed camera tickets as well, which he knew was a big, lucrative system for the city and surrounding counties.
"One reason I was attracted to this was that there are speed cameras all around the region, and it would be of interest to people across fault lines," Calvert said. "Anybody who drove could get one of these tickets. Most people have gotten two or three of these. It's going to have broad appeal no matter what we end up finding."
Calvert began working on the story in April of 2012, and Broadwater, city hall reporter at the Sun, joined the project in August to keep momentum going while Calvert took paternity leave.
Both reporters said having a team of each other and their editor was crucial to the project's success.
"It can get lonely out there, especially when dealing with a city government that's aggressive and if you're out there by yourself, they can write off what you're doing," Broadwater said, noting that as a city hall reporter he's been written off many times when challenging officials in Baltimore or filing Maryland Public Information Act requests.
"They might not want to respond to an MPIA request but if you double up, it gives you more leverage," Broadwater said. "The other good thing about teamwork is it's easy to get sidetracked with daily stuff. But you're accountable to each other. When Scott and I come in in the morning we talk about who we're emailing and who we're calling, and you come up with a game plan."
Their FOIA requests took months. They requested data from the city and state, as well as Baltimore and Howard counties. They ended up with 2.5 million speed camera tickets from the Baltimore area, which they brought into Microsoft Excel. Using license tag numbers, they could look for repeat offenders.
They also used Microsoft Access to join the tickets database with a database of public vehicle fleets, which allowed them to see how many public vehicles were getting tickets. They found hundreds of tickets issued to school buses.
That was an important story, Calvert said, because it generated tips. Readers began to see the reporters were taking a hard look at the issue and willing to press. Readers then began to send in tickets they received that they suspected were inaccurate, including time-stampted photos taken by the cameras.
A full audit had never been done of the system, only a miniature audit done by the vendor, which was neither comprehensive nor independent, Broadwater said. But the reporters eventually realized they could check certain tickets on their own.
"We realized it's a basic equation -- speed is distance over time," Calvert said. "We knew the time stamps and all we needed was distance, and we had photos so we could measure that. That was a 'Eureka!' moment when figured out that we could do that."
They found numerous errors -- the most egregious of which was a ticket issued to a car while it was stopped at a red light. The red light camera thought it was traveling 38 miles per hour. That story turned out to be the fourth most-viewed story on baltimoresun.com in 2012.
"I would have never thought we would find these errors just by going out and measuring," Broadwater said. "The police doing the reviews probably just assumed they were going to be accurate."
The initial package ran with one main article of nearly 5,000 words and several sidebars. Almost immediately afterward, dozens of follow-up stories materialized as readers and government officials reacted to the stories. It began with a desire to explore a lucrative, voluminous and outsourced system. And now, they've found numerous problems and erroneous tickets and prompted reforms at the state and local level.
"Don't assume everything is fine just because it appears to be," Calvert said. "Any time you dig hard enough into any enterprise where there are millions of dollars exchanging hands, you are going to find something."