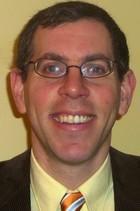 Boston Globe reporter Todd Wallack thought it would be a simple, short-term project to look into settlements made between the state of Massachusetts and some of its employees. After all, he'd done the same thing in California, uncovering an agreement between UC Davis and one of its administrators to avert a nasty lawsuit.
But the response he got from Massachusetts was completely unexpected.
"This is the first time I came across a state saying, 'no, this is confidential," Wallack said.
The records he initially received were heavily redacted. Officials had blacked out reams of crucial information, including names, dates and any other details of the cases that might identify the recipients. Wallack started looking into the records in his spare time and on weekends, trying to glean how much was spent on the secret agreements and if there were any unusual cases or patterns.
Wallack thought information about public money given to individuals by the government ought to be accessible, and the Globe agreed, filing an appeal with the governor's office. Massachusetts' Secretary of State determined the information was public, but the governor's office still wouldn't release it. The paper filed a lawsuit.
Wallack testified at the trial, a process he called "intimidating" but helpful. The reporter had to explain to a judge why he wanted the records and how he planned on using them.
The entire process took almost four years. Wallack filed his initial FOIA request in March 2010. He received the last of the records this January.
Wallack's advice for those in similarly tough situations is to "keep pushing for records that you think are public."
Be creative, he said. Multiple agencies keep records and some are less reluctant to provide certain information than others.
When that doesn't work, "Sometimes it is necessary to just go file suit," Wallack said. A legal battle can be useful, especially in cases when it could pave the way for easier access to public records in the future.
Wallack also advised reporters to be professional.
"The legal process was a reminder to keep your cool and choose your words carefully," he said.
All of the reporter's correspondence with government agencies as a part of the requesting process was submitted to the court, he said.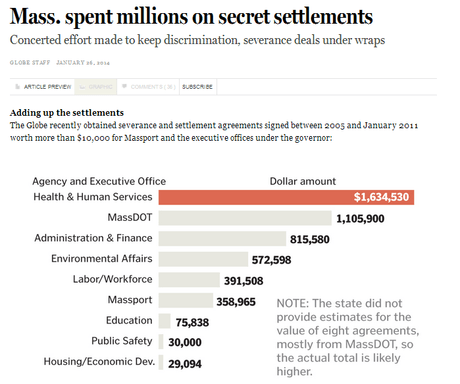 It's important to remember that you're dealing with people when you make a records request, Wallack said. They may have a legitimately different interpretation of the law. They may be busy, he said.
"It pays to be polite."
Armed with identifying information made available to him through the lawsuit, Wallack was able to speak with employees and former employees of the state who had received settlements. Many hadn't wanted their agreements to be kept secret. The state, however, had added confidentiality clauses to the paperwork.
Among those who received settlements were a social worker whose disability had not been accommodated, a highway worker taunted by co-workers and bosses who thought he was gay, and a former Department of Industrial Accidents employee who complained of being sent pornographic emails. Each employee received between $150,000 and $200,000.
If records of settlements made between government agencies and their employees were regularly requested, these kinds of stories could be timely and relevant, Wallack said. He suggested reporters covering government agencies ask for these records periodically, or when someone prominent in the agency steps down.
Though filing a lawsuit can be expensive, (the Globe spent tens of thousands in legal fees that won't be reimbursed) the results are clear, Wallack said. Following the suit, Wallack has been provided with records much more quickly, and he feels his requests are taken more seriously.
"Clearly it was because of the lawsuit," Wallack said.
Follow reporter Todd Wallack on Twitter @TWallack