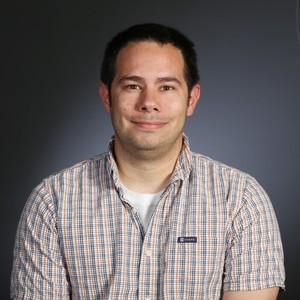 Brett Kelman | The Desert Sun
In 2011, three car crashes caught the attention of Greg Burton, executive editor of The Desert Sun in Palm Springs, California. The first involved a 100 mile-per-hour road race that led to a deadly wreck at a park. The other two also ended with fatalities. All three involved Marines.
The news got Burton wondering, why were so many Marines dying off duty?
The Desert Sun found that, since 2007, more Marines from the nearby Twentynine Palms military base have died off-duty and on American soil than in combat in the Middle East. A little less than half of those deaths were a result of car wrecks.
Coming up with those numbers wasn't easy. The base didn't keep records on individual non-combat deaths. Rather, each Marine battalion kept its own data, and base spokesmen said they couldn't give figures for the base as a whole.
So The Desert Sun compiled its own list. The Department of Defense's Freedom of Information Act requester service center was able to provide a list of all military deaths across branches between Jan. 2011 and Nov. 2012.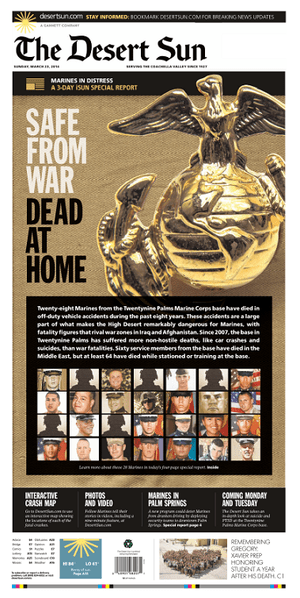 There were more than 18,000 deaths on the list.
More challenges popped up. The list didn't include names, only ages, cities, causes of death, military branches and dates of death. Reporter Drew Schmenner spent months picking out deaths that could have involved Marines from Twentynine Palms, matching them by age, location and date of death. Brett Kelman, another Desert Sun reporter, went through obituaries, death certificates and grave records to further narrow the list.
For each Marine in the story the reporters gathered personnel files and incident reports from the base, as well as crash investigation, death and toxicology reports from local law enforcement agencies.
The final count: 64 deaths involving Marines from Twentynine Palms since 2007. By comparison, 60 Marines from the base died in war zones in the Middle East.
This data was "the spine on which we built this emotional tale," Kelman said. But the real power came from the sources - grieving family members and friends - that The Desert Sun spoke with.
Genevieve Scahill, the wife of one of the Marines featured in the story, "really bared her soul to us," Kelman said. Scahill shared the story of her husband's struggle with alcohol abuse, one that eventually ended in his suicide.
A military investigation into his death found that Sgt. Martin Scahill's suicide was unforeseeable. But, looking back, Genevieve thought that there had been signs: a history of suicide in his family, a morbid cartoon drawing and some subtle remarks. She told The Desert Sun that she wished she had been able to see them sooner.
Alcohol abuse and mental illness surfaced as common themes among those Marines from Twentynine Palms who had died off-duty. In one case, a Marine with PTSD unintentionally poisoned himself with a cocktail of psychiatric medications.
Schmenner, who did most of the data work and reporting, left for graduate school before the story was finished. Kelman, normally a reporter on the education beat, had to take over. His editor had him work on the story nearly full time.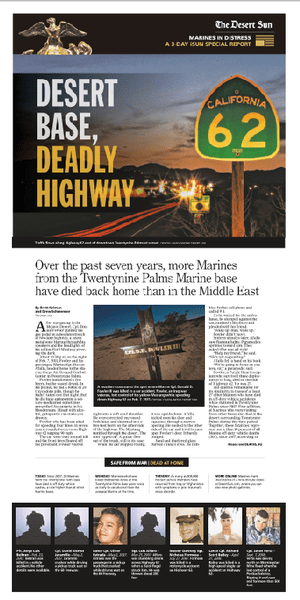 "Education coverage took a bit of a hit," Kelman said, "We had to make some priority choices, had to let some things go because we were making time to work on this thing we knew was important."
Kelman had never attempted a project of this magnitude or style before. The story is published online in three parts, each broken down into one or two full-length stories focused on a central theme, with multiple accompanying videos.
"The most interesting part for me was writing it," Kelman said, "Some days it felt more like writing a book than writing a news story."
The team approach that The Desert Sun took on the project helped, Kelman said.
"When you tackle enormous projects, sometimes the truth is that it is too much for one reporter," Kelman said, "Sometimes it takes two or more people."
Before he started writing, Kelman said he spent a week avoiding the project. It felt so enormous that he didn't know how to get through it. But he plodded ahead and took it in increments.
At the end, however, there was one voice absent from the story. Twentynine Palms base commander Maj. Gen. David H. Berger declined be interviewed for the story, a perspective Kelman regretted not being able to include.
Berger could have spoken to why these kinds of incidents are still happening, even after everything the Marine corps has done to try to prevent them, Kelman said.
Still, Kelman hopes the series shed light on the true scope of off-duty deaths and why they happen.
The Desert Sun is planning more follow-up stories on some of the themes addressed in the Twentynine Palms series. Local law enforcement agencies have started pushing to have a system for getting Marines rides back to base, he said. A major report on suicide in the Marine corps also is slated to come out within the next few months.
"[The report] might be the hardest look anyone has taken at suicide in the Marine corps," Kelman said.
Read the series: Project launch page | Part 1 | Part 2 | Part 3 | Interactive Map