Of the Wyoming Legislature's 90 members, only 28 lawmakers got one bill passed in this year's legislative session, according to a Casper Star-Tribune analysis. Thirty-nine didn't succeed in getting any bills passed. Fourteen didn't sponsor anything.
But passing bills is only one way to measure a lawmaker's effectiveness.
"There are a lot of legislators who may be equally effective because they kill bills that wouldn't be any good," Karl Kurtz, a political scientist for the Denver-based National Conference of State Legislatures, told the Star-Tribune.
Read the story here.
Eleven years of data analyzed by the Columbus Dispatch showed that those charged multiple times with operating a vehicle while impaired were able to get their charges reduced through a plea deal almost as often as those who had no recent drunk driving charges.
Some say repeat offenders know how to beat the system. Drivers can refuse to submit to a breath test if they are pulled over by police. In 2009, defendants refused chemical tests in 36 percent of the cases handled by city prosecutors. In 2013, it was 41 percent. Without the results of such tests, prosecutors lack a key piece of evidence.
More white students are walking the halls at Chicago's top four public high schools.
At Walter Payton College Prep on the Near North Side, more than 41 percent of freshmen admitted the past four years have been white, compared to 29 percent in 2009, a Chicago Sun-Times analysis of Chicago Public Schools data has found.
The increase in the number of white students fulfills the predictions of education observers that minority students would be edged out of slots at the city's top schools as a result of a 2009 ruling by U.S. District Judge Charles P. Kocoras lifting a 1980 consent decree that had required Chicago's schools to be desegregated, with no school being more than 35 percent white.
Read the full story here.
Crop irrigation has boomed in Minnesota in the past few years, increasing land values and raising yields for corn, soybeans and other crops. But hundreds of Minnesota farmers appear to be irrigating cropland without the state permits required to use large volumes of public water, according to Minnesota Public Radio News.
Of roughly 1,200 crop irrigation wells drilled from 2008 to 2012, more than 200 likely are operating without a permit, a Minnesota Public Radio News investigation of public well records found. In addition, nearly 200 others operated without a permit until the past year or so.
Click to read the full story.
From the IRE Journal: Learn how reporter Mark Steil used data to find hundreds of unpunished water violations in rural Minnesota.
A Detroit News investigation found about 1 in 4 Detroit landlords paid to rent to poor families through the state's Housing Choice Voucher program collectively owe the city at least $5 million in back taxes and probably much more. Federal and state guidelines for the rental assistance — known as Section 8 — don't require that all landlords pay.
Read the entire story here.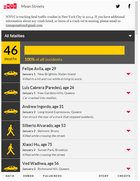 More than half of the 27 pedestrians killed by cars in New York City this year died on major roadways. That's just one of the findings of a new WNYC analysis of traffic deaths, Mean Streets.
WNYC worked with the NYPD to compile an accurate list of traffic deaths after finding discrepancies between its statistics and those kept by advocacy groups.
The station is tracking each death using an interactive database that includes names, dates, locations, street view maps and brief descriptions of the deaths.
America's colleges and universities are quietly shifting the burden of tuition increases onto low-income students, according to The Dallas Morning News and The Hechinger Report. Yet many wealthy families are seeing their costs rise more slowly, or even fall, an analysis of federal data shows.
The trend could further widen the gap between the nation's rich and poor, say financial aid experts and a growing number of university leaders. They worry about college degrees drifting beyond the economic reach of many students.
The Morning News also launched Tuition Tracker, an online tool showing trends in average net price by family income at more than 3,700 colleges and universities.
Project page | Story | Tuition Tracker
"USA TODAY examined FBI data -- which defines a mass killing as four or more victims -- as well as local police records and media reports to understand mass killings in America. They happen far more often than the government reports, and the circumstances of those killings -- the people who commit them, the weapons they use and the forces that motivate them -- are far more predictable than many might think."
Arson is far more common and dangerous than has been previously reported, a new project by Scripps Howard News Service has found.The yearlong investigation has identified more than 163,000 fires in America that experts agree have a significant chance of being undetected arsons. These fires caused at least 788 deaths, 13,009 injuries and at least $5.8 billion in property damages. The project includes a searchable database showing ho local fire departments perform in reporting arson.
Facing Foreclosure: Oklahoma's mortgage settlement program benefits attorneys | Tulsa World
"So far, the largest financial beneficiary of Oklahoma's mortgage settlement program is a young attorney who used a system of vouchers and possibly a family connection to acquire dozens of clients."
Shocking cost investigation: Utility middle men charge renters inflated prices | Columbus Dispatch
"A 10-month investigation by The Dispatch found that residents pay markups of 5 percent to 40 percent when their landlords enter into contracts with certain submeter companies. If the customer fails to pay, the companies sometimes resort to collection tactics that would be illegal for regulated utilities, including shutting off heat in winter and even eviction."
South Austin pastor lives lavishly while West Side project languishes | Chicago Tribune
"In a rolling investigation, Chicago Tribune reporters David Jackson and Gary Marx examine government's haphazard efforts to assist one of the city's hardest-hit neighborhoods. Tracing where the money goes, their latest installment how a politically-connected pastor lives in a lavish suburban mansion while some tenants in his apartment buildings endure substandard conditions and go without heat."
New reports fuel debate of whether Lisa Steed arrested innocent drivers | Salt Lake Tribune
"This month, UHP provided The Tribune with more documents about Steed, including the Winward review and the internal affairs investigation undertaken before her firing last year. In the internal affairs investigation, UHP found prosecutors who had received complaints about the former trooper of the year, but some of those same prosecutors also praised Steed's work."
Facing lawsuits over deadly asbestos, paper giant launched secretive research program | The Center for Public Integrity
"Named in more than 60,000 legal claims, Atlanta-based Georgia-Pacific sought salvation in a secret research program it launched in hopes of exonerating its product as a carcinogen, court records obtained by the Center for Public Integrity show."
Wisconsin Supreme Court justices tend to favor attorney donors | WisconsinWatch
"Justices have the option of recusing themselves from cases involving donor attorneys but have rarely stepped aside, remaining involved in nearly 98 percent of such cases, the Center found."
Booming rental market makes it easier for neglectful landlords to ignore substandard living conditions | Austin American-Statesman
"A wide range of involved parties — City Council members, city Code Compliance officials, tenant advocates and real estate industry groups — agree that Austin's real estate boom has made it possible for a subset of "bad actors" among rental property owners to ignore substandard conditions and tenants' complaints. One indicator of the scope of the problem — code complaints and violations at rental properties — has exploded in recent years."
$1,100 an hour? Part-time service at little agencies means big bucks and benefits for politicians | San Jose Mercury News
"Even the elected officials who benefit were surprised by the hefty hourly rates, which this newspaper calculated through an analysis of government meeting minutes and the Bay Area News Group's public salary database."
Ivy Tech, DNR emails expose favors between officials, raunchy jokes, nude pictures | Indianapolis Star
"The emails — which featured jokes about erectile dysfunction and breast size, and pictures that compared naked women to various animals — appear to violate the spirit, if not the letter, of Ivy Tech's sexual harassment policy. Yet they were allowed to continue for at least six months before administrators asked Walkup to cease sometime this year."
Research stalls on dangers of military burn pits | Democrat and Chronicle
"Thousands of returning veterans and civilians are now attributing myriad symptoms — respiratory problems, neurological disorders, cancers and ALS — to exposure to the burn pits, which were located at dozens of bases throughout Iraq and Afghanistan."
Dozens of Georgia children die despite state intervention | Atlanta Journal-Constitution
"Epic failures by Georgia's child welfare system have given the state one of the nation's highest rates of death by abuse and neglect, an investigation by The Atlanta Journal-Constitution shows."
Ted Cruz Failed To Disclose Ties To Caribbean Holding Company | Time Swampland
"Texas Republican Senator Ted Cruz potentially violated ethics rules by failing to publicly disclose his financial relationship with a Caribbean-based holding company during the 2012 campaign, a review of financial disclosure and company documents by TIME shows."
GW misrepresented admissions and financial aid policy for years | The GW Hatchet
George Washington University admitted publicly for the first time Friday that it puts hundreds of undergraduate applicants on its waitlist each year because they cannot pay GW's tuition.