$40-billion missile defense system proves unreliable | Los Angeles Times
The Ground-based Midcourse Defense system, or GMD, was supposed to protect Americans against a chilling new threat from "rogue states" such as North Korea and Iran. But a decade after it was declared operational, and after $40 billion in spending, the missile shield cannot be relied on, even in carefully scripted tests that are much less challenging than an actual attack would be, a Los Angeles Times investigation has found.
The Missile Defense Agency has conducted 16 tests of the system's ability to intercept a mock enemy warhead. It has failed in eight of them, government records show.
Nebraska prison doors open too soon | Omaha World-Herald
The examination of prison records revealed that Nebraska Department of Correctional Services officials had released or were set to release dozens of prisoners years before their sentences were supposed to end.
All told, state officials had carved at least 750 years off the collective sentences of more than 200 of the state's worst criminals. The problem: The department was using a formula that doesn't square with how sentences should be calculated.
After The World-Herald revealed its findings Friday to Corrections Director Michael Kenney, he immediately directed staff to recalculate the sentences. He said he had been unaware of the problem.
Friends want probe of 77-year-old's death after arrest | Springfield News-Leader
Branson residents are questioning why city police arrested a 77-year-old man with health problems on an Arkansas bad check warrant from 1996 and held him in jail for five days.
Shortly after his release from Taney County Jail, Evans E. Ray was found dead in his home. It's unclear how long he was deceased in the home before he was found.
Uncertified teachers in NY state classrooms | Press & Sun-Bulletin (Binghamton, N.Y.)
The New York State Education Department's most recent list of teachers whose credentials do not match their teaching assignments includes 4,280 assignments in more than 1,100 schools across the state, a Central New York Media Group review of state education records found.
While employing an unqualified teacher is a misdemeanor in New York, the state Education Department does almost nothing to crack down on instances where districts sidestep certification rules. The Education Department notifies school districts of instances where teachers may lack proper credentials, but its involvement ends there. Some school districts take action to fix the problem, and others do not.
Secret Summit: 24 hours with the Koch brothers | inewsource.org
Last weekend and into today, the billionaire Koch brothers and supporters converged on the St. Regis Monarch Beach Resort in Dana Point. This columned, luxury compound, little more than an hour north of San Diego, has 400 rooms, a spa, a golf course, a private beach and six restaurants. Staff confirmed the entire hotel — including food and beverage service — had been bought out for a special event.
An event so secret it had a code name on the schedule: "T&R Sales Meeting."
Hotel guests who weren't part of the conference — including two inewsource reporters who stayed the night Friday — were escorted out of the hotel by security on Saturday afternoon.
Kids with no vaccinations clustered in some schools | The Columbus Dispatch
Some Ohio schools might as well have a target painted on the side of the building as far as public-health experts are concerned.
In some schools in the state, as many as 1 in 3 incoming kindergartners and newly enrolled older students have parents who oppose vaccines, according to a Dispatch analysis of schools' immunization counts.
Bottom line is more than meets the eyes | The Virginian-Pilot
In one of the most recent releases, Medicare published data about payments to physicians and for outpatient services.
Dr. Alan Wagner's name stuck out.
According to the records, in 2012, he collected upward of $6 million from the government insurance for seniors, the second-highest amount among nearly 20,000 physicians and other individual providers listed in Virginia. Only a Richmond-based radiologist specializing in minimally invasive procedures ranked higher, receiving $8.2 million from Medicare.
St. Clair County doles out more than $3.3 million in settlements behind closed doors | News-Democrat (Belleville, IL)
More than $3.3 million in legal settlements have been approved behind closed doors in St. Clair County in the past 10 years -- possibly in violation of the state's Sunshine laws.
The settlements range from $900,000 to a teenage boy allegedly sexually abused at the county's Juvenile Detention Center to $1,000 to a person claiming injuries when placed under arrest by sheriff's deputies. The county admits no wrongdoing as part of the settlements. County officials released the settlements to the News-Democrat following a request through the Freedom of Information Act.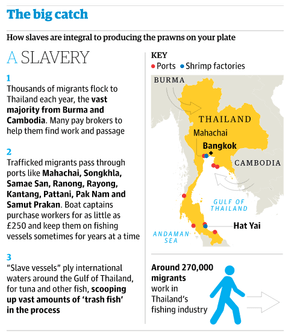 Slaves forced to work for no pay for years at a time under threat of extreme violence are being used in Asia in the production of seafood sold by major US, British and other European retailers, the Guardian can reveal.
A six-month investigation has established that large numbers of men bought and sold like animals and held against their will on fishing boats off Thailand are integral to the production of prawns (commonly called shrimp in the US) sold in leading supermarkets around the world, including the top four global retailers: Walmart, Carrefour, Costco and Tesco.
The investigation found that the world's largest prawn farmer, the Thailand-based Charoen Pokphand (CP) Foods, buys fishmeal, which it feeds to its farmed prawns, from some suppliers that own, operate or buy from fishing boats manned with slaves.
Hundreds of kids from poor families are pushed through the court system without legal counsel, according to The Guardian US.
The Southern Center for Human Rights found that in 2012 more than 680 kids went through the Cordele, Georgia circuit courts for juvenile offenses. And while a very small number had a private lawyer, only 52 had a public defender.
"That means that each year more than 600 kids under the age of 17 are effectively being thrown into the bearpit of the US criminal justice system and left to fend for themselves," The Guardian wrote.
The problem is so widespread that last year the American Bar Association passed a resolution denouncing the lack of a properly funded indigent defense service as a "national scandal". The federal system of indigent defense is also creaking. Last August the US attorney general, Eric Holder, warned of a "state of crisis" in legal representation for poor people and said that budget cuts forced by Congress had "decimated public defenders nationwide".
Read the story here.

San Diego County Supervisor Bill Horn said he bought a charity decades ago for $25, called it the Basic Faith Foundation and used it to hold money from real estate deals.
Horn said he gave the interest to Christian missionaries in Mexico and South America.
inewsource dug into the Basic Faith Foundation and into Horn's own description of how he used it. Five experts with national reputations in tax law and nonprofit management reviewed the transcript of inewsource's interview with the supervisor, as well as the supporting documentation from state and federal agencies.
All reached the same conclusion: the way Horn used Basic Faith violated both state and federal laws, civilly and possibly criminally.
In Knox County, Tennessee some students are ending up in jail even though they haven't committed any crimes. Federal and state laws are supposed to keep juveniles who have committed status offenses - like truancy or running away - out of jail. An investigation by the Center for Public Integrity has found evidence that Knox County courts may have broken the law by sending juveniles to jail without a valid court order.
Juveniles' rights to legal representation in these cases are not firmly established, and legal experts have argued that truant students are not getting the representation they need to protect themselves in court.
"In a five-part series launched Saturday, the Charlotte Observer reveals that N.C. medical examiners routinely fail to follow crucial investigative steps, raising questions about the accuracy of thousands of death rulings. The living face the consequences. Widows can be cheated out of insurance money. Families may never learn why their loved ones died. Killers can go free," The Observer reported.
Read their full story here.
But what happened in Apartment 433 was more than just another murder.
It was a window into today's mental health care: a system as dysfunctional as the clients it serves. So gutted it has little power to put away even the most dangerous for any real length of time – and almost nowhere to keep them, even if it could.
Last year's tragedy in Sen. Creigh Deeds' family inspired at least 60 mental health bills in the General Assembly.
Nothing emerged that will keep anyone any safer from someone like Bruce Williams.
Yet another university community has been accused of denying justice to a female sexual assault victim in order to protect a star male athlete. The New York Times today chronicled the shortcomings of an investigation by Tallahassee police into a reported sexual assault in which Florida State University quarterback Jameis Winston was the alleged assailant.
Police failed to conduct a proper investigation when the incident was reported, the Times found. Even after the accuser identified her attacker to the police, Winston was never interviewed and DNA evidence was not collected. By the time prosecutors began to investigate 11 months later, the trail had gone cold.
The university also failed to conduct any investigation of its own into the incident, though there is evidence that the athletics department was aware that there was an open police investigation.
Read the story here.
Newly released Memphis police records show detectives secured DNA testing within weeks of the 2003 home-invasion rape of a girl, then 12, now suing the city over its massive backlog of untested rape kits.
In a story last month exploring early missed opportunities to stop serial rapist Anthony Alliano, The Commercial Appeal reported 12-year-old Madison Graves' kit was part of the backlog and not tested until 2011. Graves was one of seven victims sexually assaulted between 2003 and 2010 by Alliano, 43, who is serving a 178-year sentence after pleading guilty last year.
A Tulsa World investigation found that officials at Avalon Correction Center marked serious offenses such as escape attempts and substance-related offenses as minor misconducts, instead of X-level offenses. Avalon is a halfway house, which are among the lowest-security facilities for Department of Corrections inmates, where some inmates who committed nonviolence crimes finish the end of their sentences. They live in dorms intead of barred rooms and can leave daily to work in the community. When inmates commit X-level offenses, they're sent back to higher-security prisoners, but by marking their offenses as minor misconducts, halfway houses don't lose money.
"We were continually told, 'Don't send them off' ... so we could get paid," he said. "The focus was on keeping beds full."