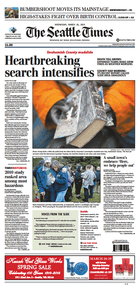 Snohomish County officials in a 2010 report were warned that neighborhoods along the Stillaguamish River were ranked "as one of the highest risk areas for deadly and destructive landslides," according to The Seattle Times.
The document contradicts claims from an emergency-management official that the area "was considered very safe" and that the slide "came out of nowhere."
The Times also found state records showing that the plateau that gave way Saturday had been logged for almost a century. Scientists in recent decades had warned that the slope was becoming unstable and could potentially lead to calamity.
More coverage: Before and after map | Photos | Victim list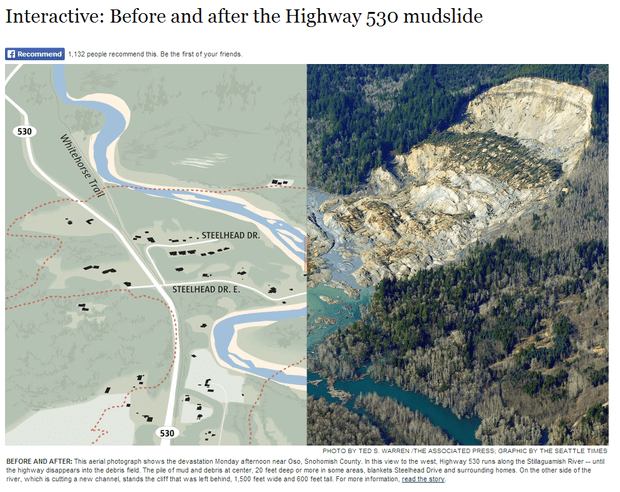 After six workers were killed in a massive gas explosion at the Kleen Energy plant in Middletown four years ago, federal investigators tallied hundreds of violations at the site and issued $16.6 million in penalties against more than a dozen companies — the third-largest workplace-safety fine in the nation's history.
But in the years since the blast, the federal government agreed to deals that will wipe out as much as 88 percent of the fines levied against the companies it determined were responsible for the explosion, a Courant review of documents related to the case has revealed.
"It's been four months since record floods tore up roadways and transformed the geography of northeastern Colorado. Since then, the Federal Emergency Management Agency has spent millions helping people affected by the disaster.
Yet an investigation by FOX31 Denver found some neighborhoods are getting a lot less FEMA money than others."
Read the full story and explore the station's interactive map.
Despite being banned in countries such as Afghanistan, China, Colombia, Germany, Ireland and the Philippines, the potentially explosive fertilizer ammonium nitrate can be purchased pure and by the ton in the United States, according to the Dallas Morning News.
An investigation by the newspaper found that "for more than a decade, U.S. efforts to tighten controls over ammonium nitrate fertilizer have repeatedly failed, bogged down by bureaucratic gridlock and industry resistance. Regulations approved years ago remain unenforced and unfinished. Mere talk of safer substitutes has been blocked by those with profits at stake."
"From Maine to Oregon, local floodplain managers say FEMA's recent flood maps — which dictate the premiums that 5.5 million Americans pay for flood insurance — have often been built using outdated, inaccurate data. Homeowners, in turn, have to bear the cost of fixing FEMA's mistakes," according to a ProPublica report.

"A journey across Pakistan's crumbling railway presents a picture of the country's troubles: natural disasters and hardened insurgencies, abject poverty and feudal kleptocrats, and an economy near meltdown."
WNYC reports that "in 2005, after Hurricane Katrina, Mayor Michael Bloomberg proposed a registry that would allow disaster responders to know where to find people most urgently in need of aid. But he does not appear to have followed through."
New Jersey Transit placed much of its equipment in rail yards that forecasters predicted would flood after Hurricane Sandy, a move that damaged one third of its locomotives and a quarter of its passenger cars, according to a report from Reuters. The damage could cost tens of millions of dollars to repair, according to Reuters.
"An investigation by Haiti Grassroots Watch (HGW) in the Upper Turgeau region of Port-au-Prince discovered that about 100 "transitional shelters" ­­– often called "T-Shelters" –were donated to earthquake victims and built in places where, prior to the 2010 catastrophe, there were trees, bushes, or at the very least, no houses."
"Today, thanks to the donations of the 12-by-18 square meter wooden shacks, an illegal slum has grown, and the slopes above Port-au-Prince are even more denuded."
"Nowhere are the challenges facing the Alexandria Fire Department more stark than at Station 206, the Seminary Road facility built in 1958. Standing on the front ramp looking west, Fire Chief Adam Thiel can see the massive Washington Headquarters Service — the new Department of Defense building where more than 6,000 people will work early next year. As the crow flies, it's less than a mile away. But Thiel told The Alexandria Gazette Packet that during rush hour, the massive gridlock created by a lack of transportation planning could create a worse-case scenario — a 20-minute response time."